India's bestselling electric SUV gets a comprehensive update complete with a new design, a revamped interior and a new electric motor.
The Tata Nexon EV is India's bestselling electric SUV by far and also the one that democratised EVs in our country. And in light of newer and upcoming rivals, Tata Motors has decided to thoroughly update the Nexon EV for 2023. It's not just like any other mid-life cycle update that brings small design changes and feature additions, this is a comprehensive one that's more than skin deep.
Tata Nexon EV facelift exterior design
Now, it's rare that you see a complete revamp of the exterior design of a model during its life cycle, but Tata Motors has gone and done exactly that. At first glance, you'll be hard-pressed to tell that this is, in fact, a facelift and not an all-new model. Much like the recently introduced ICE Nexon facelift, the EV too draws design inspiration from Tata's Curvv concept.
Compared to the ICE Nexon, the EV gets a different air dam and a full-width LED light bar.
Up front, the nose is completely new, featuring a split-headlamp setup with Daytime Running Lamps (DRLs) on top and the main headlamp cluster lower down – which is now full-LED – and a sharper bumper with an air curtain on the edges. Along the sides, it now gets new, aero-efficient 16-inch alloys and loses the blue accent on the window line. While this might not be to everyone's taste, I think the Nexon EV is better off without those blue highlights all around the car as it makes it look more grown up. At the back, there's an LED light bar that spans the width of the revised tailgate and merges into the new tail-lamps on either side, a more angular bumper and a new integrated roof spoiler that conceals the rear washer/wiper underneath, a la Range Rover.
There's an LED light bar at the rear too, and the wiper is now hidden under the spoiler.
While it may appear near-identical to the updated ICE Nexon, the facelifted EV does get some unique elements that help it stand out. For starters, the EV gets an LED light bar at the front which is not only a DRL but also doubles up as a state of charge indicator when the car's plugged in. It also gets a different air dam lower down with metallic strakes that look cool and help improve the EV's aerodynamics, which in turn improves its range. The LED light bars at either end also display a welcome and goodbye animation when you lock/unlock the SUV. Finally, the Nexon EV facelift also gets exclusive paint shades called Empowered Oxide – a white paint with a green tinge – and Intensi-teal, which has been carried over from the older car. On the whole, the SUV design will grab your attention for sure.
Tata Nexon EV facelift interior design
It's inside the cabin that the Nexon EV really takes things to the next level. Hop in and your attention is immediately drawn to the two massive screens – one for the instrument cluster and one for the infotainment – and the cool-looking steering in front of you. Both screens are high-resolution, have bright colours and are slick to operate. But more on their functionality later.
Dashboard looks and feels more upmarket than before.
Overall, the interior impresses with its quality, which has taken a big step up, and there's a nice mix of textures, patterns and colours that give it that wow factor. This top-spec Empowered variant that we tested features a dual tone dark grey and light grey upholstery with subtle blue stitching on the dashboard and seats that mark it out as the EV. However, there are still some areas where fit and finish could have been improved like in the centre console around the middle armrest.
Coming to the steering, it sports a twin-spoke design as is becoming increasingly common nowadays, and rather uniquely, it features an illuminated logo in the centre. It's nice to hold, finished in the same dual-tone upholstery as the seats, and gets gloss black trim in the centre and for the controls on either side. While the gloss black elements are nice to look at, they pick up smudges and scratches far too easily.
Reworked HVAC control panel functions well, but will be a pain to keep clean.
Tata has also reworked the control panel for the HVAC, with traditional buttons and rotary controls replaced by touch capacitive buttons and toggle switches. Like the steering controls, these too are nice to look at and easy to operate, but it'll be a hassle to keep them clean. The Nexon EV now also gets a new, more conventional gear selector (in place of the rotary dial of the earlier model), while the drive mode selector is now a rotary dial. However, we found this selector to be glitchy and slow to engage.
New gear selector looks nice, but is slow to engage.
The facelift retains the pre-facelift's power window switches and wing mirror controls. Although, it would have been nice if these were updated, it's important to remember that this is just a facelift and not an all-new model, so perhaps that's being saved for later.
The carmaker has also worked on the seats, with an aim to make them more supportive than before. And that has worked to a certain extent. The seats feel well bolstered and spacious, but I found the cushioning to be on the firm side and the lumbar support to be excessive. As for the rear seats, space is more than ample and Tata has also improved under-thigh support. However, rear headroom will be tight for those above 6-feet owing to its swooping roofline.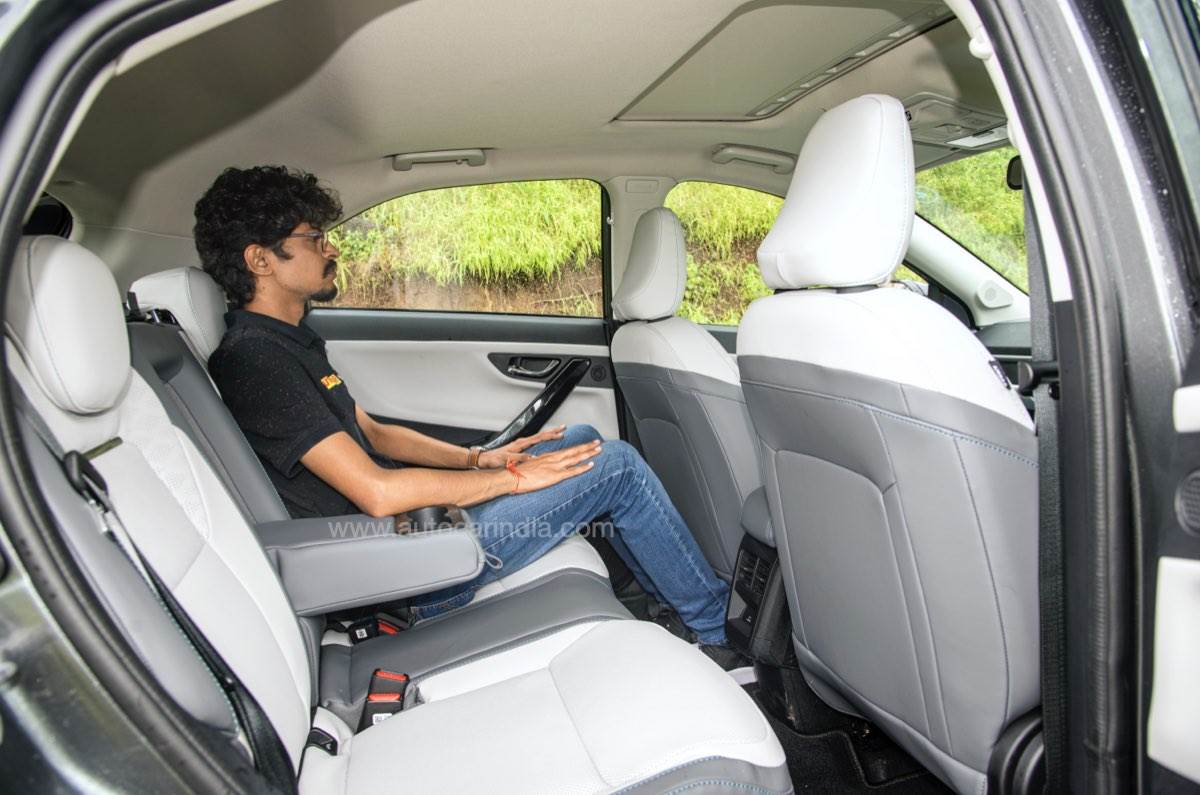 Space in the back is good; underthigh support has been improved.
Other changes at the back are a new USB Type-C port for 45W fast charging and three-point seat belts for all passengers. However, it misses out on a centre rear headrest and pockets behind the front seatbacks. What will also be missed by buyers are proper cup holders at the front. As for boot space, it's the same as before, at 350 litres.
Tata Nexon EV facelift features
Now let's talk about those two new massive screens I mentioned earlier. The one for the instrument cluster is a 10.25-inch unit that's configured specifically for the Nexon EV. It is highly customisable, letting you choose different layouts and displaying all sorts of relevant information, including navigation. The cluster is attractive to look at, although some of the info displayed is a little too small to read on the go.
The 10.25-inch digital cluster can be customised to display navigation.
The touchscreen is larger still, at 12.3 inches – bigger than the ICE Nexon too. Like the instrument cluster, this screen is also slick, bright and easy to navigate. It represents a huge step up over the older Nexon's unit, both in terms of functionality and the user interface, but we did experience a few glitches in our short time with it. Mind you, these were pre-production units and Tata assured us these issues will be ironed out before it goes on sale.
New 360-degree camera is crisp and helpful while parking.
The screen also doubles up as a display for the sharp, new 360-degree camera and blind spot monitor. Furthermore, Tata has introduced a new app store called arcade.ev, which, with the help of a mobile hotspot or dongle, lets you stream OTT platforms and even play a few games that can be accessed when the vehicle is parked. This feature can keep you entertained while the Nexon EV is being charged. The touchscreen is even capable of over-the-air updates and voice commands, and also packs in wireless smartphone integration.
You can now stream videos and play games in the Nexon EV when parked.
But that's not all, the top-spec Nexon EV Long Range Empowered we tested also gets ventilated front seats (although the button placement in the seat base seems like an afterthought), wireless charger, onboard air purifier, connected car tech, a sunroof and a superb sounding JBL audio system, which comes with a subwoofer.
The front seats continue to offer a ventilation function.
Safety-wise, the Nexon EV now gets six airbags and ESC as standard, front and rear parking sensors, an electronic parking brake, hill descent and ascent control, and rear disc brakes (Long Range models only). The Nexon was a 5-star safety rated SUV under the older Global NCAP testing regime and Tata says this new one has been built to comply with the newer, more stringent norms as well.
Tata Nexon EV facelift motor, battery and charging
Tata has also made significant changes to the Nexon EV's powertrain, which again, isn't usually the case with facelifts. The biggest change is the new, Gen 2 electric motor that Tata says is more compact, and as a result, 20kg lighter than the older unit. It's also said to use 30 percent fewer rare-earth materials and spins at a higher 16,000rpm – compared to the older unit's 12,000rpm – without comprising on NVH.
It gains a newer, lighter and more efficient electric motor.
As a result of these changes, output differs too. The Long Range makes 145hp and 215Nm, which is 2hp more, but 35Nm less than the outgoing Nexon EV Max, but Tata says this hasn't had a negative effect on performance. The company says this was done to help flatten the torque curve, reduce the spiky power delivery of the older car and improve efficiency. And out on the road, you can feel that working.
The Nexon EV facelift delivers its power in a more linear manner than the older car and though it might feel like it's slower initially, that's not the case. We tested the 0-100kph of the Nexon EV facelift and it managed to do it in 9.3sec, which is down on the company's claimed 8.9sec time, but we did this test on a wet road. In comparison, the older Nexon EV Max did the sprint in 9.40sec.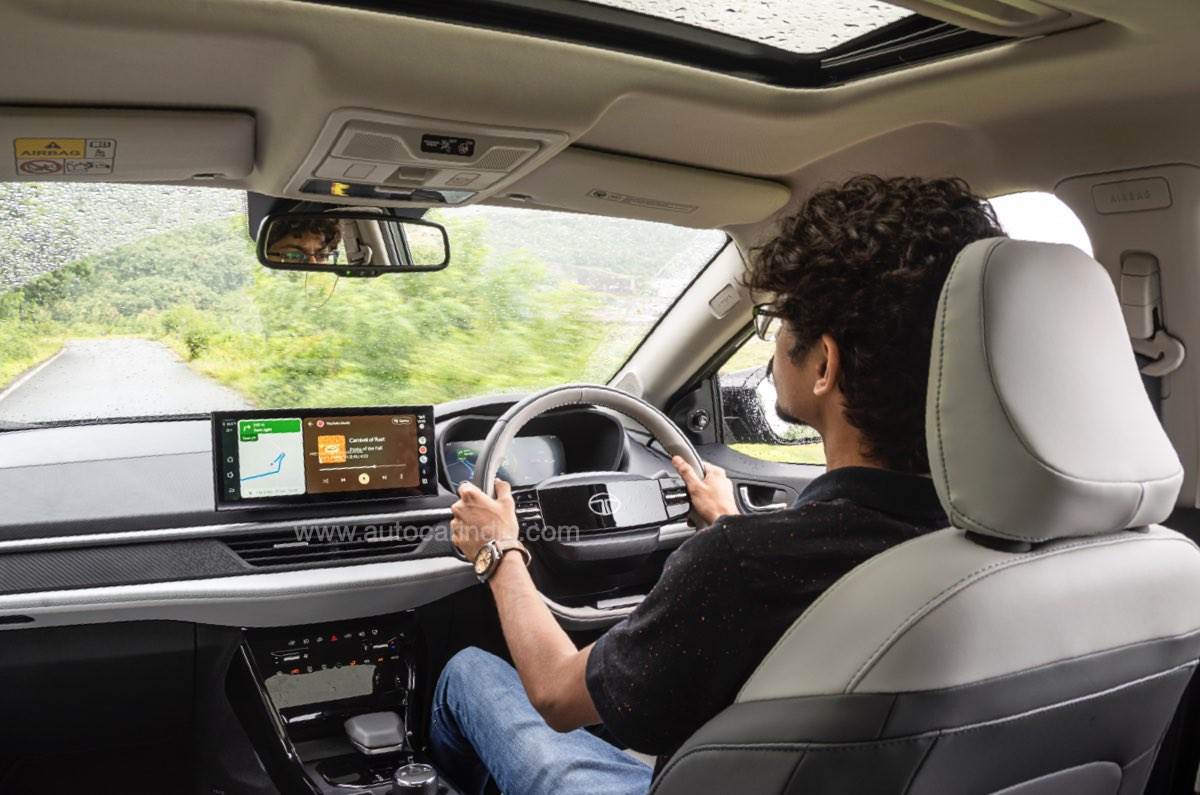 The Nexon EV now feels more linear to drive; continues to offer three drive modes.
As before, there's three drive modes to choose from – City, Eco and Sport – and the difference between them is more perceivable than before. The Nexon EV feels most energetic in Sport, with the sharpest throttle response, while in Eco it feels much more relaxed and laidback in the way the throttle feels and delivers the power; City mode strikes a good balance between the two. Interestingly, power is restricted to about 65 percent in Eco mode when you put your foot flat to the floor. In Sport, it won't give you full power immediately in a bid to curb wheelspin.
Tata has made it more aero-efficient than before, which boosts claimed range by 28km.
The Nexon EV Long Range facelift retains the same 40.5kWh battery pack as the EV Max, but the claimed range has gone up from 437km to 465km (ARAI). This is down to the improved efficiency of the powertrain and the improved aerodynamics. It continues to get four steps of regenerative braking as before, but it is said to recoup more energy than earlier and the levels are now controlled via the steering-mounted paddleshifters. However, real world range is something we are yet to test. Tata is also providing a substantial 8 year/1,60,000km warranty on the battery and motor.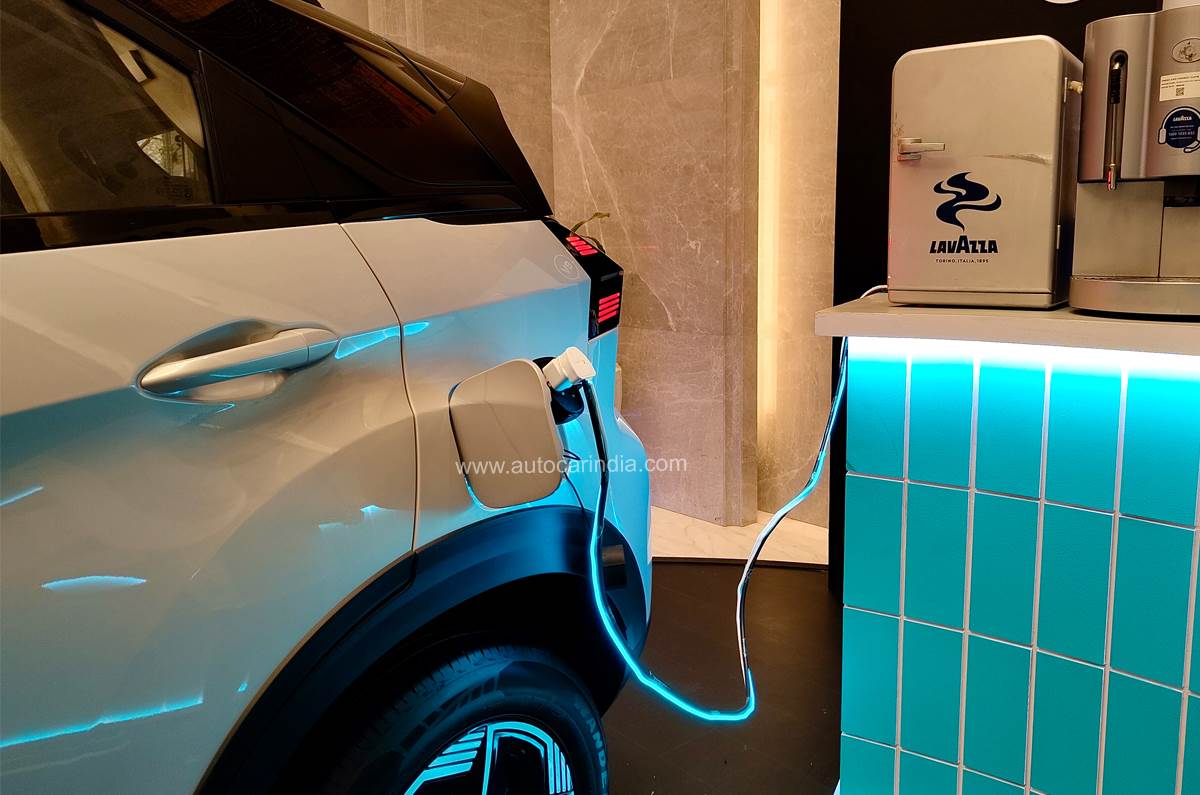 The Nexon EV can now power electrical appliances and even charge other EVs.
Like before, the Long Range comes with a 7.2kW AC charger and supports DC fast charging up to 30kW, which is quite slow by modern EV standards. Another interesting and welcome addition to the Nexon EV facelift is the vehicle-to-vehicle and vehicle-to-load charging capability it comes with. This essentially means that the Nexon EV can now be used as a power source to charge up electronic devices or other EVs, via a separate cable that's sold as an accessory.
Tata Nexon EV facelift ride and handling
However, what hasn't changed is the Nexon EV's ride and handling balance and that's a good thing. The ride is on the firmer side, especially at slower speeds, but that makes it feel tough and composed even over the roughest of surfaces. And as you go faster, the ride smoothens out.
The Nexon EV remains a tidy handler.
In terms of handling, the steering has a good heft to it, it has impressive body control, and it grips well around corners, making it quite fun to drive. And this is despite it running on EV-specific, low rolling resistance tyres. The brakes are good and confidence-inspiring as well, especially on this Long Range version that comes with rear discs.
Tata Nexon EV facelift price and verdict
In a nutshell, the Nexon EV facelift marks a significant step up from the previous version in terms of the design, interior quality, features and the driving experience. What Tata has done essentially is take an already proven and winning formula and improve it. Sure, there are still some shortcomings, like the fit/finish in certain areas and the rather slow rate of fast charging, but you have to remember that this is just a mid-life cycle facelift and it's rare we see facelifts this comprehensive, so much so that it almost feels like an all-new model.
The Nexon EV facelift is priced from Rs 14.74 lakh-19.94 lakh (introductory, ex-showroom, India), which makes it around Rs 50,000 more expensive at the bottom end and about Rs 1.5 lakh more at the top-end. That might feel like a significant premium, but in all honesty, given the changes that have been made, it is worth it.
Watch out rivals, the best has just gotten better.
Also see:
Tata Nexon EV facelift video review