We drive MG's Creta-rivalling midsize SUV in its natural habitat – on the road.
MG's newest offering in the market, the Astor, is a petrol-equivalent of the ZS EV. It looks sharper than the EV; is offered with a choice two engine-transmission options – a 1.5-litre petrol engine with a 5-speed manual or CVT automatic, and a 1.3-litre turbo-petrol with a 6-speed automatic; and it's equipped with in-vogue features; so, it has the right ingredients to entice buyers.
In our previous review, we got a chance to experience the Astor on Buddh International Circuit, where we elaborated on its design, interiors, equipment and also initial drive impressions. But driving a road car on the racetrack tells only half the story. We now drive the Astor 1.3 turbo in its natural habitat to analyse its driving manners with a fine-tooth comb, and experience some of its ADAS features.
What is the MG Astor like to drive?
What makes a positive first impression is the 1,349cc aluminium engine's refinement, which, for a three-cylinder unit, is quite silent at idle and cruising speeds, and doesn't get too vocal or thrummy when spun faster. And while on the topic of refinement, passengers are nicely isolated from road and tyre noise, which is well contained, except on really coarse surfaces.
140hp 1.3-liter turbo-petrol engine is quite refined for a 3-cylinder unit
This turbo-petrol unit delivers performance in a linear manner and if you want rapid progress, this motor obliges with impressive acceleration. For reference, it sprints to 100kph from a standstill in a respectable 10.23sec and tops out at 183kph (as measured by our GPS kit). So, while it is reasonably quick, it doesn't 'feel' fast due to its relaxed power delivery, and with revs maxing out at 5,600rpm, it doesn't quite feel sporty either.
Complementing this motor is a 6-speed Aisin-sourced torque converter transmission that feels seamless on the upshifts and almost like a CVT, so you barely notice the transition between ratios. It's nice and responsive while driving with a light foot, however, you will catch the transmission by surprise when you put your foot down for a quick overtake, as downshifts take a while to execute. It is at these occasions that you'll miss steering-mounted paddle shifters for manual intervention, although you can row through the ratios manually via the gear lever.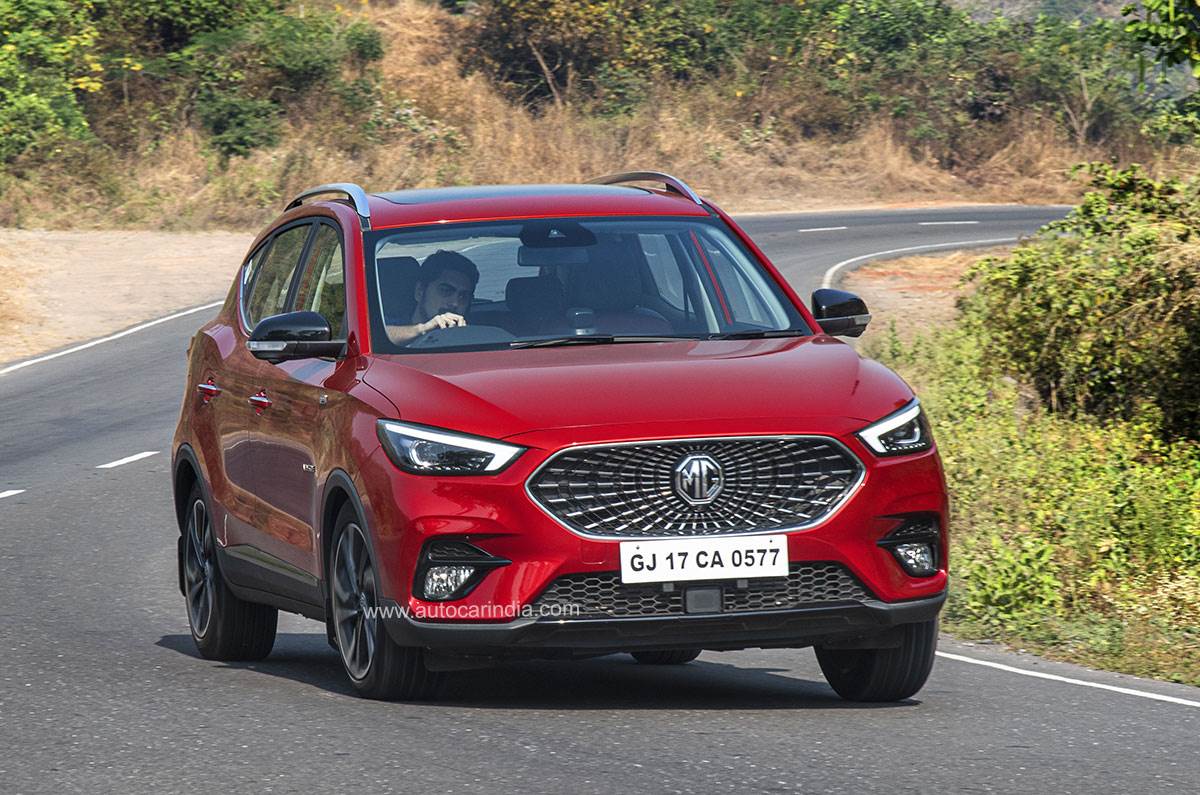 It rolls a fair bit around corners and the steering doesn't offer any feel or feedback either.
A peculiar character of the Astor is that, when you lift off the accelerator pedal, the car, for a fleeting moment, holds on to its momentum before gradually decelerating. It seems like MG has intentionally calibrated the engine this way, so you don't feel any jerk when you lift off. For the uninitiated, this characteristic does take a bit of getting used to.
With a focus on comfort, the MG's soft suspension set-up impresses due to its bump absorption ability. It absorbs road shocks and rounds off road imperfections like a much more premium car. On the flipside, the Astor doesn't feel quite as settled on the highway like its competitors, as there is some vertical movement. And on account of its soft suspension, it rolls a fair bit around bends. To add a touch of sportiness, MG has equipped the Astor with steering modes that enhance the electric power steering's weight, and while there is a noticeable difference in terms of weight between the three modes, there's no change in the amount of feel and feedback from the rather benign steering. In the 'Urban' steering setting, it feels the lightest and easiest to twirl, and goes well with this car's easy-going nature.
Low speed ride is one of its strengths however there is some vertical movement at highway speeds.
The Astor's brake pedal feel is nicely progressive and easy to get accustomed to, but even with discs at all four corners, under panic braking scenarios from 80-0kph, it stops in a distance of 26.24m, which is par for the course.
MG Astor performance
0-20kph
1.13 sec
0-40kph
2.50 sec
0-60kph
4.39 sec
0-80kph
6.82 sec
0-100kph
10.23 sec
0-120kph
14.08 sec
0-140kph
19.74 sec
Rolling Acceleration
20-80kph (in kickdown)
5.78 sec
40-100kph (in kickdown)
7.60 sec
What ADAS safety features does the MG Astor get?
One of the Astor's talking points are its Advanced Driver Assistance Systems (ADAS), which make this MG the only car in its segment to be equipped with Autonomous Level 2 features. Out of the 14 features, we managed to test a few in real-world driving scenarios.
Adaptive cruise control is similar to cruise control, where you can set a speed and the car will maintain it, however, this feature goes a step further and takes care of acceleration and braking too. It'll automatically slow down or even come to a halt while maintaining a preset distance with the vehicle ahead, and it'll also accelerate automatically to the set speed once the road ahead is clear. With a vehicle driving at a slower speed (than what you've set) in front, you'll often find this system remains 'on guard', so with any change in the pre-set speed, the slow-shifting transmission makes it difficult for the Astor to maintain a consistent distance with the vehicle ahead.
Lane keeping assist can automatically steers the car if it detects it veering off its lane.
Another useful feature is cross-traffic alert, where it'll warn you of an approaching vehicle (from either side) while reversing out of a perpendicular parking spot. It displays a warning triangle on the touchscreen as it detects a vehicle approaching. While this feature is really handy, the camera display quality, however, leaves a lot to be desired.
It also gets blind spot warnings in the form of small LEDs embedded in the outside mirrors, which glow orange and caution the driver of an object that isn't in their field of vision.
Lane keeping assist works nicely on a well-marked road surface, but on partially marked surfaces, it performs erratically. When activated, it gives drivers the option to display a prompt, or a mild vibration on the steering, or it'll even steer the car automatically back on track when it detects the car veering off its lane. Although not advisable, in the latter scenario, the driver can leave the steering for around 15 seconds, after which the car commands the driver's attention and will eventually deactivate the system. This system doesn't work on curves, hence it requires driver involvement at all times.
Frontal collision warning alerts the driver of a vehicle or pedestrian too close ahead, and thanks to the autonomous emergency braking, it'll even bring the Astor down to a complete standstill, if it detects an impending collision.
Modes alter the weight of the steering; 'Urban' is the lightest setting and goes well with the car's easygoing character.
The speed assist system reads road signs, warns you of speeding cameras and in its 'intelligent' mode, it'll also automatically drop the speed to match the legal speed limit.
There's also an intelligent high-beam control where if you're driving on high beams on a poorly lit road, it'll automatically dip the headlamp beam when it detects an oncoming vehicle, to avoid blinding other road users.
Even though some of these ADAS features aren't a 100 percent in operation, if budget permits, these could be worth opting for, as the Rs 73,000-93,000 premium over the top-spec automatic versions for these optional features could be a life saver in some scenarios, especially in a world where accidents due to distracted driving are on the rise.
What is the MG Astor like on the outside?
MG's 'celestial' chrome grille with its outward radiating pattern is certainly one of the Astor's most eye-catching design feature. Its smart-looking LED headlamps and 17-inch alloys also do their bit to spice up its design, while the red brake calipers (front and rear) and fake dual-exhaust housings in the rear bumper add a touch of sportiness. But on the whole, despite being larger in dimensions than the Hyundai Creta, the Astor comes across more like a crossover in appearance and lacks the butch road presence that SUV buyers typically want.
What is the MG Astor like inside?
With a genuine premium feel, the Astor's cabin is likely to bowl you over. Quality of materials used is top-class, and everything that falls to hand has a soft, squidgy feel to it. Fit and finish levels are high, and you'll even find some design similarities, like the steering and rotary air vents, with some Volkswagen-group models. Accentuating the cabin's premium quotient further is the tasteful 'Sangria Red' colour theme, along with the massive panoramic sunroof that floods the cabin with light.
Interiors look classy with high quality materials. Dark red theme, panoramic sunroof accentuate its upmarket feel.
The front seats are broad, and the cushioning is soft. Tall adults seated at the rear will be quite comfortable, with adequate head and legroom on offer. A low central hump and a dedicated adjustable head restraint for the middle passenger, along with a proper three-point seat belt, are welcome additions. However, the cabin's narrow width makes accommodating three adults at the rear a bit of a squeeze.
The Astor's 359-litre boot (international spec) might seem small on paper, but because it is nicely shaped, it packs in quite a bit of luggage than its numbers suggest. A 60:40 split rear seat further adds practicality.
What equipment does the MG Astor have?
MG has stuffed the Astor with segment-first features like the Advance Driver Assistance System (ADAS), as mentioned above, as well as some artificial intelligence (AI) kit in the shape of a cutesy robot sitting atop the dashboard. In addition to the welcome and goodbye messages, the robot performs certain voice commands, like adjusting the cabin temperature, it'll answer some questions with the help of Wikipedia, and it'll even humour you by telling you a joke. Some users might find this feature a bit gimmicky, but others, especially children, are likely to take a liking to this little robot.
There are also some in-vogue features on offer like a panoramic sunroof, digital dials and connected car features including pre-loaded apps, remote vehicle controls, among others. There's also a 360-degree parking camera to speak of, and while the display quality could have been better, the 2D view is so detailed, it'll also show you whether your lights and indicators are on. An electrically adjustable driver's seat, electric parking brake with auto hold, hill-descent control and automatic lights and wipers also make it to the equipment list.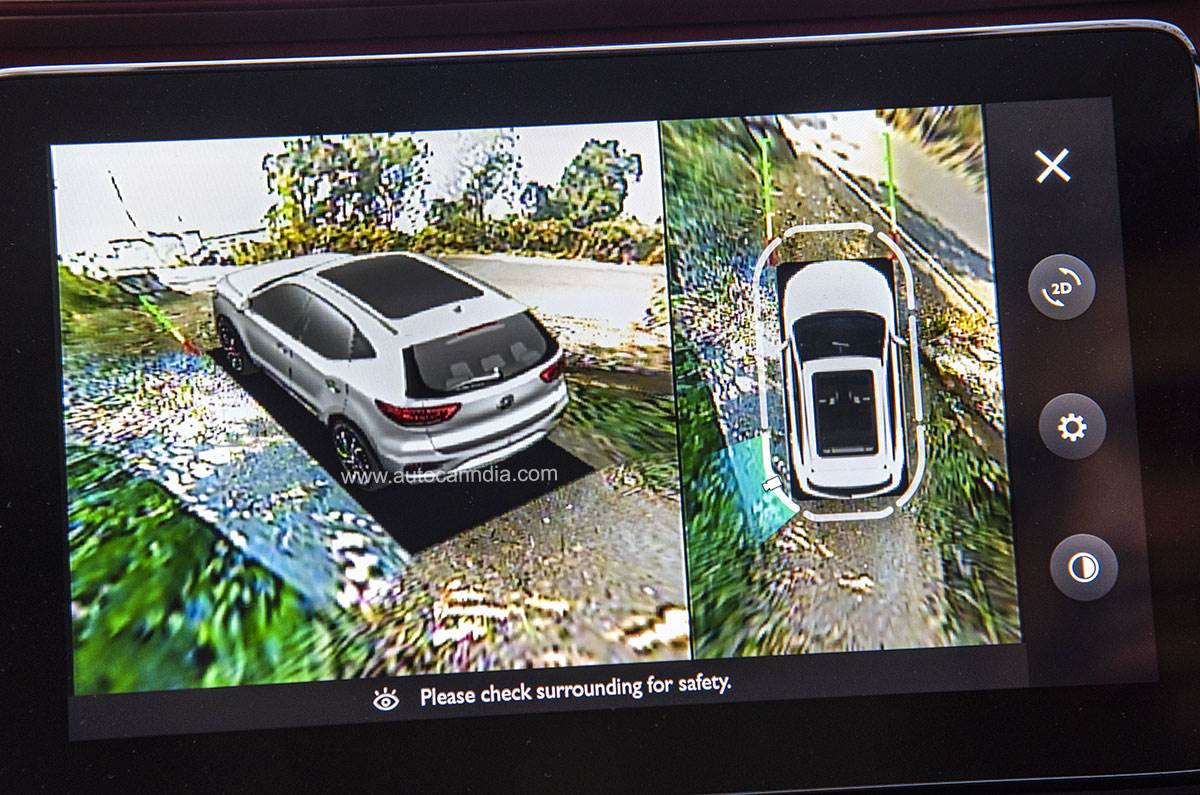 360-degree camera is handy, however the quality leaves a lot to be desired.
The Astor, however, misses out on some kit that rivals offer, like auto-dimming inside mirror, wireless charging, cooled front seats and paddle shifters, to name a few.
With a sub-Rs 10 lakh price, the base 1.5-litre petrol-manual variant spells phenomenal value for money for the equipment it packs in. The 1.5-litre CVT (automatic) variants command a premium of Rs 1 lakh-1.50 lakh over the corresponding manuals, and the turbocharged automatic is Rs 1.5 lakh-1.70 lakh pricier than similar CVTs. While we haven't got a chance to test the 1.5-litre CVT to give a definitive opinion, the turbo's 30hp and 76Nm torque advantage are likely to make the 1.3-litre a more effortless performer in comparison.
Is the MG Astor a good buy?
The MG Astor is a refined and comfortable midsize SUV with a calm and congenial persona. Buyers who want a relaxed drive will gravitate towards this Creta rival, thanks to its light controls, likeable engine and smooth gearbox. The Astor's laid-back character won't appeal to driving enthusiasts and the design, which is more crossover than SUV, doesn't give the road presence that a typical SUV buyer seeks.
This Astor stands head and shoulders above other products in MG India's range, and you can tell that this is a genuinely global car. It exudes a premium car vibe, thanks to its well-appointed cabin, high-quality materials and European car-like solid build that makes you feel like you've spent your money well. And with premium kit like LED headlamps, panoramic sunroof and connected car tech, it packs in almost everything that shoppers in this segment are looking for.
The turbo-automatic's price of Rs 16.18 lakh-17.73 lakh is at par with rivals but consider the segment-first ADAS features it packs in, and its top-class interiors and it comes across as a value proposition; and it's for these reasons why the MG Astor deserves to be on your shortlist.
Also read:
Kia Seltos facelift to get panoramic sunroof