Mercedes' first standalone EV model is the first all-electric luxury car to go on sale in India. Is it good enough to win over traditional luxury buyers?
The Mercedes EQC, the brand's first standalone all-electric passenger car, will soon be launched in India. It's also the first luxury EV to go on sale here, and will be an important brand builder for Mercedes which, among other things, has done well to leapfrog its rivals. Indian market apart, however, the German luxury car maker has been late to the luxury EV party. A considerable distance behind Tesla, which has gone from zero to a million cars in a very short span of time, Mercedes has a lot of catching up to do.
Mercedes' first foray in the all-electric luxury SUV segment.
Luckily, the appetite for luxury electric cars only appears to be growing. Born of ample purchasing power, the promise of green 'space age' tech and the fact that most luxury-car customers can easily install home chargers, demand for luxury EVs is on the rise. But what exactly does Merc's imported EQC bring to the table here in India? And is it worth the premium it is likely to command?
What is it?
Based on the Mercedes GLC and not a dedicated EV platform, the EQC comes with a modern flat battery placed between the wheels, twin asynchronous or induction motors, much like you'd find on a Tesla (one for each axle), and four-wheel drive. Electricity is stored in the huge 85kWh lithium-ion battery pack. It consists of 384 cells and weighs in at a seriously heavy 652kg; that's the kerb weight of a Maruti 800. The combined output from the twin motors stands at 408hp, and even more important is that torque is a huge 765Nm. Think twin-turbo diesel V8.
Interestingly, the front electric motor is engineered to provide higher efficiency, while cruising and the one at the rear is tuned to deliver more performance. This is why, when cruising at a steady speed, the EQC is driven almost exclusively by the front motor. But, begin to accelerate, even gently, and the rear motor quickly takes over. The EQC also gets torque vectoring to enhance traction, a choice of five driver modes (with Sport at one end and Max Range at the other), and as on other EVs, you can adjust brake regeneration via a pair of paddles on the wheel.
Total combined output from the two motors is 408hp and 765Nm of peak torque.
With signature LED lights up front that run around the headlights and grille, the EQC will certainly stand out in a crowd. Add in the piano black grille and the 20-inch wheels with their blue detailing, and EQC looks even more dramatic. The sea-smoothened look works well around the rear, the bumper juts out nicely to create a solid base and the Porsche-like linked tail-lights stand out too. But while the design is striking and gets your attention, it doesn't shout Mercedes-Benz. In fact, cover the badge and you will struggle to identify it as a Mercedes. Anoraks (like us) will also notice there is a new font used on the badge at the rear, the coefficient of drag of this SUV stands at an impressive 0.27cd, and the battery cooling system has a cubic capacity of 6-8 litres.
What's it like inside?
The EQC's interior strikes a better balance between traditional Mercedes and new-age electric. Familiar Mercedes bits include the flat-panel displays (for infotainment and instrumentation) that are joined at the hip, the black and aluminum three-spoke steering wheel, and the chromed and knurled switches on the central console. Even the trackpad and the toggle switches are standard Merc fare.
New bits include bronzed, flute-shaped inserts in the vents, a more steeply raked dash, a ribbed finish on the upper door pad and the optional, new-age materials for the seats. But while the cabin clearly does look 'techy' and modern, Merc's subtle touch of class has taken a bit of a back seat here.
The interior is familiar, but decidedly modern.
Space is similar on the inside to the GLC and since the two cars are built on the same wheelbase, legroom at the rear here is sufficient and similar too. The seat is a bit low, due to the floor being raised slightly for the battery, but it is also quite comfortable with sufficient thigh support and a nicely reclined backrest. The EQC also gets the latest version of Merc's MBUX system, which here gets a new 'EQ' sub menu.
Legroom at the rear is sufficient and the seat is comfortable though the floor has been slightly raised to accommodate the underfloor battery pack.
While the full feature list hasn't been announced for the EQC, and the cars that go on sale will be different from the ones we are driving, we can confirm you will get features like 7 airbags, Attention Assist, connected car tech, a sunroof and a voice assistant. Radar-based cruise control, three dimensional maps and the Heads Up Display, however, will not make it to the feature list. Buyers will get an 8-year battery 'cover' though.
What's it like to drive?
Greater refinement is one of the pillars on which the Mercedes-Benz brand has been built. The E-class, the S-class, and even the C-class, for example, clearly feel more refined than their rivals. And this is true of the EQC as well. Extra insulation has been used to encapsulate the cabin, the electric motors use rubber mounts for better noise suppression and the EQC also gets double-glazed windows that further help mute sounds from outside, so the EQC feels particularly refined on the move. Tyre roar is superbly suppressed, both at medium and high speeds, there is very little wind noise and then, even on 'textured' surfaces, road noise isn't too much.
Cabin insulation is superb.
In typical electric car fashion, the EQC also feels very torquey in 'Sport' mode. That first hit of thrust is near instant and quite strong, and if you maintain the pressure on the accelerator pedal, while the rate of acceleration plateaus, the EQC still pulls forward in one seamless surge. Wish there was a bit more in the way of drama though; the clinical performance is so cold, driving it almost feels like a non-event. And that's despite the SUV being capable of doing 0-100kph in 5.1 seconds. The EQC is also very linear and smooth, so driving it at medium speeds is easy and relaxing.
Also, while the EQC has ample grip, the steering is a bit aloof, and the 2.4-tonne EQC rolls a bit in tighter corners. Still, Merc's first all-electric SUV feels neat, secure and predictable. It isn't fun to drive, per se, but you do tend to enjoy the strong performance and carrying speed effortlessly into corners feels good too.
The EQC pulls forward from standstill in one seamless surge.
With the heavy battery slung between the wheels, ride at certain speeds and over less-than-perfect surfaces is marginal; it doesn't quite flatten the road successfully, there is always some pitter patter or up-and-down movement, and what's worse is that it also feels a bit jittery over small bumps.
Underslung battery pack means you'll have to navigate speed breakers with care.
A more serious problem associated with the underslung battery is the poor ground clearance. Low enough to get the battery to 'thunk' onto speed breakers, this is a problem you don't expect to encounter with an SUV. So spotting those speed breakers early is important, you have to crawl over gingerly and even some bad roads need to be driven over with caution.
Range and charging
The EQC has a claimed range of upwards of 450km. While this is clearly a bit optimistic, you can expect a real-world range of around 350-375km, when the EQC is driven in a careful manner. Mercedes will provide and install a wall-box charger at your residence, and while that functions at 7.5Kw and takes 10 hours for a full charge, you can also charge via a regular 15A plug at 3.4Kw, taking a leisurely 21 hours. Of course, you will not always charge a fully drained battery, so these times can be halved in reality. And Mercedes is also planning to set up a few 50Kw fast chargers on popular routes outside town, where a coffee stop could get you a quick 'top-up' for a long journey.
A real-wrold range of about 350-370km can be expected.
Should I buy one?
Priced at Rs 99.30 lakh (ex-showroom, India), the EQC is expensive. This is especially true if you consider that Mercedes sells its own full-size 7-seat luxury SUV, the GLS, for around the same price. Then there's the ground clearance issue; you just can't drive it with abandon like you would drive a regular SUV and, for a car at this price, it isn't exactly feature-rich either.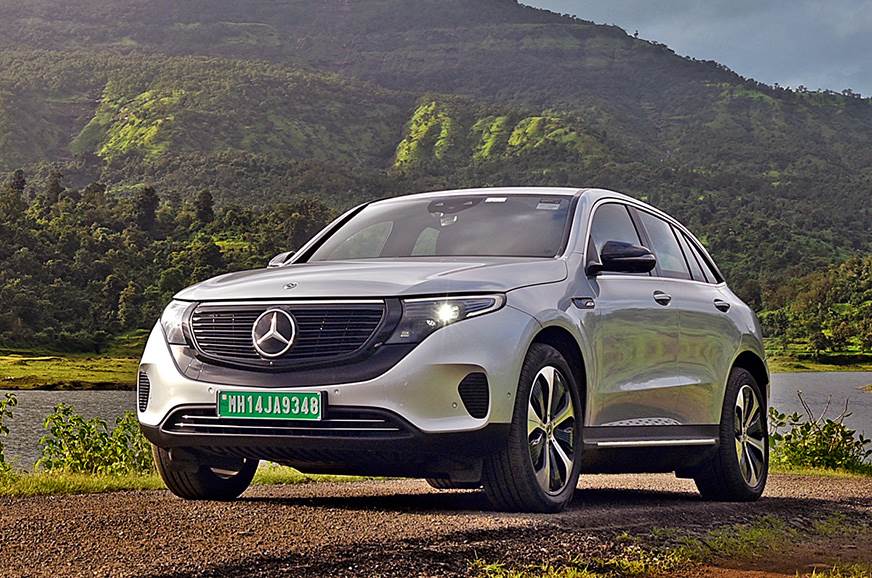 Buying a luxury EV today, however, is more about making a statement, and here the EQC hits the ball out of the park. The combo punch of the Mercedes brand, all-electric drive and an SUV profile should find plenty of takers. And it even drives well. Smooth, silent and extremely refined, it feels as hushed on the inside as some of Merc's flagship cars. And then, when you put your foot down, there's plenty of performance too. In fact, customer response is so good, Merc insiders say they have already sold a healthy number of cars. The shift to electric cars seems to have begun.
Also see:
2020 Mercedes-Benz EQC India video review
2021 Mercedes-Benz S-class revealed