After the arduous expanse of Namibia a few months ago, Land Rover's new masterpiece faces its next big challenge – the urban sprawl of Mumbai.
Memories of driving the new Defender in the vast, desolate expanses of Namibia are still vivid. It was my last international drive – before COVID-19 turned the world upside down – and arguably my best in over 30 years of driving all over the world.
Testing the hugely capable new Defender to the max in some of the most gruelling but hauntingly beautiful and secluded terrains in the world was a once-in-a-lifetime adventure.
It had a sense of freedom that I cherished even more sitting at home during the dark days of the lockdown, wondering when we could go back to driving in some remote pocket of the world.
Eight months on, I'm once again reacquainted with the Defender, not in some exotic or far-flung locale like before, but right here in the heart of Mumbai. Now Mumbai is home to me, but is it home to the Defender? Those three days in Namibia have convinced me that there is no better off-roader in the world. But how good is it on road? To be honest, I don't really know because only 40 of the 700 kilometres we drove in Namibia were on tarmac; the rest was on surfaces that would make ordinary 4x4s wince.
Mumbai is diametrically the opposite of Namibia. It's as densely populated as Namibia is uninhabited, and the roads are as clogged as Namibia's are devoid of any traffic. There are no rivers, deep ravines, no limitless deserts, nor the dreaded Van Zyl's Pass to wrestle with, but the environment in and around Mumbai has its own challenges and can be equally daunting. How well can the five-metre-long Defender cope with the broken tarmac and huge potholes of a post-monsoon road network? How well can it thread through the gullies that criss-cross the underbelly of the city and, equally, how well can it play the role of a luxury SUV? Will the built-for-the-wild Defender feel like Crocodile Dundee when he turned up in New York? Or can it seamlessly slip into Mumbai's urban chaos? These are questions the Defender, which has finally been launched in India, now has to answer.
High Rise
To say the Defender stands out on in the scrum of vehicles is an understatement. It's not just tall, it's the Mount Everest of SUVs. It towers over other cars, more so when it's standing on its toes with the air suspension fully raised. The Defender's upright stance and straight lines make no pretensions about it being anything other than a hardcore SUV. In fact, Gerry McGovern, Land Rover's celebrated designer, has outdone himself once again and has cleverly made the Defender's boxiness an integral part of its appeal. Subtle curves in the body panels with smooth and uncluttered surfaces make the vital difference between a square and old-fashioned shape and something that is cool and thoroughly modern. And the Defender, with superb detailing all round (I just love the 'circular' tail-light treatment), looks utterly with it.
Upright stance and tail-mounted spare wheel tell you this a hardcore SUV.
The ultra-short overhangs for better off-road ability have an aesthetic impact as well. With the 20-inch alloy wheels shod with the tall 255/60 R20 Good Year Wrangler all-terrain tyres pushed out to the edges, the Defender looks pretty planted and not at all top-heavy. True to its full-blooded 4x4 remit, the Defender has a full-size spare mounted on the tailgate; after all, in the wild you can't depend on space-savers or run-flats to get you home after a puncture.
The first time you realise how high the Defender sits off the ground is when you have to haul yourself into the cabin. It's quite a climb even in Access Mode, which drops the air suspension (standard on the five-door Defender 110) to its lowest position. Now, for those looking for a big, luxury SUV merely to be noticed, the step up into the Defender could be a deal breaker because getting in and out of such a high vehicle when you're togged up, going to a glitzy function can be embarrassingly inelegant.
Cabin an exquisite mix of ruggedness and luxury.
But once you've clambered into the driver's seat, you're treated to a fabulous balcony view. All-round visibility is outstanding, thanks to a generous glass area, a low window line and upright A-pillars that don't block your vision. In fact, sitting so high up, you can see the extremities of the car easily and that takes the stress out of wiggling the Defender through traffic.
The cabin itself is a fantastic place to be in and has a unique blend of ruggedness and luxury. The rubberised surfaces all round, the exposed screw heads on the door panels, and the hefty air vents smack of the car's underlying toughness, whilst the double-stitched leather trim and bits like the aluminium and wood garnishes ooze luxury.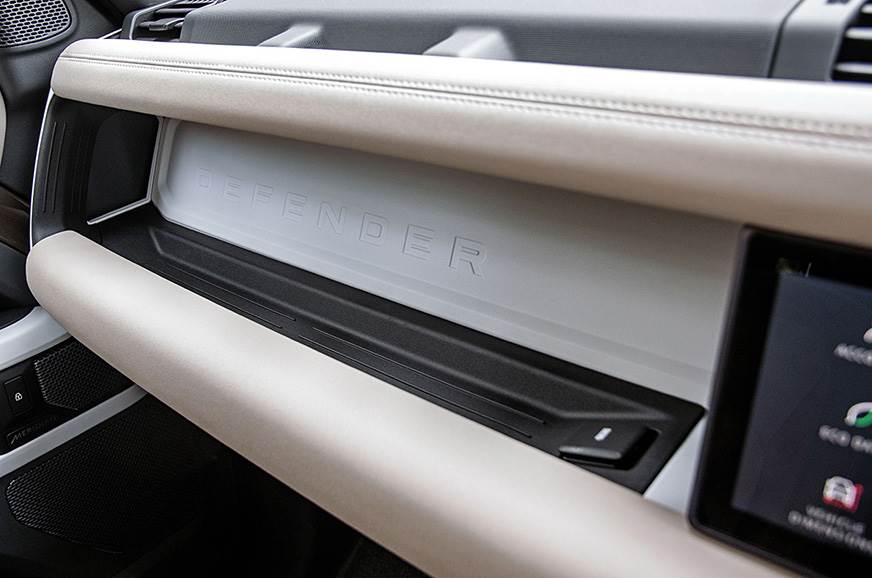 Deep shelf running across the dash highlights the cabin's practicality quotient.
The massive shelf that runs the width of the dashboard will hold all your paraphernalia and sets the tone for the Defender's immense practicality. There are more storage spaces than you need, the glovebox is voluminous and the central storage box is like a mini godown.
Luggage space is massive too. Sure, with all three rows of seats in place, you get just 160 litres, but that expands to 743 litres with the last row folded in and 1,826 litres with the second row also folded. In fact, if there's anything impractical about the Defender's cabin it's the ridiculously tight third row, which I took one look at and didn't even bother getting into. In fact, even children will struggle to clamber into the back and, hence, the last thing you should be considering is the Defender as a 7-seater.
Third row seats only for small children.
Owners who prefer being chauffeur-driven will be happy to know that the middle row is supremely comfortable. Legroom, headroom, shoulder room is in abundance. Even under-thigh support is great, and the high-set seat gives you a fantastic view out. The only thing I could find fault with is the cushioning in the lumbar area, which is a touch too excessive and protrudes into your lower back.
Owners who like to be chauffeur-driven will appreciate the spacious middle row and comfy seats.
Defender owners will want lots of toys to play with and will just love all the gizmos that can be accessed from the new Pivi Pro infotainment system. You get the standard stuff, like Apple CarPlay and Android Auto, as well as a wireless charging pad, connected-car tech and a head-up display. You get all kinds of stats and data to thrill the geek in you, especially when you're off-roading, and the Terrain Response 2 system, which has as many as six different modes for every conceivable off-road surface, can be accessed from the Pivi Pro interface too.
4x4 Info screen gives useful data for off-roading.
The all-digital instruments are highly configurable, with multiple modes and view options, but the steering-mounted scroll button to toggle through the various functions felt a bit buggy and wasn't very responsive. A bigger glitch were the 360-degree cameras, which didn't work properly, with no feed from the forward and rearward cameras. That doesn't bode well for a car that's expected to deliver unimpeachable reliability, but when they do work, the Defender's cameras could rival a video production house. The ClearSight camera array has multiple lenses tucked away all
over the car to give you a picture of what you can't see whilst driving. You can even virtually see what's under the car, which is extremely handy for off-roading sessions. The ClearSight rear-view mirror is also clever and a more useful application of the Defender's camera tech. It allows you see what's directly behind via a lens in the tailgate, which is very convenient when luggage stuffed to the roof blocks the regular mirror view.
Virtual 10-inch instrument cluster is configurable and displays multiple functions.
All this technology may seem like overkill for an SUV that draws its heritage from the mechanically simple and robust Series 1 Land Rover. Too many gadgets implies more things could go wrong, which may worry Defender purists, but not a new generation of buyers who actually love all the gizmos. And when you get down to actually driving this behemoth, you start feeling the tech at work.
ClearSight virtual rear-view mirror a cool feature.
Motive force
The Vashi toll plaza is a free-for-all, a scuffle to dart into one of the narrow toll booth lanes. It's the law of the jungle that works here and in this melee where only the strongest gets right of way, the Defender's size (and height) comes in handy. A Duster in front of me thought twice before cutting across my bows and an Innova driver trying to inch into my lane ceded ground when he saw me glaring down at him. You really do feel like the king of the road from the Defender's lofty throne.
Towering height and great all-round visibility a virtue in city traffic.
Palm Beach road is when I get a chance to see how well the 300hp 2.0-litre turbo-petrol propels the 2.3-tonne Defender. In Namibia, I drove the more powerful 400hp P400 variant and the base D240 diesel, but in India, the Defender only comes with the base P300 petrol, with the D240 diesel coming a year later. A mental calculation of the power-to-weight ratio made me a touch sceptical, but these preconceived notions were quickly dispelled with the first jab of the throttle pedal. Okay, the P300 Defender doesn't rocket off the line, but it's no slouch either and feels surprisingly light on its feet for something so heavy. Yes, there is a bit of turbo lag and low-end response isn't sharp, but there's a nice linearity to the power delivery that makes for a smooth drive. And smooth it is; shockingly so. For a car that has the aerodynamics of a small house and is shod with all-terrain tyres, wind and road noise are incredibly well suppressed, which speaks volumes of the cabin's vault-like insulation.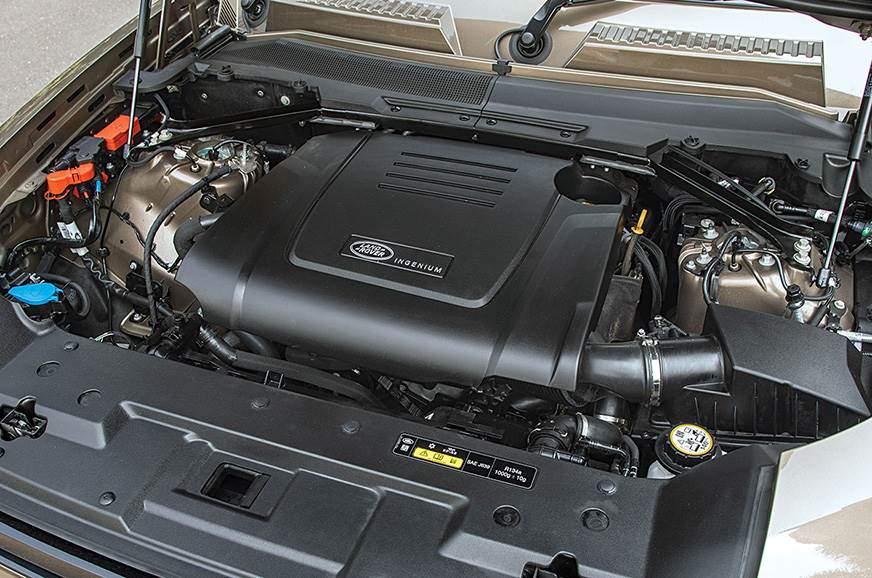 300hp, 2.0-litre P300 turbo-petrol is adequate.
A 0-100kph time of 8.96sec and 40-100kph in 6.61sec is quick enough for most highway duties, but overtaking fast-moving cars on the Mumbai-Pune expressway did take some effort, and when extended, the P300 engine runs out of puff at the top end. If you want more grunt, you'll have to wait for the 300hp, six-cylinder D300 diesel that joins the Defender range next year. As a relaxed highway cruiser though, the P300 acquits itself rather well, aided by the 8-speed ZF auto 'box, which ensures you're always in the right gear at the right time.
The Defender's on-road dynamics are a revelation.
It's the on-road ride and handling that blew me away. A car this big, this tall, this heavy, and with tyres not designed purely for tarmac has no business riding so well and feeling agile, but it just does.
The first thing that took me by surprise is the accuracy of the steering. This isn't one of those low-geared racks with lots of slack you find in hardcore off-roaders, but one that is well-weighted, delightfully direct, and imparts a lot of confidence at speed. The Defender tracks dead straight, it doesn't fidget about and the tall body is impressively resilient to crosswinds. Yes, the top-heavy Defender does roll a fair bit when hustled on a curvy road, but body control is so good that it corners faithfully without getting unsettled.
Air suspension can be raised for 290mm clearance.
The air suspension, standard across all 110 variants, is mainly responsible for the Defender's surprisingly good dynamics. The huge suspension travel and compliant ride simply devour craters and there's no other SUV that feels as comfortable on the worst of roads. This wasn't more evident than on the Khopoli-Pali highway, which for some years now has been ripped apart by never-ending four-laning work. To make way for oncoming traffic on the under-construction stretches, I could calmly drop the wheels from broken tarmac into massive ditches on the earthen shoulders without even slowing down.
What is a revelation is that the Defender doesn't feel like a hard-as-nails off-roader on normal roads. There's no body-on-frame lumpiness, no fuzziness in the steering, no judder in the suspension over ruts, and the wheels don't thwack you every time you hit a pothole.
The secret sauce is Land Rover's D7X aluminium monococque, which is incredibly stiff and strong enough to withstand a high amount of off-road abuse, but at the same time offers the on-road poise only a unibody construction can give. The Defender makes the road manners of other premium but body-on-frame SUVs, like the Wrangler and G-class, feel uncouth and unruly in comparison, and for many, this could be the defining reason for buyers to veer towards the Land Rover. But what truly defines a Defender is its off-road ability, and it would've been just plain wrong not to have taken the Defender to its natural habitat.
Rough and tumble
We drive into the gates of learnoffroad.com's challenging off-road grounds, for the young Landy to raise its wheels and have some fun. Time to switch to low-range, elevate the suspension to its max ride height of 290mm and select Rock Mode on the Terrain Response system, which electronically locks the centre and rear diffs. All this with just the touch of a few buttons. Amazing! Even more amazing is how the Defender's electronically controlled 4x4 hardware makes the average driver seem like a pro, even on extreme tracks. All you have to do is gently steer and give light throttle inputs. The axle articulation track, which gets the wheels nice and high of the ground, looks spectacular from the outside. From the driver's seat, with the electronics optimally channelling power to the tractive wheels, the rocking motion as you crawl forward makes you feel like a child on a see-saw. But off-roading is not all child's play.
Off-road capability of the new Defender is simply staggering.
I've lost track of how often I've driven 4x4 machinery on off-road tracks, but I still have my heart-in-mouth moments, triggered by a fear of damaging an expensive vehicle. Which is why I panicked when I slithered down a super steep decline, terrified of landing the Defender on its bluff nose. But the 38-degree angle of approach came into play and made what seemed like rappelling down a cliffside look hilariously easy. The side incline track too, which registered a 28-degree angle on the 4x4 info screen, gave me huge jitters. It felt like I was going to keel over any moment, but I kept reassuring myself with Land Rover's claim that the Defender is capable of tackling a 38-degree angle. You have to take a leap of faith and believe it will do what it says on the tin.
The truth is the Defender does more than that and goes beyond its brief. It's equally at home doing 150kph on the highway as it is doing 15kph in bumper-to-bumper city traffic, or slinking down a muddy cliff at 5kph. And the 900mm water-wading depth could come handy in Mumbai floods.
The Defender's unbeatable off-road prowess was a given; Land Rover wouldn't have it any other way. But it's the sheer versatility, the day-to-day usability, which you can enjoy in supreme comfort and style, that actually won our hearts.