With three rows of seating and lots of features, the Kia Carens is here to win over large families.
2022 Kia Carens: what is it?
Meet the Kia Carens. Its name is an amalgamation of 'car' and 'renaissance'. It's marketed by Kia as a recreational vehicle. And it's here to meet the needs of the large Indian family.
In essence, the Kia Carens is a three row-derivative of the Seltos, with derivative being the operative word. The Carens is a larger vehicle (225mm longer overall, 160mm longer in its wheelbase, and 80mm taller) and is completely different in look too. In attributes, the Carens is more MPV than SUV, though Kia is steering clear of typecasting it as either, hence the 'RV' tag. What the Carens is, is a model of interest for anyone who needs three rows of seating in their next vehicle.
The Carens is longer and taller than the Seltos it's based on.
In true Kia fashion, the variant mix is large. There are five engine-gearbox options, five trim lines and two seating configurations. To break it down, engine choices include a 115hp, 144Nm, 1.5-litre petrol (with a 6-speed manual gearbox); a 140hp, 242Nm, 1.4-litre turbo-petrol (available with a 6-speed manual and a 7-speed dual-clutch auto); and a 115hp, 250Nm diesel (offered with a 6-speed manual and 6-speed automatic). The 1.5 petrol is available only in the lower trims, the 1.4 petrol-manual and 1.5 diesel-manual are the only versions offered in all five trim levels, while the automatic options can be had in fully-loaded form. As standard, the Carens is offered as a 7-seater with a bench-type middle row, though a 6-seat option with middle-row captain's chairs is available on top-spec Luxury Plus trims. Phew.
Featured here are the petrol and diesel automatics in 6-seat configuration.
2022 Kia Carens: what's it like on the outside?
Unlike its cousin, the Hyundai Alcazar, which looks like an XXL-sized Creta, the Carens doesn't look like a stretched Seltos. You will find some visual links between the two Kias if you really look for them but you sure won't confuse one model for the other.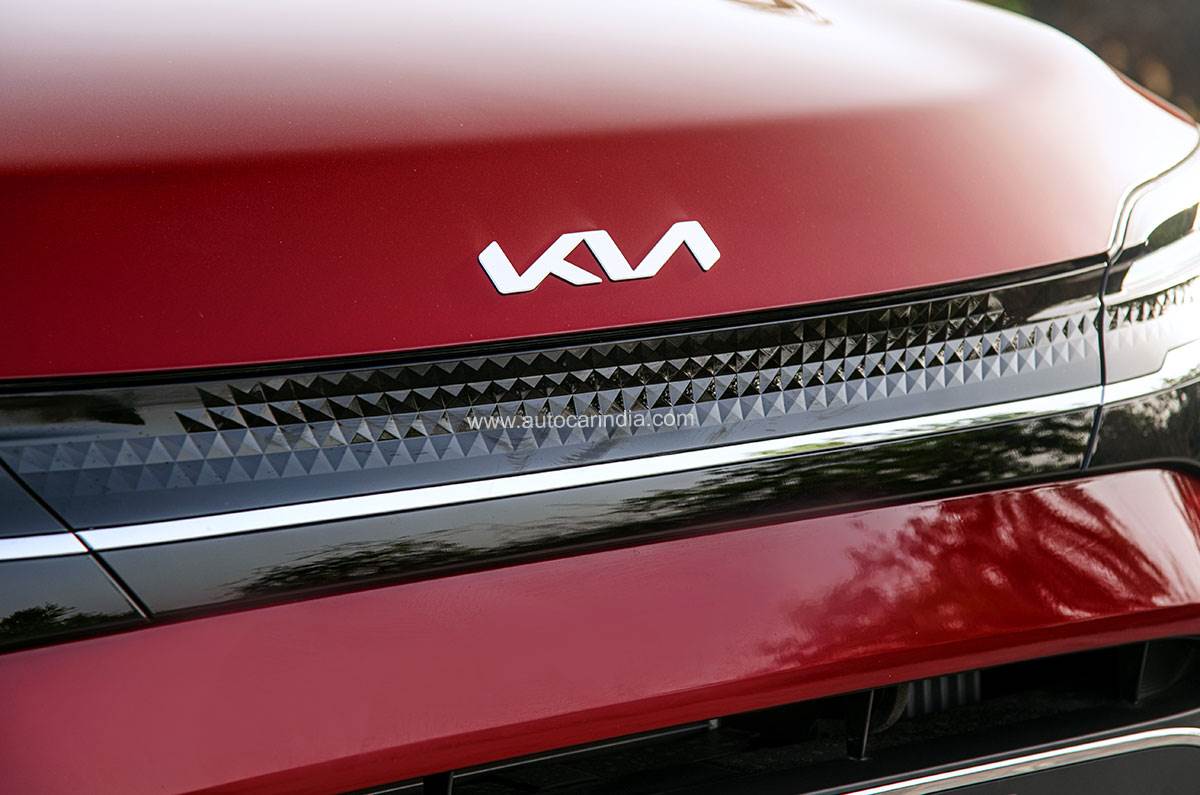 A knurled gloss black panel spans the front end of the Carens.
The Carens, with its low-set bonnet and large cabin area, has the basic shape of an MPV, though there's an SUV-ness to the look too that comes courtesy of elements like the cladding at the sides and around the wheel wells. Top-spec Carens trims feature attractive 16-inch rims. Larger rims would have brought in a more SUV-like stance but would also require larger wheel wells that would have potentially reduced available space inside the cabin. On the whole, the Carens is a handsome vehicle with lots of attractive details.
Carens sports a split-headlamp setup; LED DRLs look cool.
Giving the Carens its distinctive face is a knurled gloss-black panel that runs the width of the front end to connect the snazzy split-headlamps on either side. The actual grille is positioned lower down, with Kia's traditional 'Tiger Nose' indents moved to the chrome surround for the air dam. An easy to miss detail are the LED fog lamps that are neatly tucked into the bumper. Another cool detail is the top LED DRLs – they are shaped to resemble a constellation and also flash orange to double as the turn signals.
Top-spec Carens gets 16-inch alloys; larger rims would have added SUV-like stance.
The 4,540mm-long Carens is a fairly substantial vehicle, and this is most evident when seen in profile. To Kia's designer's credit, the Carens doesn't look drab, despite its long wheelbase (2,780mm), large rear doors and considerable rear overhang. There's a slick waistline that narrows at the front doors and flares out towards the rear, and even the glasshouse has a style element with upswept quarter windows. Kia has also used chrome and brushed materials to good effect at the window line, door handles and side cladding. The roof rails, though, are just for show and cannot carry any load.
Attractive triangular taillamps feature LED elements.
Tail-end styling is neat, with the large triangular tail-lamps linked by a light bar. A chrome garnish with knurled detailing at the bumper also adds some flash to the rear.
2022 Kia Carens: what's it like on the inside?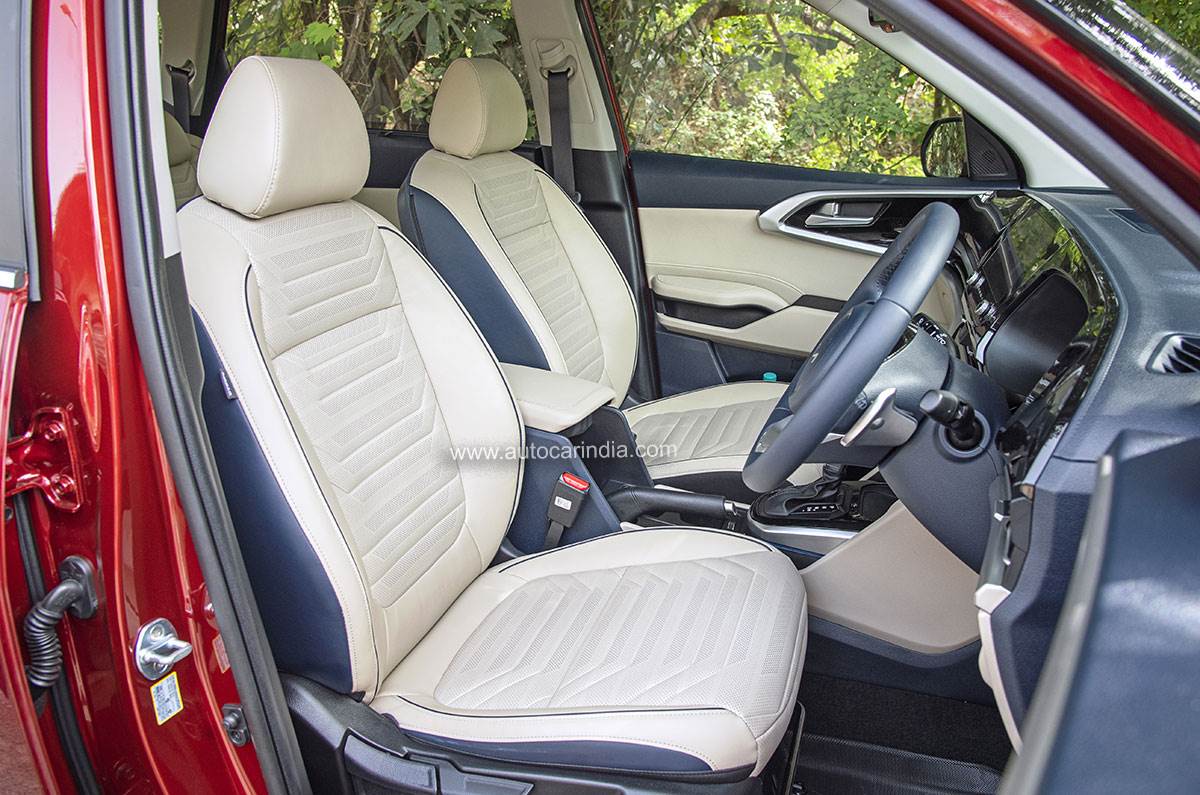 Front seats are well-cushioned and offer a great view out.
Get inside the Carens and you'll first and foremost be wowed by the level of quality. Everything, from the gloss panel on the dashboard to smaller buttons on the centre console, looks premium and general fit and finish is of a very high level, as mass-market cars go. The Mercedes E 350d-like navy blue on cream interior theme is interesting in its own right.
Carens' LCD instrument cluster doesn't look special enough.
The Carens' interior is also an easy space to get comfortable in. Drivers will like the great view out, the steering and well-cushioned seats offer ample adjustment, and all buttons and controls are in easy reach. Commendably, the 10.25-inch touchscreen that sits flush amidst the sleek dashboard and is angled to cut reflections also makes for easy viewing on bright and sunny days. The relatively simple LCD display for the speedometer and tachometer, however, didn't find favour with most of us.
There are plenty of spaces to store smaller items up front.
It's also a well thought out space, with lots of storage for smaller items up front. In addition to a sizeable glovebox, bottle holders at the doors and a large utility box between the front seats, the Carens also offers cupholders with ventilation, a pop-out cupholder for the front passenger and a storage tray under the front seat. And there's a wireless phone charging pad at the centre console too.
2022 Kia Carens: what's it like in the second row?
With large rear doors that open wide, and seats positioned at a friendly height, getting into the Carens' middle row is a comfortable exercise. And that feeling of comfort only grows once you're settled in place. The 6-seat version's captain's chairs are really well cushioned and accommodating, there are adjustable armrests and the option to adjust backrest angle makes it easy to find a comfy seating position. There's plenty of legroom even at a middle position, though for the full effect you'd want to slide the seats all the way back.
There's plenty of legroom and adjustability on offer in the Carens' middle row.
Buyers opting for the 7-seat version that gets a 60:40 split bench seat for the middle row will be content with comfort too. There's enough room for three average-sized adults to sit, and the near-flat floor makes life easy for the middle-seat passenger too.
The Carens' large windows (with retractable sunshades) also allow a great view out, and what's also nice is that frontal visibility from the back is good. Before you ask, the Carens doesn't get a panoramic sunroof and makes do with a single-pane unit. The roof-mounted air-con vents mean a full length sunroof won't be an option in the future either. On the plus side, the vents are effective at channelling air to the back and there's a dedicated blower control too. The Carens also packs in an air purifier, which is unusually positioned behind the driver's seat backrest. While it's a handy feature to have onboard, the system is quite noisy at work.
There's no panoramic sunroof on offer owing to the roof-mounted AC vents.
Middle seat occupants get two USB Type C chargers, two cupholders at the centre console and large bottle holders in the door pockets. There also enough space between the captain's chairs to stow ladies handbags.
2022 Kia Carens: what's it like in the third row?
One-touch electric assisted seat mechanism makes ingress into the third row easier.
If there's something the Carens truly stands out for, it's third-row comfort. While both middle-row seats feature tumble and fold, the kerbside one gets a superb one-touch electric assisted mechanism. Pressing a button on the seat shoulder has it fold out of the way automatically. The resulting aperture is large and getting to the last row is relatively convenient. The seating position at the very back is also comfortable and not as knees-up as we've come to expect in third rows. You can adjust the backrest angle to your liking too, and what's truly impressive is the space on offer. Medium-sized adults will be comfortable at the back, and even six-footers can, with some adjustment from the second-row passengers, sit in reasonable comfort. And thanks to the large rear windows, good frontal visibility and roof-mounted vents, third-row occupants don't feel hemmed in either.
There's enough room for large adults to sit in comfort in the third row.
Cupholders on either side and USB Type C charging functionality only help make the third row more habitable over long journeys.
2022 Kia Carens: what features does it get?
The list of all that the Carens gets is long. Top-spec Luxury Plus versions get LED lights, ventilated front seats, a slick 10.25-inch touchscreen, Bose sound system, connected tech, 64-colour ambient lighting, LCD instruments, a sunroof, auto climate control, onboard air purifier, cruise control and electric seat tumble.
10.25-inch touchscreen is slick in its operation.
However, it must be mentioned that the Carens is down on features to the Hyundai Alcazar, which will undoubtedly be in the same consideration set. Powered front seats, a 360-degree camera, blind view cameras and a panoramic sunroof are features you'd get on the Alcazar but not on the Carens. At least for the moment, that is.
Air purifier is flush in the driver's seat backrest; is noisy though.
In terms of safety equipment, the Carens does well for itself with standard-fit ESC, six airbags, front and rear disc brakes, ISOFIX child-seat mounts, and tyre pressure monitoring system. Top versions get a rear-view camera, and front and rear parking sensors. The Carens complies with latest Indian crash regulations but is yet to be put to the test by Global NCAP.
2022 Kia Carens: what's it like on luggage space?
With all seats up, the Carens offers a reasonable 216 litres of luggage space, which is enough for cabin baggage and/or soft bags. The rearmost seats split 50-50 and fold flat to free up 645 litres of room. For house-moving missions, you also have the option to lower the second-row seats, which increases storage volume to 1,164 litres.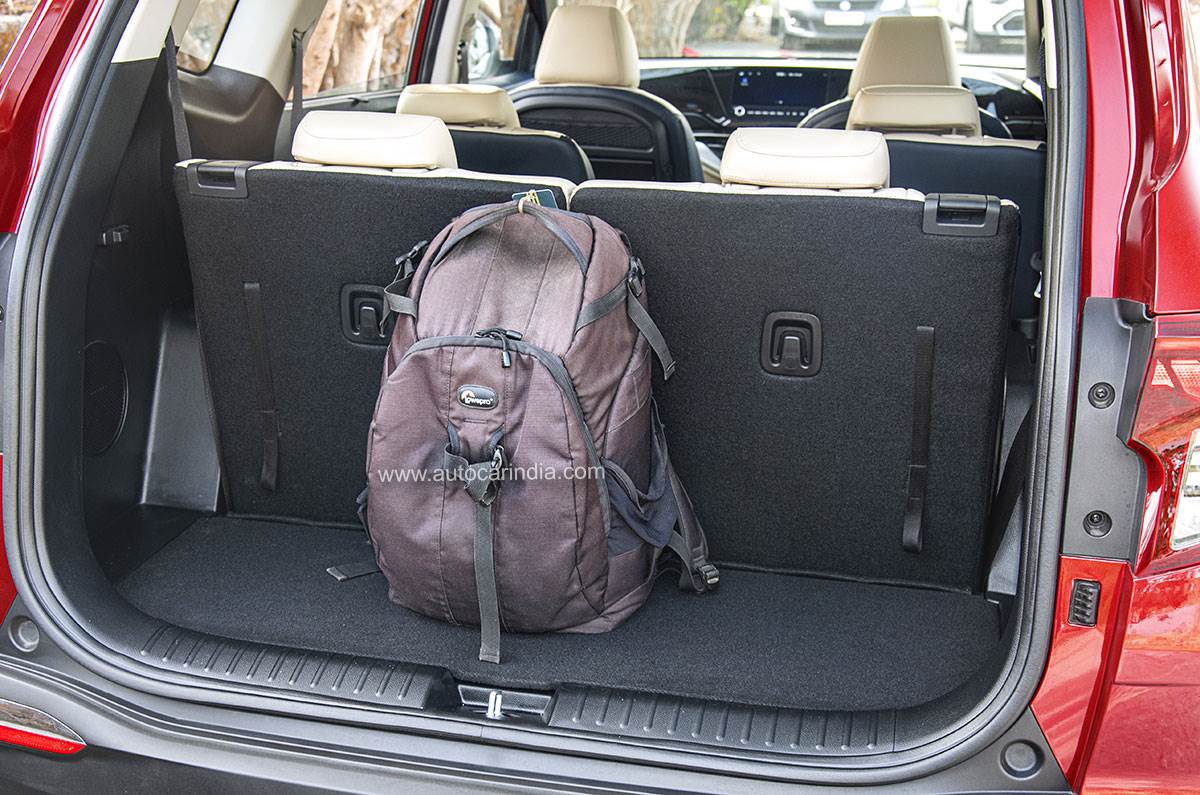 There's a reasonable 216 litres of luggage space with all seats up.
The Carens' boot lip is wide, though the floor is a touch high. The spare wheel sits under the body.
2022 Kia Carens: what's the performance like?
A 115hp, 1.5-litre diesel engine might seem inadequate for a vehicle that has to carry as many as seven occupants, but, as the Carens' cousin, the Alcazar has proven, the engine gets the job done... for the most part. You won't feel any lack of power in average city driving and even when you do need to make a quick overtake, you'll appreciate how the smooth-shifting, 6-speed gearbox chips in to ensure you aren't left behind. The Carens diesel gets up to cruising speeds with ease, too, and makes for a genteel cruiser, with 100kph coming in at an indicated 1,900rpm in sixth gear.
The thing is, the engine feels alright with up to four passengers but with a full load, it's out of its comfort zone. You can hear the engine work harder, there's a grumble from the engine bay when you need more power and often the gearbox will have to downshift to get the most out of the engine. Long inclines and uphill climbs with a full load only serve to highlight this. Paddle shifters help when you want a quick shift, but given the nature of this engine, you won't be reaching out for them all too often. Sport drive mode also helps, but only so much.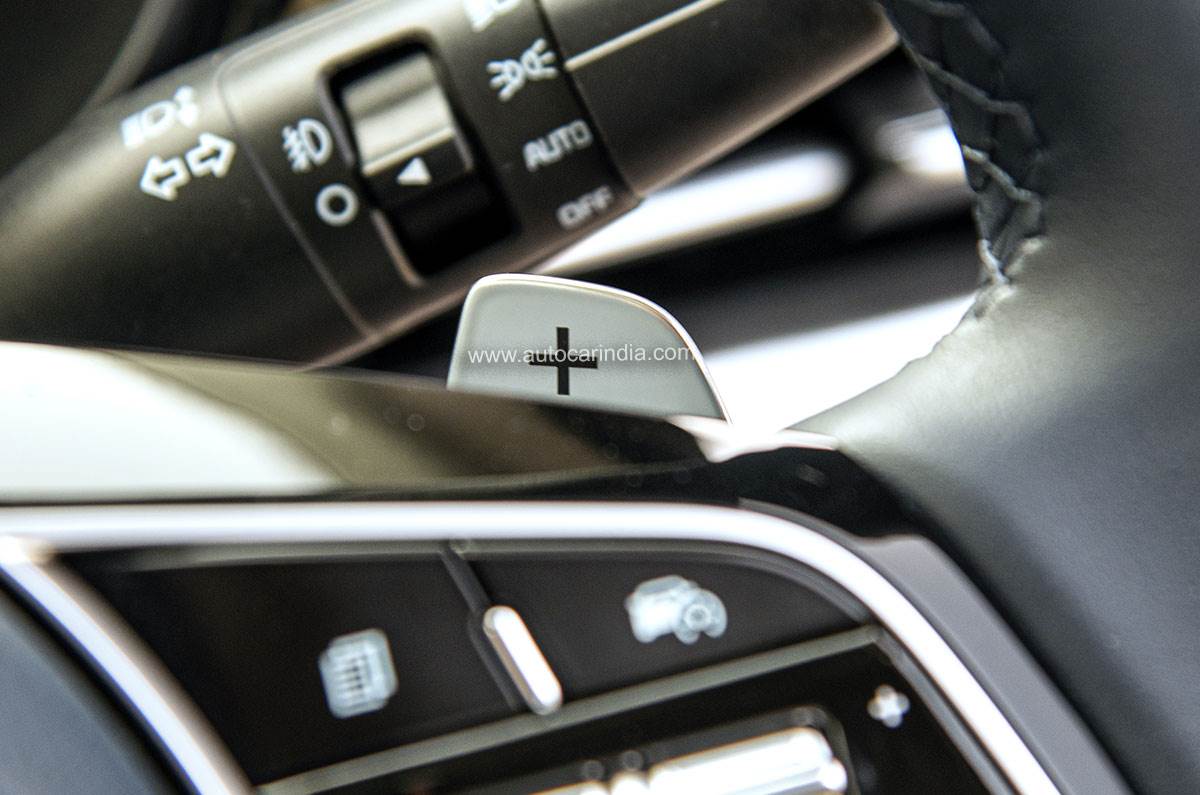 Paddle shifters are a part of the package on the automatics.
It's a similar story on the diesel-manual. The smooth-shifting 6-speed gearbox and well-weighted clutch are easy to use and there's enough performance for average city driving. It's not as zippy as the same engine-gearbox version of the Seltos, though. It's with a full load that you'll have to be mindful of the gear you're in. The engine doesn't offer that reserve of power that you'd get in a larger hearted vehicle, like an Innova Crysta.
In our performance tests, the Carens diesel-auto managed a 12.55sec 0-100kph time, which is at par with the similar-spec Alcazar diesel. Then again, frugality not performance will be the Carens diesel's calling card.
Buyers looking for a sprightlier Carens will like the 1.4 turbo-petrol-powered version. The 140hp and 242Nm engine is a smooth operator and is pleasant in its build of power from the word go. You do experience the engine's sportier side upwards of 1,600rpm and it's fun to wind the engine every now and then. That being said, responses on the 7-speed dual-clutch have been seemingly dulled on the Carens, as it doesn't kickdown as quickly as on the Seltos that features the same engine-gearbox combo. Stomping hard on the accelerator results in a slight pause before a gear change is effected. Sport mode does help here but it's not as snappy as on the Seltos.
The Carens' 7-speed DCT feels dulled down in comparison to the Seltos'.
Adopting a gentler driving style does smoothen the whole experience and is more in keeping with the Carens experience.
In our preliminary performance tests, the Carens petrol-auto managed the 0-100kph dash in 10.18sec, versus 9.72sec for the Seltos DCT. The two Kias were very close in kickdown acceleration, though.
Driving thrills might not be priority for a Carens buyers but it must be said that it's the 6-speed manual gearbox-equipped version that lets you enjoy the turbo-petrol engine more. Again, shifts are slick and the clutch is light, and what you'll also appreciate is how flexible this engine feels. It pulls well from 1,200rpm and is ready with its best by 1,600rpm, so what you get is a pretty wide powerband to play with. A 9.71sec 0-100kph time should interest petrolheads.
2022 Kia Carens: what's it like in ride and handling?
The Carens is an easy vehicle to drive. Its steering is well weighted and doesn't require any undue effort to twirl. You also quickly get used to the Kia's length and as a consequence, even in crowded city streets, you don't get the feeling of piloting a large vehicle, which is a good thing. The good all-round visibility, front parking sensors and crisp rear-view camera help to this end too.
The Carens feels confident at high speeds with well controlled body movements.
Ride comfort is also good, with the suspension smoothening out low-speed surface imperfections well enough. However, you do feel more of the road at low speeds in the diesels, which are set-up on the firmer side. At higher speeds, all versions of the Carens impress with good stability and well-controlled body movements, something which your rearmost passengers will particularly appreciate. It isn't thrown off by badly surfaced patches of road either. Drivers get a good feeling of control at the steering, and the tidy handling also aids confidence.
We haven't put braking performance to the test as yet but the initial feel over a day of driving was of strong stopping power. The Carens has 195mm ground clearance which should help clear bad roads.
2022 Kia Carens: should I buy one?
First impressions suggest Kia has yet another winner on its hands. The Carens is smartly turned out, well-appointed on the inside, easy to drive and comfortable to be driven in. There are multiple engine-gearbox options on offer too, so there's a version to fulfil every type of need. Even so, perhaps the Carens' biggest pull is its third row. Far from feeling like a compromise, the Carens' third row actually scores big on space and comfort, and helps the Kia carve a niche for itself in a market crowded by three-row SUVs and MPVs.
The Carens has gone on sale with an introductory price of Rs 8.99 lakh (ex-showroom), for the base 1.5-litre petrol-manual, with the fully-loaded diesel and turbo-petrol automatics priced at Rs 16.99 lakh. The pricing is disruptive to say the least, and not only threatens existing MPVs like the Maruti Suzuki Ertiga and Maruti XL6, but could also draw buyers from SUV segments.
To sum up, for anyone looking specifically for three-row flexibility, the Carens is as good as it gets for the money.
Also see: