An all-new 110hp 1.0 TSI turbo petrol comes as a big shot in the arm for Skoda Rapid. How much better is it than the ageing 1.6 MPI it replaces?
What is it?
The 2020 BS6 Skoda Rapid, facelifts notwithstanding, is fundamentally unchanged since its launch way back in 2011. However, while the new car gets no exterior or interior changes to speak of, there's a big transformation under the bonnet. Out goes the ageing 1.6-litre naturally aspirated petrol, and in comes a modern 999cc, three-cylinder TSI motor. This compact and light, direct-injection turbo-petrol belongs to the EA211 engine family of the VW Group and will power future Skoda and VW compact cars. With the 1.5 TDI diesel now discontinued, there's a lot riding on the 1.0 TSI - the sole engine powering the Rapid range.
New force-fed 1.0-litre engine is more powerful than the outgoing 1.6-litre petrol.
This engine, shared with the Polo and Vento TSI from sister (and rival) brand VW, has an impressive spec sheet. It produces a strong 110hp and 175Nm of torque, which is a 5hp and 22Nm bump up over the previous 1.6-litre. A new 6-speed manual replaces the old 5-speed unit but those looking for an automatic variant will have to wait until September for the new 6-speed torque converter auto.
The 1.0 TSI Rapid appeals to the pocket as well, with substantially better fuel efficiency than the discontinued 1.6 motor. The official test figure of 18.97kpl makes it more efficient by a massive 3.56kpl. But the big shocker is the price – the base Rider variant starts at just Rs. Rs 7.49 lakh, which drops it smack in premium hatchback territory, meaning it's cheaper than even the VW Polo 1.0 TSI powered by the same engine.
New 6-speed manual has a light and short throw.
What is it like to drive?
The new 1.0 TSI is nearly 600cc down on the Rapid's previous 1.6-litre engine, appearing to be at a considerable disadvantage. This, however, isn't the case. To dispel this myth, just look at the performance figures. A scant 0-100kph time of 10.09sec makes it one of the fastest cars in its class, and it's a full second faster than the earlier 1.6 Rapid. Press on to 140kph and the gap increases by over 3sec. But to be honest, the outdated EA111 1.6-litre, four-valve-per-cylinder, twin-cam engine was never the last word in performance, so to get a proper perspective, it makes more sense to stack the Rapid's figures against the segment benchmark, the Honda City.
The Rapid TSI is one of the quickest midsize sedans.
In the sprint to 100kph, the Rapid pips the City (10.13sec) and widens the gap a bit to 140kph (19.6sec vs 19.93sec), but, for all practical purposes, they are evenly matched in a straight drag. These figures, however, are now academic as the next-gen City, due next month, will get a marginally more powerful 1.5 petrol engine and a 6-speed gearbox.
What's clear is that the Rapid, which goes on to hit a top speed of 195kph is... well, very Rapid. So if you want raw acceleration and speed in a midsize sedan, this latest one won't disappoint you.
2020 Rapid 1.0 TSI performance figures (as tested)
0-10kph
0.56s
0-20kph
1.19s
0-30kph
1.78s
0-40kph
2.40s
0-50kph
3.39s
0-60kph
4.36s
0-70kph
5.43s
0-80kph
6.62s
0-90kph
8.00s
0-100kph
10.09s
0-110kph
11.96s
0-120kph
14.00s
0-130kph
16.53s
0-140kph
19.60s
20-80kph (in third gear)
11.69s
40-100kph (in fourth gear)
14.38s
80-0kph
29.05m, 2.72s
Even more impressive is the strong mid-range performance. With the turbo nicely spooled up, it simply runs away from the Honda City and every other midsize sedan in our in-gear acceleration tests. In the 40-100kph slog in 4th gear, the Rapid is almost 3sec quicker than the Honda!
These figures reflect the ease with which the Skoda Rapid builds up speed. The secret is the wide spread of torque and well-judged gear ratios; they work well together to extract the most from this compact, giant-slaying engine. From just under 3,000rpm, this engine pulls hard and strong with no let up until the 6,700rpm redline. In fact, it's an engine that loves to be revved and it's all too easy to hit the rev limiter. In fact, the more you rev it, the smoother it gets, and that characteristic three-cylinder thrum is the only giveaway that it has one cylinder less. This superbly balanced engine is largely vibration-free and it's only at idle you feel it gently rocking on its mounts.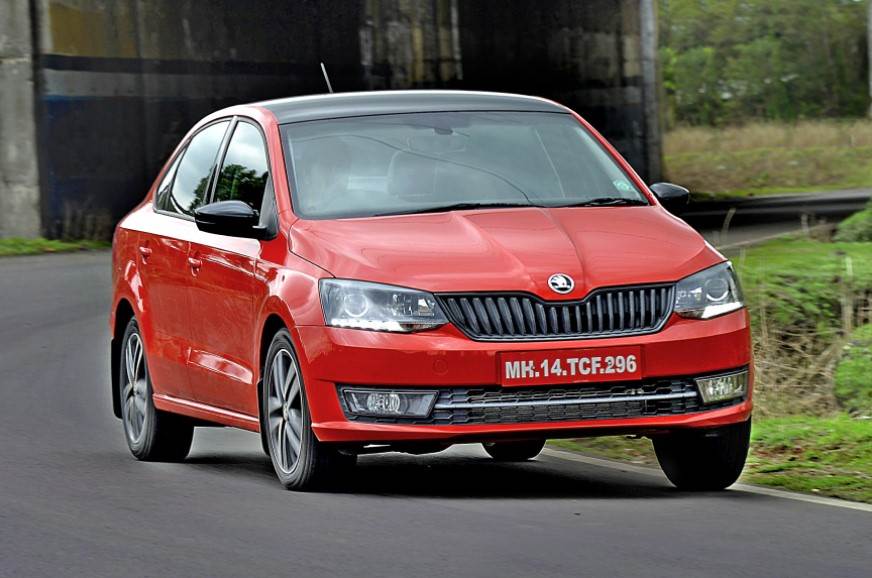 Great body control and high-speed manners have been hallmarks of the Rapid.
If there's a weakness with this engine, it's at low speeds. Mash the throttle below 2,500rpm when the turbocharger is off boost, and you'll get a tepid response which explains why the aphorism 'there's no replacement displacement' is so overused.
On part-throttle, this 1.0 is pretty responsive, but it's when you want a burst of acceleration in slow-moving traffic that you'll find yourself fumbling for a lower gear. In fact, you tend to shift between 3rd and 2nd gears more frequently in city traffic to keep the engine in the thick of the powerband. The good thing is that the new 6-speed manual transmission has a light and short throw but it does feel a touch notchy when you move the stubby lever across the gate.
The 2020 Rapid gets no mechanical changes other than the TSI engine, so the suspension is the same as before, which, in fact, complements the extra power. The damping is a touch on the stiff side, so large bumps make their presence felt with a thunk. Overall, though, the ride quality is very absorbent. On an extremely undulating road, the Rapid pitches a bit but with this lighter engine, it doesn't feel as nose-heavy as before. In fact, tight body control and confidence-inspiring high-speed manners have been hallmarks of the Rapid, and now combined with a punchy engine and taller gearing, it's an even more effective highway cruiser. The steering isn't bristling with feel or isn't particularly responsive but it's accurate and has a reassuring amount of heft that gives you the confidence to relish a winding road.
What is it like inside?
The cabin is unchanged as well, and while you do appreciate the solid build, the hard-wearing quality of plastics, the spot-on ergonomics and the fuss-free design, there's no doubt that interiors look dated. With this top-spec (and very posh-sounding) Monte Carlo trim, Skoda has tried to invigorate the cabin using some racy bits. The flat-bottomed steering with a chunky, perforated grip and red stitching looks and feels fantastic, but the jazzy seat trim with red accents and 'Monte Carlo' embossed on the headrests looks less convincing.
The interiors do look dated, though there's a lot to like in the ergonomics and fuss-free design.
The seats are very supportive and comfortable as always. Legroom at the rear is good though not as generous as in the Ciaz and City but the spot-on cushioning, the high seating position and good underthigh support more than makes up for that. There are lots of useable storage bins scattered throughout the cabin, and welcome additions to the Rapid range are mildly tinted windows and rear window shades.
Rapid's seats are comfortbale and supportive.
Taking centre stage (literally) is Skoda's 8.0-inch Android-based infotainment system that's squeezed into the centre console as a retrofit. The high-res screen is sharp, easy to read and doesn't pick up reflections but it's not very intuitive to use. There's no Android Auto or Apple CarPlay; users do get phone screen mirroring via a third party 'EasyConnection' app but the experience isn't particularly seamless. The single USB port, located inconveniently in the glovebox, feels like an afterthought.
Legroom at the rear is good though not as generous as in the Ciaz and City.
Top-spec Rapid Monte Carlo variants get auto headlamps, rain-sensing wipers, 16-inch alloy wheels, tilt-telescopic steering, rear ac vents, auto-dimming inside mirror, rear-view camera and climate control as notable features. The more-affordable Style variant gets side airbags, which the Monte-Carlo misses.
New 8.0-inch touschscreen infotainment system is sharp, easy to read and doesn't pick up reflections but it's not very intuitive.
Features like LED headlamps, cooled seats, sunroof, engine start-stop button, 6 airbags, ESP and tyre pressure monitor, all of which competitors offer, are not an option on any Rapid variant.
Should I buy one?
The Rapid was last given a facelift in 2016 but its clean and sharp design has aged rather gracefully. It now gets a fresh lease of life with the potent 1.0 TSI which complements the brilliant chassis and dramatically lifts the car's appeal. It's a good city car, a great highway cruiser and pretty efficient too.
The top-spec Monte Carlo edition is reasonably equipped for the price (Rs. 11.79 lakh) but the Rider variant that has grabbed plenty of attention with its Rs 7.49 lakh price tag, has no touchscreen or alloy wheels. However, for those willing to shop around for these as aftermarket kit, this variant is a real bargain.
The Rapid has aged gracefully since its last facelift in 2016.
The Skoda Rapid doesn't have the latest gizmos or the digital tech offered by rivals, and it feels a touch analogue in comparison but therein lies its charm. Few cars combine fantastic build quality, excellent dynamics and practicality like the Rapid. It's an old-school car that still gets its fundamentals right. If you love to drive and need a safe and solid midsize sedan that won't break the bank, the 2020 Skoda Rapid 1.0 TSI is the one for you.
Also see:
Skoda confident of retaining market share with petrol-only Rapid
Skoda Rapid vs rivals: Price, specifications comparison
Turbocharged petrol cars for under Rs 10 lakh
Volkswagen Polo, Vento AT deliveries likely to commence in August