The iconic SUV from Affalterbach gets a thorough revamp. But does it still hold onto its phenomenal desirability quotient?
Few automobiles have managed to retain and preserve their iconic character like the G Wagen. Having started life as an army vehicle, the G, short for 'GeländeWagen', was conceived as an out and out military workhorse, but over the years it has become a style statement for the rich. And the latest one is no different. Yes, on paper, it is a lot more civilised now and it gets a ton of modern amenities, but by just looking at it, you can tell it's still very much the brash, ladder-frame, go-over-anything SUV that we all love.
EYES ON TARGET
Those not crazy about cars will have a rather tough time trying to identify the outgoing version from the new one. Now, usually, that's a negative point, but in the G Wagen's case, it spells great news. You see, the G is that rare breed of automobiles that have a cult following for its design. It is such an integral part – or rather, the most integral part – of the entire SUV, that Merc just couldn't risk making big changes. Now while it is unmistakably a G Wagen, there are a number of changes. The G has grown in size in terms of length, width and height. The wheelbase is longer too and thanks to redesigned bumpers, the approach and departure angles have improved as well. At the front, the grille and headlamps are the most noticeable changes. The multi-beam LED headlamps get 84 LED diodes and an LED ring around it. There are vertical elements instead of horizontal ones on the grille and the newly designed bumpers also feature a matte-silver kick plate. The profile is again typical G Wagen with the boxy layout, but you'll notice all the edges are now much more rounded. What adds more to the styling are the big, optional 22-inch wheels (standard version gets 21 inches) that offer a glimpse of the red brake calipers; the classic push-button door handles and the oh-so-sexy side exhausts. At the rear, it still sports the classic design with the spare wheel mounted on the tailgate but gets new LED tail-lamps. The variant we had was the Edition 1 which explains the red striping on the exterior.
GET INSIDE
You don't just get inside a G Wagen, you have to actually use the side step to plunge yourself in the cabin. And once in, it is like being in a truck. Even at its lowest seat position, you are seated high enough to hi-five truck drivers, and visibility all round is excellent. Now the interiors of earlier G Wagens were a reflection of their exterior – basic and tough. The new one, however, gets the full Mercedes treatment. The dashboard, like the opulent S-class, is laden with leather and even carbon fibre in places. You have two 12.3-inch screens with a fully digital instrument cluster and infotainment system dominating the upper half of the dash, and a hoard of buttons and functions on the centre console. Just about everything you touch feels plush and expensive. New additions include front seats with massage function, cooled and heated seats, off-road modes and that all-important sunroof as well. The seats themselves are firm and sporty in line with the AMG badge. This variant gets a nice red and black contrast in the upholstery with bright-red racy seatbelts. The steering wheel is similar to that seen in the latest generation of Mercs. On it, you get cruise control settings, the regular infotainment controls and also trackpads to shuffle and customise the dials. Now unlike most Mercs, you aren't likely to sit in the back seat of the G, but should you need to, it is now a lot more comfortable this time around thanks to the longer wheelbase. The seats are broad and well cushioned, you get a climate control with AC vents and the high seating position gives you a good view out the windows. You can also recline the rear seats a bit and it also gets a heated function. A cooled seat, however, would have been better. As little as it matters, the G is quite practical in terms of boot space too. You can fit a ton of luggage and then some if you take out the supporting nets; plenty of space for a weekend getaway.
CHARGE AHEAD
One of the biggest change in the new G 63 is the engine. It no longer features the older 5.5-litre V8. Instead, you get a 4.0-litre, twin-turbo V8 petrol engine that develops 585hp and a colossal 850Nm of torque. These are supercar figures but then again, this is an AMG.

0-100kph is claimed to be covered in just 4.5sec, which is hugely impressive for an SUV that weighs over 2.5 tonnes. Top speed is limited to 220kph and should you want more, you can opt for the optional performance pack and stretch it to 240kph. That said, there is little point in opting for this performance pack thanks to the speed limit warning that is now mandatory on all cars as per government order. As a result, after 120kph, you will hear a constant ringing that'll interrupt the raucous V8 note. There is no way to turn this system off and it even cuts through the music playback – which means you simply have to stay under 120kph and while that is sensible on a family hatchback or sedan, it seems ridiculous on a 585hp super-SUV. That said, the way it accelerates is reason enough for you to constantly have a grin plastered on your face.

The 9-speed automatic gearbox is not the conventional 9G-Tronic, but AMG's version of it. It gets a software update which makes it shift even faster, and that is quite evident especially in the Sport or Sport+ modes. You also get the ubiquitous Comfort mode, which will be widely used, and also a Slippery mode for those rare moments you find yourself in a rough spot. Speaking of which, like its predecessors, this new G can take on much more than just a muddy ghat road. You have better approach and departure angles and the famous three differentials to help transfer just the right amount of power to whichever wheel needs it. But in all fairness, not many would actually put a Rs 2 crore SUV in a place where you'll need to use it. What you will use often though is the 'Sport' and 'Sport+' with the exhaust on its Sport (read growl) setting. You can also choose to put the gearbox in manual and use paddleshifters to shift. Also, a rather reassuring feature is that the engine also gets a cylinder deactivation mode, which shuts off four cylinders when you're coasting up to speeds of 45kph. Flex your foot though, and you're back to the hooligan V8 in a flash. Now although all this sporty performance is best suited on long highway stretches, the G isn't really a slouch when it comes to the corners. Yes, you do feel the weight and it gets slightly top-heavy, but the low-profile tyres and stiff suspension allow it to carry a lot more speed than you'd expect.

The steering is adaptive too; when you're in cumbersome traffic, it's light and easy to turn, and as the speed builds up, it gets heavier and offers a decent amount of feedback as well. The ride quality, however, is far from the regular, soft and comfy Mercedes setup with the stiff suspension and low-profile tyres, but then again, you don't buy the G to sit back and relax in comfort. On a flat well-paved road though, it works just fine.
NEED ASSISTANCE
Mercedes has really gone all out when it comes to features. Yes, you don't get the Level 2 autonomous tech from the S-class, but it gets pretty much everything else. There is radar-guided cruise control, active lane assist, brake assist, 360-degree parking camera, blind spot assist and much more. The COMAND infotainment system features Apple CarPlay and Android Auto, but also gets standard satellite navigation with Bluetooth and USB functions. Another highlight is the superb Burmester audio system with 15 speakers. Safety kit is packed to the brim as well with nine airbags, ABS with EBD, ESP, Isofix points and also theft and tow-away alarms.
AT EASE
To sum up, the G 63 has changed, and for the better. It is now a lot more premium, has the latest tech, but thankfully, doesn't compromise on the essence of what it always was – a loud, in-your-face SUV, with a menacing road presence. Yes, it is steep, priced at Rs 2.19 crore (ex-showroom), which also makes it more expensive than its closest rival, the Range Rover SVR, by around Rs 22 lakh. The SVR is more spacious and more comfortable and is just as capable off the road. However, at this level and in this segment, decisions are made more from the heart than the head, and if you go by that, the G 63 will always have the last laugh.
Also see:
New Mercedes-AMG G 63 launched at Rs 2.19 crore
2018 Mercedes-AMG G 63 image gallery
Brabus 800 Adventure XLP image gallery
7142 Views|3 years ago
Mercedes-Benz G 350d image gallery
10054 Views|4 years ago
Mercedes-Benz G 350d video review
28062 Views|3 years ago
2019 Mercedes-Benz G 350d off-road video review
13703 Views|4 years ago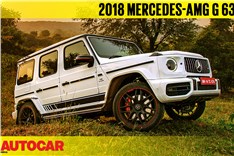 2018 Mercedes-AMG G 63 video review
12881 Views|5 years ago