The Volkswagen Group is looking at the potential of introducing CNG-powered cars in India for future models. Speaking at the inauguration of the India Technology Centre in Pune for the Volkswagen and Skoda brands today, Gurpratap Boparai, Head – Volkswagen Group India, said: "There's a big scope for Volkswagen India in the CNG vehicle space, if stated plans (by the government to expand distribution network) get executed. We are watching the space with great interest. The market image of CNG also has to improve."
The use of CNG as a fuel for automobiles makes an immediate and direct contribution to the reduction of emissions produced by road traffic. For example, CNG releases approximately 25 percent less CO2 during combustion in the engine than standard petrol. CNG also burns more cleanly than petrol and diesel; the exhaust gas is almost entirely free of fine dust and has significantly lower proportions of nitrogen oxide.
Natural gas is used in millions of households for heating, providing hot water and cooking. Sustainability is increased by CNG when it is mixed with biogas sourced from raw materials and waste, and by synthetic natural gas, which can be generated using green electricity.
According to Dr Jens Andersen, Group CEO for Natural Gas Mobility at Volkswagen AG, "As far as a natural gas vehicle powered by CNG is concerned, it is irrelevant whether it runs on pure fossil fuel or methane that has been 100 percent regenerated. This characteristic makes the natural gas vehicle extremely important for the current energy transition."
Thanks to their higher efficiency and lower emissions (no particulate emissions, carbon neutral depending on fuel source), natural gas engines are currently experiencing a big upsurge, particularly in Germany. Volkswagen offers a number of models with natural gas engines in that market. They are designated as 'TGI' powertrains.
Audi, one of VW's premium brands, will launch its first all-electric model, the e-tron SUV, by end-2019 in India. However, the play for electric mobility, at least for the Volkswagen Group, is likely to remain only in the premium space for some time.
The German group doesn't see business viability for electric vehicles (EV) in the volume segment, primarily due to high battery costs and a lack of clarity "on what the government intends doing". "Right now, the economics of electrics work for premium cars, and not for everyday cars. Those just do not work. In Europe also, everyone is trying to make the economics work. But it's really tough," said Gurpratap Boparai, in an earlier interaction with our sister publication Autocar Professional.
Volkswagen has an "open mind" as far as electric mobility goes. According to Boparai, the Group has plans to launch models from all its brands in the EV space, and will evaluate when and if any will come to India. He also added, however, that in India, an electric car's CO2 footprint is "no less" than that of a BS-VI car – that's that's because of fossil fuel as a major source of electricity generation in India. I(n addition, as EV batteries have to be imported, Boparai sees CNG as "an excellent option" for a country like India.
"Maybe CNG makes more sense if we can get a network in. Let's not forget if we get electrics, the batteries are going to come from China. We may be assembling the batteries here but the cells will still be imported. We may be reducing our oil import bill but we may end up increasing other import bill," says Boparai.
In a bid to increase viability of CNG in the country as a fuel source, the 2018 SIAM annual convention saw Union Petroleum and Natural Gas minister Dharmendra Pradhan announce that 10,000 CNG stations will be set up in India over the next 10 years. This may see Volkswagen introducing its 1.0-litre TGI engine in India.
According to a recent Nomura Research study, high customer acceptance, availability of CNG vehicles and presence of local component manufacturing could facilitate quick substitute to India's high oil imports and hence, early realisation of the benefits. However, the sole and major constraint to the adoption of Natural Gas Vehicles (NGVs) is the infrastructure and dispensing stations.
Also see:
Volkswagen Group considers CNG-powered future models
Skoda Vision X-based SUV teased ahead of Geneva reveal
VW MEB platform: The future of the car
In conversation with Gurpratap Boparai, VW Group India Head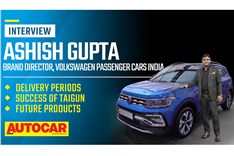 VW's Ashish Gupta on success of the Taigun, brand's futur...
4061 Views|3 months ago
VW Taigun, Skoda Kushaq crash test video
8509 Views|3 months ago