Body-on-frame vehicles are typically heavier, costlier and less fuel-efficient than monocoque constructions. Thus, it is not the form preferred by carmakers for their medium to small-sized models – and to some extent, even for large vehicles. However, Masakazu Yoshimura, managing director, Toyota Kirloskar Motor, says that the Japanese carmaker does not plan to move away from body-on-frame vehicles anytime soon.
The carmaker admitted that sticking to the traditional body-on-frame chassis has its challenges but reiterated its allegiance to this form of construction which underpins its models, including the hugely popular Crysta. The company has said it will continue to look at ways to make it more rigid and minimise the disadvantages. In fact, the Crysta is said to have no carryover parts from the older model and even the body-on-frame is developed completely new.
"I think the construction is very good in terms of the rough terrain drivability, as is widely known. We will try to keep the frame as long as possible, and as long as regulation allows it. Moreover, our engineers are trying to minimise it, lighten it and make it more rigid by using other materials," Yoshimura said. For the Crysta, Toyota has changed the frame's cross-section size and firmed up torsional rigidity to improve riding comfort.
"But it's very difficult, that's why our engineers ask themselves the question (about body-on-frame's future) every day," he said.
The company believes the go-anywhere ability of its ladder-frame models and upbeat demand, especially in regions such as the Middle-East, will continue to favor its decision. Its bread-and-butter model, the Hilux, completed 50 years of being on sale in 2018, uses a body-on-frame construction and has a reputation for being indestructible. In fact, Kaoru Hosokawa, Chief Engineer for the Hilux, believes that ladder frames still have plenty of room for improvement, not just in their reliability and durability, but also in their driving performance and quietness.
Interestingly, Yoshimura points out that the first-ever-win by its motorsport arm – Toyota Gazoo Racing – in the recent Dakar rally is seen as a testament to the body-on-frame construction's capability. "We won the Dakar Rally 2019 in Peru for the first time ever. And that was with a ladder-frame vehicle," he said.
Q&A WITH MASAKAZU YOSHIMURA, MD, TOYOTA KIRLOSKAR MOTOR
On the collaboration with Suzuki.
Suzuki and Toyota's collaboration is not just for India but for global markets as well. They're very good at producing small cars and we are perhaps good at producing the mid- and upper level cars. So together, we will be able to offer a variety of models to the customers.
On the possibility of an India-specific model and a C-segment SUV.
It's too early to say if we will do an India-specific model. Demand in the Indian market is for a B-segment SUV while the trend globally is more C SUV. But unfortunately Toyota is not as good as other manufacturers in producing A- and B-segment cars. Also that's part of the learning with Suzuki as well.
On the prospects for EVs.
For hybrids and EVs, how the electricity is produced is very important. We have the technology for zero emissions, which is fuel cell, but we are struggling to reduce its cost. So currently, self-charging cars such as Camry hybrid are best for India. Large vehicles like the Innova will continue to use ladder-frame for the foreseeable future.
Also see:
Toyota to make more performance cars
Toyota-badged Baleno confirmed for launch in 2019
2019 Toyota Camry Hybrid India review, test drive
2019 Toyota Supra unveiled at Detroit motor show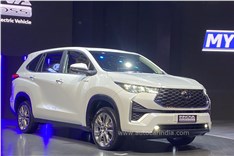 Toyota Innova Hycross image gallery
63444 Views|6 days ago
New Toyota Prius image gallery
7835 Views|15 days ago