The new-gen Honda Civic sedan was recently crash tested by the New Car Assessment Programme for Southeast Asian Countries (ASEAN NCAP) and it has come out with an impressive 5-star safety rating. According to the report, the tested model was the EL+ variant sold in Thailand, although the rating will be applicable for all variants sold in other ASEAN countries such as Singapore and Indonesia.
Scores 29.28 out of 32 points in adult occupant protection
Scores 46.72 out of 51 points in child occupant protection
Overall score is 83.47, thus warranting a 5-star rating
Honda Civic ASEAN NCAP results: how did it fare?
The new Honda Civic scored an impressive 29.28 out of 32 possible points in adult occupant protection, with full marks (8 out of 8) being awarded for side impact test. The Civic lost some points in frontal impact test, where it scored 14.54 out of 16, and in head protection technology test, where it scored 6.74 out of 8.
With regards to child occupant protection, the dynamic test, which involves frontal and side impact assessment, yet again saw the Civic score maximum points – 24 out of 24. However, the Civic lost some points for child seat installation, vehicle based assessment and child presence detection which resulted in an overall score of 46.72 out of 51 points.
In ASEAN markets like Thailand, Singapore and Indonesia, the Civic comes equipped with six airbags as standard, passive safety systems and also the Honda Sensing suite. The latter is basically Honda's ADAS technology suite, which brings in features like autonomous emergency braking, lane departure warning, lane keep assist, a driver attention monitor and automatic high beam.
The Civic also fared well in the safety assist category, scoring 19.07 out of 21 possible points. In fact, it scored full points for all the driver assist systems, only losing some points for the rear seatbelt reminder system, which is either standard or optional fitment, depending on the market the Civic is being sold in.
As part of ASEAN NCAP's new testing protocol, there's also a provision for motorcyclist safety in the assessment. This is where the Civic has lost out some major points, scoring 8.32 out of 16 possible points. Notably, the Civic does not get a proper blind spot detection system in these ASEAN markets, for which it only scored 2.32 out of 8 possible points. Instead, the Civic gets Honda's Lane Watch feature, which does not qualify as a proper blind spot monitor. Oddly enough, the Civic also does not get a rear-view camera as standard in these ASEAN markets, for which it was awarded zero points. It, however, did score maximum points for automatic high beam, pedestrian protection and the AEB system's ability to detect motorcycles.
Considering the weighting that's associated with each category, overall score for the Honda Civic stood at 83.47 which was enough to warrant it a 5-star safety rating.
Honda Civic in India
Honda, unfortunately, pulled the plug on the Civic sedan in India in December 2020, when the company ceased manufacturing operations at its Greater Noida plant in Uttar Pradesh. The last Civic on sale in India was the 10th-generation model.
Upcoming Honda cars in India
Honda is gearing up to launch the City Hybrid sometime in 2022, which could very well be India's most fuel-efficient petrol car. Following that, the company is also developing an India-focused midsize SUV, which is expected to be launched in our market in 2023. It will be based on the City's platform and could even borrow its powertrain options from the car.
Also See:
Honda City Hybrid could be India's most efficient car
Honda's new Sensing 360 offers active omnidirectional sensors
Honda Cars
Honda Amaze
₹ 7.94 - 13.31 lakh
Honda City
₹ 13.42 - 23.70 lakh
Honda Elevate
₹ 12.85 - 18.63 lakh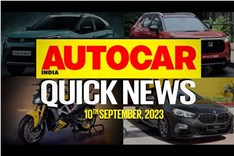 Quick News Video: September 10, 2023
1141 Views|18 days ago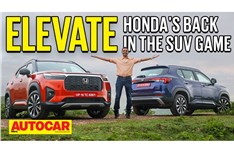 Honda Elevate video review
35035 Views|1 month ago
Takuya Tsumura on the new Honda Elevate, future models, E...
8464 Views|3 months ago