Mercedes-Benz G-Class will add an electric variant by 2025. This will be one of the most radical mechanical transformations for Mercedes' iconic SUV since it was first unveiled back in 1979.
Concept EQG shown at Munich is near-production study
Underpinned by same chassis as the standard G-Class
Will have off-road capabilities similar to G-Class
Mercedes-Benz Concept EQG: what's new?
As scooped by our sister publication Autocar UK recently, the EQG will be a close visual relation to the current internal combustion-powered car but with a raft of styling revisions that bring it into line with Mercedes-Benz' new EQ line of electric cars. It has been previewed at Munich in the form of the Concept EQG, which is described as near-production study.
The makeover is subtle, extending chiefly to illuminated trim elements, a solid panel with a 3D star pattern replacing the front grille, bespoke 22-inch aluminium wheels and a storage box in place of the spare-wheel-carrier, designed to look like a wall box charger.
Mercedes-Benz also draws attention to the Concept EQG's roof rack, which houses a bright LED strip along its front edge to hint at the potential for this electric G-Class to undertake "demanding off-road adventures". Underpinned by the same ladder-style chassis as the G-Class with independent suspension at the front and a rigid rear axle, the EQG is "an uncompromising off-roader".
Mercedes-Benz Concept EQG: battery and off-road ability
In fact, Mercedes-Benz says a battery-electric powertrain will enhance the G-Class' trademark off-road ability. Power is supplied by four individually controllable wheel-mounted motors, while a two-speed gearbox effectively offers low-range and high-range gearing.
The instant torque provided by electric motors will give the EQG "enormous pulling power and controllability", making it perfect for tackling steep inclines and rough terrain and towing heavy loads. Mercedes-Benz has hinted that this quad-motor powertrain will be carried over into production.
The battery is integrated into the ladder frame to ensure a low centre of gravity. The EQG will take on the firm's "legendary" Schöckl mountain testing track in prototype guise ahead of its final unveiling. The current W463-generation G-Class is sold under the "Schöckl proved" banner with reference to its off-road ability.
As it is a concept, Mercedes-Benz has not revealed the EQG's battery capacity and range or performance data. But it will no doubt eclipse the performance of the V8-powered AMG G63, which with 577hp and a 0-62kph time of 4.5sec is the most powerful and fastest version of the G-Class yet produced.
Mercedes-Benz research Chief Markus Schäfer hailed the Concept EQG's unveiling as a significant moment in the firm's ongoing EV roll-out. "We want to inspire our customers to switch to electric mobility with convincing products," he said. "An icon like the G-Class fulfils this task perfectly."
Mercedes-Benz G-Class in India
The Mercedes-Benz G-Class SUV has been a popular model for the brand in India and the AMG G 63 and G350d are currently on sale in India.
Also see:
Mercedes-Benz Concept EQG image gallery
Mercedes-Benz EQE image gallery
New GT 63 S E Performance is Mercedes-AMG's first ever hybrid
Mercedes AMG GLE 63 S Coupe launched at Rs 2.07 crore
Mercedes Marketplace allows owners to sell their cars online
Brabus 800 Adventure XLP image gallery
5137 Views|2 years ago
Mercedes-Benz G 350d image gallery
8260 Views|3 years ago
Mercedes-Benz G 350d video review
24367 Views|2 years ago
2019 Mercedes-Benz G 350d off-road video review
11568 Views|3 years ago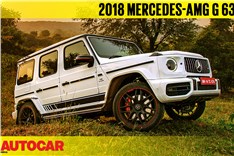 2018 Mercedes-AMG G 63 video review
10940 Views|4 years ago