The 585hp twin-turbo petrol V8 has been swapped out for a six-cylinder diesel, but can you really rationalise something as wild as a G-Wagen?
Thus far, in India, the G-class was the extroverted madcap of the Mercedes model range. It was only sold in AMG guise with tremendous V8 petrol engines. Hell, it once even had a variant called the 'Crazy Colour Edition'. And that's just as well, because despite its immense price tag, hilarious thirst for unleaded fuel, and a ride that bordered on uncomfortable, it was hugely popular. In fact, it remains the bestselling AMG in India, despite being one of the most expensive. And that has less to do with its uncompromising approach to off-road hardware, and perhaps not even its military-grade engineering. It's always been something far less tangible with the G-Wagen, and that's its incredible road presence – the fact that it looks like it could conquer a medium-size country, not the fact that it actually can.
The G 350d, then, feels like it should have come to India years ago. It gives you the same all-conquering look as its AMG sibling but at a lower price and with the promise of far lower running costs. Certainly, in this optional black-on-black-on-black colour scheme, it looks like something a Bond villain would drive. The few differences are that it foregoes the AMG Panamericana grille for the traditional three-slat Mercedes one, it has smaller wheels (20 inches on this car), its bumpers look a bit tamer, and the exhaust tips no longer poke out from the sides – how very conventional!
Push these for off-road invincibility.
Some might be more concerned about losing almost 300hp and 250Nm compared to the G63, but they needn't be. The S-class-sourced 3.0-litre straight-six diesel engine (BS6 compliant, of course), with its 286hp and 600Nm, provides more than sufficient push, which comes in a brisk but predictable surge rather than the gut-punch you'd get from the highly-strung AMG V8. The diesel engine hustles this 2.5-tonne behemoth along without a fuss, but perhaps not quite as effortlessly as it would an S-class, which weighs about 400kg less! As a result, you tend to hear the engine as it strains a bit more in the big G, but overall, it's still very refined. And though the straight-six note is nicer than the old V6 diesel's, if you want sound, you can't really beat AMG's V8.
Where it will undoubtedly beat the AMG is on running costs, but make no mistake, despite the more sensible engine, the G 350d's cuboid proportions and heavy hardware mean it could never truly be called fuel-efficient. Though we didn't do a proper fuel economy test, the car's own real-time readouts showed single-digit figures every time we used the accelerator pedal.
Surround cams you might actually use.
If you think this 'lesser' version gives up any of the G-Wagen's legendary off-road ability, you'd be dead wrong. Rigid rear axle, 241mm ground clearance, 700mm water-wading ability, almost hilarious approach, ramp-over and departure angles, low range and – the party trick – three locking differentials; the whole nine yards. It's also got those characteristic, old-school G-class touches like flared wheel arches, fender-top front indicators, the spare wheel on the side-hinged tailgate, push-button door handles, exposed door hinges, and – my favourite – locks that make an explosive 'clack' when they engage.
The inside is suitably modern, with Merc's excellent dual-screen infotainment and instrumentation unit, but understandably, it's not the latest MBUX touchscreen system you'll see on the new GLE elsewhere in this issue. This car is also equipped with a sunroof, contrast-stitched leather upholstery and heated, cooled, massaging front seats. However, it's worth noting that much of this is optional, which could drive the price up really quick.
Superb blend of luxury, rugged bits and new tech. Lots of stuff is optional though.
And here's the thing – at Rs 1.5 crore (ex-showroom), the G 350d is still very expensive. Though a G63 may cost 50 percent more, this one in turn costs 50 percent more than Merc's other big SUV, the GLS. And that's before options. Additionally, while you can forgive a lot of the AMG G63's flaws because of how ridiculous an indulgence it is, this more sensible G 350d lends itself to greater scrutiny, comparable to other big luxury SUVs. The back seat, though spacious, is nowhere near as comfortable, fuel economy is not great by diesel standards, rear visibility is appalling, thanks to the spare wheel, and though it has adaptive dampers, the ride quality is very lumpy.
The diesel G-Wagen, then, is a bit of an anomaly. While buyers of most luxury cars are happy to settle for a smaller engine if it means getting a prestigious badge at a more reasonable price, does that still apply when the price is north of Rs 1.5 crore? You're certainly getting the best of both worlds – the rugged appeal of a G-class (including that insane off-road ability, should you ever need it) – in a package that's cheaper to buy and run. Still, we suspect that most people who've decided to splurge on an indulgence like a G-Wagen would be happy to go the whole hog and get the AMG.
Brabus 800 Adventure XLP image gallery
7142 Views|3 years ago
Mercedes-Benz G 350d image gallery
10059 Views|4 years ago
Mercedes-Benz G 350d video review
28075 Views|3 years ago
2019 Mercedes-Benz G 350d off-road video review
13713 Views|4 years ago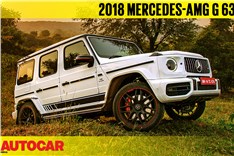 2018 Mercedes-AMG G 63 video review
12886 Views|5 years ago