The all-new fifth-generation Honda City has raised the bar in the midsize sedan segment with its premium packaging. What also gives it an edge over the competition is its diesel engine option, which none of its competitors, except for the Hyundai Verna, offer. We put all the versions of the Honda City to the test to find out its real-world fuel efficiency.
Diesel betters the fourth-gen City by 2kpl
Petrol manual gets a 6-speed and DOHC
Petrol CVT has an Eco driving mode
What is the real-world fuel efficiency of the Honda City?
Honda's 1.5-litre diesel engine impresses in terms of fuel efficiency by returning 16.2kpl in the city and 19.1kpl on the highway, averaging nearly 2kpl more than the fourth-generation diesel version. Shifting focus to the petrol engine, the CVT automatic returns an impressive 12kpl in the city, while the manual manages 11.5kpl. Out on the highway, the manual achieves 17.7kpl, whereas the CVT manages 16.4kpl.
Analysis of Honda City mileage
The 1.5-litre diesel engine is identical in its character to the fourth-gen version, and interestingly, even the gear ratios remain unchanged. And with larger dimensions and more equipment, the City has gained 62kg of weight too. With several minor tweaks and some tuning, however, Honda has not only managed to make it more efficient but has also improved its acceleration times.
The 1.5-litre petrol deploys dual overhead camshafts (DOHC), compared to the older version's single overhead camshaft (SOHC), for better performance and efficiency. What's more is that the new City's first to fifth gears are identical to the fourth-gen, but its final drive has been lowered so it spins at slightly lower revs in any given gear at a particular speed. To put it into perspective, its engine spins at 3,000rpm in fifth gear at 100kph, compared to 3,100revs in the fourth gen. What's more is, this one also has an additional sixth gear for a more relaxed and efficient cruise on the highway (engine spins at 2,700rpm at 100kph).
Helping the CVT's case in urban driving conditions is an Eco driving mode that ensures the engine is spinning at low speeds for the most part. And even though responses may feel a bit delayed in this mode, it is still very usable, so owners won't mind leaving it switched on at all times in the interest of economy.
Autocar India's fuel efficiency testing
Before our real-world fuel efficiency test, we fill the tanks of our test cars till the brim and maintain tyre pressures based on the manufacturer's recommendation. These cars are driven in fixed city and highway loops and we maintain certain average speeds. To keep a check on any untoward variation, we always have a reference car driving along, one that we've already tested in the past; periodic driver swaps further neutralise variations in driver patterns. At the end of each cycle, we calculate efficiency by tanking them up till the brim. Throughout our test, there is only one person in each car, running the air-con and other electrical like the audio system, indicators and wipers when required, just like how a regular user would. We take pride in our testing data, which isn't merely consistent, but also gives users an accurate indication of what they can expect in the real world.
Also read:
Honda Cars
Honda Amaze
₹ 7.94 - 13.31 lakh
Honda City
₹ 13.42 - 23.70 lakh
Honda Elevate
₹ 12.85 - 18.63 lakh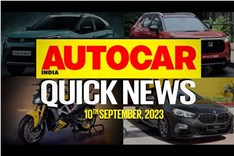 Quick News Video: September 10, 2023
1149 Views|19 days ago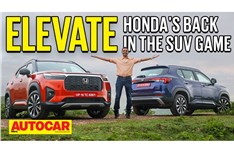 Honda Elevate video review
35289 Views|2 months ago
Takuya Tsumura on the new Honda Elevate, future models, E...
8472 Views|3 months ago