Ferrari will launch the 296 GTB in India on August 26. The new sportscar from Maranello, Italy, which replaces the F8 Tributo, features an all-new hybrid V6 engine, with a mid-engine, rear-wheel drive layout.
Can be driven on electric power for up to 25km
Gets a 3.0-litre petrol-electric hybrid
In the 296 GTB moniker, the numerical designation is a reference to its 2,992cc, six-cylinder engine, while the Gran Turismo Berlinetta establishes it as the latest in a long line of Ferrari sportscars that stretch back to the mid-1950s. Ferrari claims the 296 GTB is its first road car with a six-cylinder engine – the previous ones were marketed under the long-defunct Dino brand.
Ferrari 296 GTB: powertrain
The 3.0-litre twin-turbocharged V6 engine is good for 654hp, which is equivalent to 218hp per litre – said to be a record for a production car. Coupled to the engine is an electric motor that produces 166hp and the combined power output is rated at 830hp. Combined torque output is put at 740Nm, which, Ferrari claims, helps the 296 GTB sprint from 0-100kph in 2.9 seconds, and achieve a top speed of over 330kph. All of the power is transferred to the road via an 8-speed automatic gearbox.
Like the SF90 Stradale, it can be driven on electric power alone for around 25km, up to speeds of 135kph, courtesy of the 7.45kWh battery.
While the 'eManettino' switch on the steering wheel is available on all other Ferraris, the 296GTB gets four driving modes – eDrive, Hybrid, Performance and Qualify – with each offering different degrees of electric power and regenerative braking.
Ferrari 296 GTB: design and interior
The 296 GTB uses its active rear spoiler to generate up to 360kg downforce at 250kph with the hardcore, track-oriented Assetto Fiorano pack, and up to 100kg more downforce than its predecessor without said pack.
Ferrari says it took design inspiration from its 1963 250 LM that can be seen on the B-pillar, rear haunches and the Kamm tail. The wraparound windscreen takes inspiration from the Japanese-market J50 and the one-off P80/C.
The 296 GTB has a tech-laden cabin design, similar to the SF90 Stradale flagship. The digital gauge cluster and the steering wheel is housed in a concave dashboard section, while the two panels on the sides have touch-capacitive controls. The gearshift selector has been designed as a tribute to Ferrari's classic 'H-gate' design.
Ferrari 296 GTB: India launch plans
Prices of the plug-in hybrid sportscar have yet to be confirmed, but it is expected to match more closely to those of the F8 Tributo. The 296 GTB will have a waiting period between 8-18 months depending on the configuration.
What are your thoughts on the upcoming Ferrari 296 GTB? Let us know in the comments.
Also see:
2021 Ferrari 296 GTB image gallery
Ferrari 296 GT3 race car revealed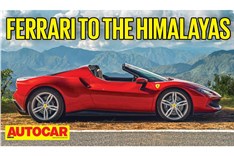 Ferrari 296 GTS drive in the Himalayas video
2728 Views|1 month ago
Ferrari 296 GTB India video review
17414 Views|1 year ago