Each company will lead product development in core regions and categories

Standardisation drive to expand further, from platforms to bodies

Plan expected to yield up to 40 percent reduction in new model investments
Renault, Nissan and Mitsubishi have reaffirmed their commitment to their automotive Alliance, with the adoption of a new business model that will involve a massive increase in platform, technology and production sharing.
Alliance chairman Jean-Dominique Senard said the new deal will greatly enhance the cooperation between the three firms, with Senard claiming that it will cut costs of developing new models by up to 40 percent.
The Alliance members have agreed a new 'leader-follower' scheme that they say will greatly enhance efficiency through a substantial increase in shared production and development. Each firm will become the lead 'reference' brand in key regions, and of key technologies.
Under the new deal, Renault will become the lead brand in Europe, and will spearhead development of the next-generation B-segment SUV. Nissan will become the lead firm in Japan, North America and China, and will develop the next-generation Nissan Qashqai-based C-segment SUV, which is due in 2025.
The new deal goes beyond platform sharing and will include the "upper bodies" of vehicles, with the production of models grouped together where possible. "We will focus on efficiency and competitiveness, rather than volume," said Senard. "The new framework will allow each Alliance member to enhance it's core capabilities, and benefit from the capabilities of the other firms. The aim is to increase the profitability and competitiveness.
"The leader-follow model is not about being a leader against each other. It's about each Alliance firm becoming a leader in the automotive industry." Senard insisted that the new agreement showcased the strength of the Alliance. He added: "There is no doubt about how this scheme will work in the future. If there have been doubts in the market, there are no doubts today."
Follow the leader
Under the new agreement, each of the three firms will focus on key regions based on their existing market reach, with Renault taking the lead in Europe, along with Russia, South America and North Africa.
While Renault will be the lead brand in Europe, both Nissan and Mitsubishi can continue to offer models in each region, although they will likely focus on market segments where they are strong. Nissan is set to outline more details of its future European strategy in a press conference tomorrow (Thursday).
During the presentation on the new agreement, the Alliance members gave no indication of future plans for model lines outside of those areas. There have been reports that Renault is set to close a number of factories and axe several product lines; more information on those reports is likely to come when the French firm holds its own press conference on Friday.
Nissan will be the lead brand in China, North America and Japan, while Mitsubishi will lead in the ASEAN and Oceania regions. The new arrangement, however, is not expected to impact the Alliance's India operations with Nissan and Renault set to continue as partners at par. Both manufacturers have a slew of models lined-up for launch in India with the upcoming Nissan Magnite and Renault Kiger compact SUVs to lead the charge.
New deal to increase model sharing and efficiencies
A key part of the new deal is the agreement to increase the Alliance's 'standardisation' strategy. The three companies have already developed a series of common shared platforms that underpin various models. For example, the recently launched Renault Clio and Nissan Juke are both based on the CMF-B architecture.
Under the new agreement, the three firms will each take the lead on development of key model segments, developing a 'mother car' that will be used as the basis for 'follower' vehicles from the other firms. Along with platforms, which will include the sharing of upper body elements, Senard said production of models would be grouped together where appropriate.
The Alliance claims the savings enabled by the new model in terms of technical development and bulk buying strength will reduce model investment costs by up to 40 percent.
Under the agreement, nearly half of all Alliance models will be produced under the 'leader-follower' scheme by 2025, with each firm taking the lead on based on their existing expertise in specific technology and model segments.
The agreement will reduce the number of platforms used by the Alliance from the current seven to four: CMF-A and CMF-B, with development led by Renault, and CMF-C/D and the electric CMF-EV, with development lead by Nissan. Nissan and Mitsubishi will also work together on a Kei car platform for Japan.
Firms to take lead on key technologies
As well as future model segments, each Alliance member will take the lead on key technologies.
Nissan will be the lead firm for electric powertrains – for both the CMF-A/B and CMF-EV platforms – autonomous driving and connected car technology in China. Renault will lead on connected car technologies on an Android-based platform and 'E-body' electric-electronic architecture. Mitsubishi will build on its success with the Outlander PHEV by leading development of C/D-segment plug-in hybrid models.
Also see:
2020 Renault Captur facelift breaks cover
Renault Triber long term review, second report
Nissan India introduces virtual showroom experience
Nissan Magnite, Renault Kiger, Honda City & Jazz Global N...
5917 Views|3 months ago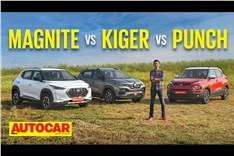 Tata Punch vs Nissan Magnite vs Renault Kiger comparison ...
21049 Views|3 months ago