Ola Electric is gearing up to launch a new, more affordable variant of its S1 electric scooter this month, which will be priced under Rs 80,000. The EV start-up has also extended the validity of festive offers on the S1 Pro, which includes a Rs 10,000 cash discount.
New base variant to retain features of existing S1 variants
Discount on extended warranty and lower interest rates on offer
New Ola S1 variant: what we know so far
According to sources within the company, this new scooter is set to be launched around Diwali and will be priced under Rs 80,000. At this price point, the new Ola e-scooter will cost around the same as popular 125cc scooters like the TVS Jupiter and Suzuki Access.
We've also learned that Ola's new scooter is expected to retain most of the features of the existing S1 variants. However, it is likely to get a smaller battery pack than the 3kWh unit seen on the S1, in order to keep the costs in check.
Given its expected price, this new S1 variant will likely rival the base TVS iQube and the Hero Vida e-scooter, which is set to be launched tomorrow.
Ola S1 Pro discounts extended
Just recently, Ola Electric had announced a number of offers, including a Rs 10,000 cash discount, on its S1 Pro electric scooter which were valid till October 5. And now, on the back of an encouraging response, the EV start-up has decided to extend the validity of these offers.
Ola CEO Bhavish Aggarwal has tweeted saying that the offers will be extended "till Diwali", although no specific date has been mentioned. Aside from the Rs 10,000 cash discount, Ola is also offering a Rs 1,500 discount on its 5-year extended warranty, as well as a lower interest rate, starting at 8.99 percent (down by 2.2 percent), and zero processing fee on loans for the S1 Pro.
After three months of steady decline, Ola saw a resurgence in its sales figures, topping the EV sales charts in September. The ongoing offers, coupled with the introduction of new experience centres across India and the launch of the base S1 scooter, are likely to have a positive effect on the sales numbers.
What name should Ola give its new electric scooter? Let us know in the comments.
Quick News Video: August 20, 2023
3033 Views|3 months ago
Ola electric motorcycles, Ola S1 X and S1 Pro Gen 2 first...
11374 Views|3 months ago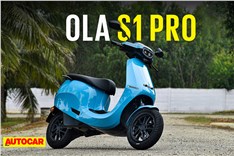 Ola S1 Pro video review
22390 Views|2 years ago