A Twitter user named Balwant Singh recently claimed that his son had an accident in Guwahati aboard an Ola S1 Pro when the scooter's regenerative braking system allegedly malfunctioned, accelerating the vehicle over a speedbreaker instead of decelerating it. As per Singh's tweets, his son ended up with fractures in his left hand and 16 stitches in his right hand.
The graveness of the situation has prompted Ola Electric to issue a statement and release the telemetry from the scooter at the time of the accident. It claims that there was no malfunction or fault with the scooter.
The speed trace shown in the statement reports that in the 25 minutes preceding the accident, the scooter was taken up to speeds in excess of 100kph on at least five different occasions, and that it even reached a top speed of 115kph. The statement goes on to conclude that the rider was overspeeding.
As for the fall itself, Ola says that the scooter's telemetry shows that all three braking actions (front brake, rear brake and regen) were initiated suddenly and at once, at around 80kph. The company, therefore, concludes that the rider braked in a panic, and lost control of the vehicle, leading to a fall. There was "no sudden torque or acceleration observed after braking", and "there is nothing wrong with the vehicle", Ola added.
With no way of verifying the truth behind Singh's side of the story, or whether Ola's telemetry is legitimate, getting to the bottom of this case, at least for the moment, seems difficult. It's worth noting, though, that Ola scooters have a history of malfunctions relating to the motor, and this is something that we have faced as well. In our time with the scooter in Mumbai, we found it accelerating forwards in reverse mode and backwards in forward mode on one occasion. Read all about it here.
Quick News Video: August 20, 2023
2397 Views|1 month ago
Ola electric motorcycles, Ola S1 X and S1 Pro Gen 2 first...
10461 Views|1 month ago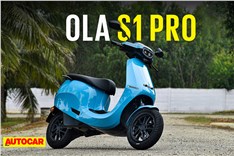 Ola S1 Pro video review
21949 Views|1 year ago