While we did get a brief first taste of the Ola S1 Pro a few months ago, it was a rather short ride held in the confines of a gated community, giving us a limited understanding of India's most talked about e-scooter. Now, we've managed to ride one in the real world – subjecting it to traffic, heat, the mess that is the Mumbai road network and even a full range test! Here's what we found.
Ola S1 Pro: city slicker
The S1 Pro is among the most powerful electric two-wheelers on sale today, courtesy of an 8.5kW permanent magnet motor. So while many other EVs can feel a bit inadequate in the real world, the Ola has absolutely no problem keeping up with (and passing) traffic in the city, and can even hold its own on wider, more faster-flowing stretches of road.
But it doesn't feel quite as effortless as it perhaps could have, and that's because all three of the S1 Pro's riding modes feel significantly dulled down compared to when we first rode the scooter, and this is most evident when setting off from a standstill. Up to about 30kph, responses are quite lethargic and the scooter lumbers forward – our VBox confirms this, because mode for mode, the Ola is actually slightly slower from 0 to 40kph than the less powerful Ather 450X.
Post 40kph, though, the Ola enters its element and accelerates reasonably swiftly, and we saw Ola's claimed top speed of 115kph on our dashboard. However, the VBox told us that, in truth, the scooter was only travelling at 99.8kph at this point. Nevertheless, this is still one of the fastest electric two-wheelers you can buy today, and top speed is a relatively unimportant consideration for a vehicle like this anyway, so you shouldn't be too bothered. At least not about this.
What is more bothersome is the fact that Normal mode feels a little too sluggish to be good enough for everyday use, and you'll find yourself wanting to be in Sport or Hyper if you want to easily slice your way through traffic.
Ola S1 Pro: oh no, not again!
This reduction in performance would've been a fair trade-off had Ola managed to sort out the overheating issues that plagued its scooters the last time we rode them. Unfortunately, the company has not managed this yet, and after just 10-15 minutes of quick riding in Hyper mode, the scooter overheated and automatically locked itself in Normal mode. The onset of this was even quicker when riding in hilly areas, and at one point, the overheating was severe enough to force the scooter into Eco mode, even though it had over 80 percent charge at the time. Eco mode is usually only activated when the battery drops below 15 percent.
After waiting for about 10-15 minutes for the motor to cool down, performance returned and Hyper and Sport modes could be accessed again.
Ola S1 Pro: live with it
Having lived with the scooter for a few days and spent literally hundreds of kilometres riding it (read on to find out how far it will go on a full charge), we learned some of the scooter's more subtle niceties, as well as its peeves and bugbears.
Yes, all EVs are quite silent, but the Ola is especially so, with very little whine from the motor, and no belt or drivetrain noise to speak of. Vibrations are also extremely minimal, and overall, riding the S1 Pro can be quite a soothing affair.
The moments when it isn't are because of irritants like the rubber-y switches, which completely lack any sort of feedback or tactility, and almost force you to look down and make sure you are actually pressing the correct button. They're also placed quite far in from the grips, so those with smaller hands might struggle to reach them comfortably.
The switches in question should give you the capability to enjoy many of the scooter's features, but unfortunately, many of them are still missing. The list of promised features that this scooter is yet to receive includes cruise control, Bluetooth connectivity, navigation, music playback, display moods and proximity unlocking.
The last of those is especially a problem, because the only way to unlock the scooter at the moment is by pressing a button to turn on the TFT touchscreen, and then entering a 6-digit PIN. Actually getting going also requires you to then press the brake and another button simultaneously, and overall, this is quite a tedious and lengthy process, made all the more frustrating by the fact that the display is occasionally glitchy.
On the upside, there is a truly gargantuan amount of underseat storage space on offer, and it also helps that the boot is quite conveniently shaped – a cuboid with a perfectly flat bottom. Volume stands at a very generous 36 litres, but it's worth noting that it's still not deep enough to accommodate an ECE-approved full-face helmet.
Room on offer is a theme across the scooter, with the S1 Pro feeling spacious enough to accommodate even taller riders. Helping this cause is the high mounting of the handlebar, which means it doesn't foul with your knees even at full lock. The seat adds to the comfort factor, with a nice shape and well-chosen padding – though it isn't the roomiest when travelling two-up.
Ola S1 Pro: comfy cruiser
Our first impressions of the S1 Pro's suspension set-up were quite positive back in November, but we didn't really have much to throw at it, in the gated colony. Having now ridden the Ola through the worst that Bombay's roads have to offer, we're happy to report that the setup has continued to impress us. The S1 Pro rides quite well and does a good job of absorbing bumps and softening blows, especially over more rounded bumps. It's only when you hit a particularly sharp bump that the single-sided front suspension thuds through it.
Ola S1 Pro: range rover
You've patiently read through the entire article (or so I hope) to make it to this point and find out the answer to that all-important question: what is this scooter's real world range? Well, the reward for your perseverance is that we've tested the true range of the Ola S1 Pro in not just one, but two of its modes. The directive during these tests was simply to ride naturally and keep pace with the traffic around us. Our route included congested inner city streets, more open and faster moving stretches, as well as numerous flyovers.
In Sport mode, the S1 Pro covered a very respectable 102km before running out of juice. Following this, it took upwards of seven hours to top up the scooter's 3.97kWh battery pack using a conventional 5-amp plug point. When we set off the next day in Normal mode, the scooter managed to travel 127km before running dry, which is reasonably close to Ola's claimed figure of 135km.
Both these figures are very real-world usable, and if you have a way of conveniently charging the S1 Pro at home, there is no doubt that it should comfortably be able to manage a full day's commute, and then some.
What hampers the usability, though, is the inaccurate range readout. At the end of both of our range tests, the range readout suddenly plummeted from 10km to 0km, and the scooter stopped prematurely. This is something that multiple owners seem to be reporting as well, and it could leave you stranded on the side of the road unexpectedly.
Ola S1 Pro: work to be done
By now, you've probably gathered that the Ola S1 Pro is quite a capable scooter, but it isn't free from glitches and shortcomings. However, all the flaws listed so far are things that you might be willing to live with. There are a couple of faults though that are far more serious.
These are the malfunctions with the scooter's handlebar lock and reverse mode. As is being reported by some owners online, our scooter also once darted backwards from a standstill when we opened the throttle in a forward riding mode. In this time, it also went forwards when we accelerated with reverse mode engaged. This issue went away when we rebooted the scooter, but there was no sign of why it happened, or how the rider is supposed to know that this glitch is about to take place. There was also an instance where the handlebar failed to unlock itself even after the scooter had been unlocked and started up.
These are significant safety issues, and they simply echo concerns that we and numerous others have expressed that Ola has rushed this product to the market without adequate validation testing. We reached out to the company for a comment regarding the reverse mode glitch, but have not heard back from them.
Ola S1 Pro: should you buy one?
With the help of FAME-II and state subsidies on electric vehicles, the Ola S1 Pro is priced quite attractively, especially considering its capability levels. In Mumbai, where we rode it, you can have one for an on-road price of Rs 1.11 lakh.
This sort of pricing is undoubtedly disruptive, and when you consider the scooter's performance, range, comfort and practicality, the Ola S1 Pro is a highly tempting proposition. However, given the serious glitches we faced, we cannot recommend the Ola electric scooter just yet – not until the company clearly addresses these critical bugs and problems that we have highlighted with its maiden product.
Quick News Video: August 20, 2023
3023 Views|3 months ago
Ola electric motorcycles, Ola S1 X and S1 Pro Gen 2 first...
11372 Views|3 months ago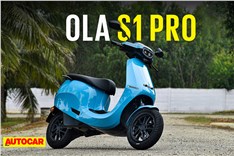 Ola S1 Pro video review
22381 Views|2 years ago