Next-gen Bajaj Pulsar spotted testing with a semi-fairing
Published On May 14, 2021 08:48:00 PM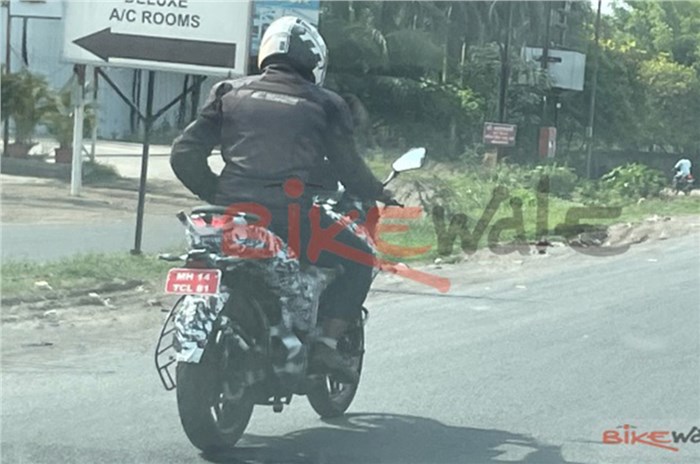 The next-generation Bajaj Pulsar is expected to debut in the coming months.
The next-gen Bajaj Pulsar has been spotted testing again, this time around with a semi-fairing attached. This suggests that it will sit alongside the street naked Pulsar that was first seenundergoing tests in February 2021.
Next-gen Pulsar may get a variant with a semi-fairing
Likely to be a 250cc model
Expected to cost more than the naked sibling
Semi-faired Bajaj Pulsar: design
While the test mule spotted was wrapped up in camouflage, it does give an idea of the size and shape of the half-fairing. It seems to be neatly integrated with the large fuel tank, while the mirror stalks are mounted on it. There is a windscreen as well, but it doesn't appear to be very tall. What can't be seen is the headlight and it'll be interesting to see what kind of design Bajaj comes up with.
The rear three-quarter angle also reveals the clip-on handlebars that are set quite high up, which should translate to a sporty, yet comfortable riding position.
From the fuel tank onwards, the rest of the bits, be it the side panels, split LED tail-lights, wheels, brakes and suspension, looks similar to the naked motorcycle.
This approach seems similar to what we've seen Bajaj do in the past, with the Pulsar 220F sitting on top of the pyramid, followed by the rest of the line-up. This bike is likely to replace the 220F.
Next-gen Bajaj Pulsar: engine and gearbox
The semi-faired Bajaj Pulsar is likely to share the same air- and oil-cooled engine and gearbox with its naked sibling. And as we'd saidback in 2018, the new-generation motor will be significantly more refined and will bring along with it an impressive hike in overall output figures, as well as a more modern transmission. Multiple capacities are expected to go on sale with time, but the first bike is likely to be a 250cc model. If so, we can expect power and torque between those of the Bajaj Pulsar 220F (20.4hp/18.5Nm) and the Dominar 250 (27hp/23.5Nm).
Next-gen Bajaj Pulsar: chassis
The next-gen Pulsar will be based on a new platform, meaning it should get a new frame, swingarm and suspension units. This will also be the first time that a non LS/NS Bajaj Pulsar will feature a monoshock.
Nevertheless, there is a lot expected from the next-gen Pulsar and, barring any unforeseen delays, a launch is likely to happen in time to ride the festive season .
Also see:
5 things to know about the next generation Pulsar
What do you think about this News