New patent diagrams have revealed that Harley-Davidson is working on a faired motorcycle. Rumours suggest that this bike will hark back to the American brand's 1994 VR1000 racer and become a production model soon.
The patent image that has surfaced online is only of the fairing. It's not a large full fairing, the likes of which you find on supersports; but a semi-fairing that is similar to the ones you'd find on café racers. That said, the shape has distinct overtones of the VR1000. Moreover, the fairing also appears to be similar to that seen on a motorcycle in one of Harley's promotional videos.
If it does make it to production, expect this faired bike to use one of the company's new DOHC, liquid-cooled V-twin motors.
A faired bike from Harley-Davidson would have been a shocker a few years ago, but it isn't one now; not since the company revealed that its working on two bikes – a sport-naked called Street Fighter, as well as an adventure bike called the Pan America.
Harley showed prototypes of its Pan America and Street Fighter back in 2018 and neither has gone into production yet. The faired bike hasn't even reached the prototype stage, which is why we believe we are still a few years away from it reaching production.
Harley-Davidson X440 vs Triumph Speed 400 vs RE Classic 3...
18950 Views|4 months ago
Quick News video: July 30, 2023
3377 Views|4 months ago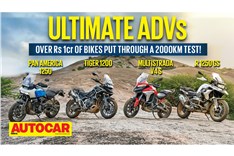 BMW vs Ducati vs Harley vs Triumph - 2000km ADV road trip...
7468 Views|1 year ago