LiveWire, Harley-Davidson's electric bike sub-brand, has teased its next product. Called the S2 Del Mar LE, it will be officially unveiled on May 10 and become the first model to be built on the company's scalable Arrow platform for electric bikes. This architecture combines the motor, battery, inverter and on-board charger into a single unit. Designed with modularity in mind, the platform can be scaled for a range of performance levels.
In the case of the S2 Del Mar LE, the performance levels are expected to replicate the experience of a middleweight petrol motorcycle (perhaps something around 700cc). Back in February, the company's recently appointed CEO, Jochen Zeitz, announced that LiveWire's second bike would be launched in June. The last two alphabets in the name seem to stand for limited edition or launch edition, and the company's literature suggests that the first batch will be a limited run of 100 motorcycles.
The teaser video does give us a brief and very limited look at the S2 Del Mar LE, but in this glimpse, the rear portion of the bike does somewhat resemble an illustration of a future middleweight electric bike that Harley released back in 2019 (pictured above). If the rest of the Del Mar follows the illustration as closely, you can expect a design that's quite inspired by flat-track race bikes, characterised by tall handlebars and a long, slim and flat-ish seat.
While there isn't a whole lot else known about the Del Mar at the moment, you can expect it to be priced significantly lower than the LiveWire One (formerly the Harley-Davidson LiveWire), which currently retails from $21,999 (around Rs 17 lakh) onwards.
Are you excited about the LiveWire S2 Del Mar LE? Let us know in the comments below.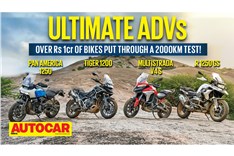 BMW vs Ducati vs Harley vs Triumph - 2000km ADV road trip...
6157 Views|7 months ago
Harley-Davidson Road Glide Special video review
6618 Views|11 months ago