Harley-Davidson recently announced a partnership with Taiwanese Kymco for future EV projects under the recently spun off LiveWire brand. A separate investor presentation for LiveWire has highlighted several details of Harley-Davidson's electric intentions.
At the heart of the plans is the new Arrow modular platform. Work began on this platform in 2017 and the platform can be scalable from small to big machines of multiple formats. The modular design is based around a central battery pack that also serves as a monocoque chassis. The swingarm and rear monoshock mount to the back while a steering headstock mounts to the front. This design will allow Harley to adopt different steering geometries quite easily and it's an idea already put to use on the LiveWire Electric motorcycle – click here to read our review.
The Arrow platform can support anything from 50V to over 400V battery applications with the choice of air, liquid or refrigerant cooling. It's a similar story with the motor and power electronics, with various options possible, each with the choice of either air or liquid-cooling.
Beyond sharing details of the Arrow platform, Harley has also hinted at what sort of motorcycles can be expected. The company is working on multiple vehicle architectures, namely S2, S3 and S4. The S2 architecture will be focused on middle-weight machines, S3 will be smaller capacity machines built in partnership with KYMCO and S4 will be large capacity machines.
The LiveWire brand currently has one product, the LiveWire One, on sale and this is effectively a rebranded Harley-Davidson LiveWire. The first of the new products to arrive will be on the S2 architecture and the investor document states that this bike will be called the Del Mar.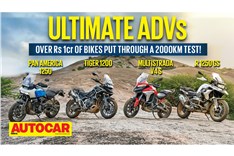 BMW vs Ducati vs Harley vs Triumph - 2000km ADV road trip...
4888 Views|5 months ago
Harley-Davidson Road Glide Special video review
5769 Views|9 months ago