Kawasaki has issued a recall for the Z900 in international markets; and India has now followed suit. A circular sent to all dealerships describes a faulty tie-rod bracket for the rear shock. If the rear suspension bottoms out, there is a chance that the holes in the tie-rod frame mounts will elongate, thus leading to rear suspension failure. The recall will involve inspecting the frames and replacing the bracket kit with a new, reinforced unit. In rare cases, the frame will also be replaced if the elongation is above predetermined limits.
This recall will affect Z900s sold in India, as well. The company has shared a range of affected VIN numbers with dealerships. However, some bikes within that range have already had the issue corrected before dispatch from the factory. If you own a Z900, it would be advisable to check with your dealership if it qualifies for the recall. The inspection and potential bracket replacement should take around 50 minutes and can be undertaken at all official Kawasaki service centres.
The Z900 has proved to be a popular motorcycle in India, thanks to its aggressive styling, powerful 125hp in-line four-cylinder engine and easy riding dynamics. With a tag of Rs 7.6 lakh (ex-showroom), it's also very well-priced. The bike features a new trellis frame and is a fair deal lighter than its predecessor, the Z800.
You can read our standalone review of the Z900 here or check out our comparison review with its nearest rival, the Triumph Street Triple S here.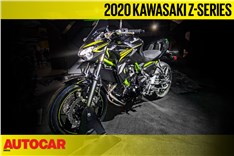 2020 Kawasaki ZH2, Z900, Z650, Z400 walkaround video
8025 Views|3 years ago
2017 Kawasaki Z900 video review
11674 Views|5 years ago