Mean and green, the newest street-naked from Kawasaki is ready to take on the urban scramble. But is it capable of more?
Gone are the days when motorcycle riders were required to have a fair amount of brawn and almost no notion of fear to ride a motorcycle fast. Modern motorcycles are becoming increasingly easier to ride, and in the right hands, frighteningly fast. Now we know that the Z800 was an absolute bomb of a bike to ride; it had a brilliant engine and predictable handling. For 2017, though, the Z900 replaces the Z800 and we take it to the streets to find out what's different.
Wild child
The Z900 gets the new headlight cluster consistent with the 'Z' series. While it carries forward the Sugomy styling of its predecessor, the front bikini fairing is all new, so is the tail section, and it even exhibits a new exhaust design. This new twin headlight has a more fluid look to it, with a forward jutting jawline that accentuates its aggressive look. Sitting atop the headlight is a blacked-out windscreen that offers some amount of wind protection. The negative-lit LCD speedometer is all new and is shared with the likes of the Z650 and the Ninja 650. It's got a nice semi-circular, cascading tachometer, a gear indicator and a large centralised digital speed readout. Like on the larger Kawasakis, the tachometer acts as a shift indicator; the needles begin to blink when it's time to shift up.
The tank's organic shape goes well with the Sugomy design philosophy, with the key slot located right at the front of the tank. There's a nice, wide seat that's well padded and reasonably comfortable for longer hauls. Our test machine was fitted with a rear seat cowl – an add-on accessory – so we didn't have the chance to check pillion seat comfort. The tail end culminates in a typically 'Z' series fashion and has the LEDs placed in the shape of a 'Z'. The slightly boxy and angular nature of the Z800's design has given way to more organic curves. It's still unmistakably a 'Z', and its overall silhouette has been pretty much carried over from its predecessor. Overall fit and finish levels are quite impressive too.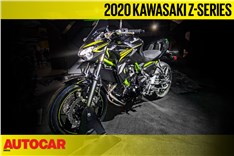 2020 Kawasaki ZH2, Z900, Z650, Z400 walkaround video
7558 Views|3 years ago
2017 Kawasaki Z900 video review
11086 Views|5 years ago