If there was one big motorcycle brand that hasn't been in the news recently for electric motorcycles, it's Kawasaki. Well, that has now changed with what appear to be leaked patent images of a Kawasaki electric motorcycle that have surfaced online. These images reveal quite a few interesting details about the upcoming e-bike.
While the motorcycle in the patent may look like a regular motorcycle, with its conventional shape and the presence of a fuel tank, it is actually quite far from it. We believe these diagrams are being used to patent only the powertrain and not the entire bike. Interestingly, Kawasaki appears to be not only using an oil-cooler to cool the powertrain, but also a system that looks similar to the 'ram air' it uses on petrol-powered offerings. However, the bike seen in the patent image is clearly powered by an electric motor and there also appears to be a large battery located under the fuel tank.
The oil-cooler is self-explanatory; it cools oil that is running through the motor. However, the patent does reveal some of the routing and it appears that it is only the bottom-half of the motor that is using this cooling method. The ram air system, meanwhile, is positioned near the headlight and is similar to the company's other bikes that use this technology. We believe the motorcycle will use all the air it can get and pipe it down towards either the battery or the electric motor and improve cooling on the upcoming bike.
The patent images also reveal that the motor is using a clutch, which could mean that the motorcycle has gears. Now while the majority of electric bikes don't use manual set-ups and use direct drives instead, we could see Kawasaki take the former approach. However, this is only speculation as of now and we will have to wait for more information to unfold.
Also see:
Suzuki files patent for unconventional engine design
Harley-Davidson patents Pan America 1250, Streetfighter 975, Custom 1250
Quick News Video, September 17, 2023
1005 Views|13 days ago
2022 Kawasaki Ninja 400 video review
9018 Views|11 months ago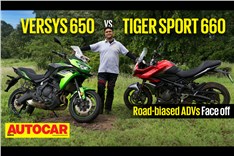 Kawasaki Versys 650 vs Triumph Tiger Sport 660 comparison...
9526 Views|1 year ago