Hero Electric has announced a partnership with Nidec of Japan to use its e-motors in Hero's city speed range (top speed of more than 45kph) of e-scooters from February 2023. The announcement was made on the sidelines of the IEB Autotech 2022 in Tokyo, which is currently underway.
Began co-developing electric motors two years ago
Developed a motor specifically for Indian conditions
Hero Electric first entered into a partnership with Nidec Japan over two years ago and began co-developing electric motors for its entire range, starting with its city speed products. "The co-development involved extensive inputs from Hero Electric's R&D team of engineers to the hugely experienced team at Nidec," says the company statement.
Sohinder Gill, CEO, Hero Electric, India said, "We have been relentlessly scouting for reliable EV components from high-quality suppliers across the globe for the last few years since the Indian suppliers for EV components were not willing to invest, giving reasons of very low volume of sales and unpredictable future of EVs in India."
He added, "Our partnership with Nidec Japan was forged to help alleviate our growing supply chain issues. Having them on board and our close partnership with them is now allowing us to develop powertrain components across all our product range progressively. Indian riding and road conditions being severe, components need to be designed keeping in mind challenging issues like extreme temperatures, dust, overloading and inconsistencies in the power supply in the country. It has taken us a long time to reach this stage where we are now confident that the powertrain that Nidec will deliver from its state-of-the-art plant at Neemrana will be the best in class from the point of view of efficiency and reliability."
Speaking on the partnership with Hero Electric, a Nidec spokesperson said, "Our R&D team has been working tirelessly. Nidec India has achieved a breakthrough and has developed a hub motor, with modern advance technology suitable to Indian conditions and which will ensure best ride ever."
Nidec India approved for incentives under PLI scheme
Nidec India is among the 75 auto component manufacturers that have been approved for incentives under the PLI scheme for automobile and auto components earlier this year.
Hero Electric, which is among the leading electric two-wheeler manufacturers in India, is working towards expanding its manufacturing capacity, distribution network, and strengthening the EV ecosystem. The company recently signed an MoU with the Rajasthan government to set up its mega EV manufacturing hub with an annual production capacity of 2 million units. In line with India's sustainability vision, the company aims to achieve the 1,500-touchpoints target over the next few years to make electric two-wheelers accessible.
Are you looking forward to see what products emerge from this collaboration? Let us know in the comments.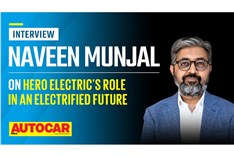 Naveen Munjal on Hero Electric and its future
3592 Views|1 year ago
Hero Electric AE-47 first look video
10951 Views|3 years ago