Where can I buy one?
The Ather 340 and the 450 are only on sale in Bengaluru, for now. This is because Ather wants to set up its own EV charging infrastructure (dubbed AtherGrid) in each city that it will sell its products in. Both the electric scooters need to be registered for road use and the company has got approval only from the Karnataka RTO as of now. This means, even if you buy the electric scooter in Bengaluru and shift to a different state, you will have to run the scooter on KA (Karnataka) plates – although you will have to be mindful of motor vehicle rules and taxations specific to each state.
Currently, you can't register the Ather 340 and 450 in any other states; however, company officials did mention they are in talks with Maharashtra and Tamil Nadu RTOs as they plan to launch the electric scooters in Pune and Chennai next. While the company can't stop customers from outside Bengaluru from purchasing the electric scooters (eligibility permitting), it has urged buyers to wait till the Ather 340 and 450 officially go on sale in their cities, so that they can utilise benefits like AtherGrid, AtherOne and service backup.
How soon can I buy one?
Bookings for both, the Ather 340 and 450 have commenced on its official website for a refundable booking amount of Rs 5,000. If you were looking forward to tackling the monsoons in Bengaluru aboard the Ather electric scooters, well, sorry to put a damper on your plans. As per Ather, the first lot of its electric scooters is expected to be delivered in Bengaluru by late September or early October 2018. Prospective customers can visit AtherSpace, located in Indiranagar, Bengaluru, to take test rides of the scooter or to take a detailed look into them. Want to know more about the Ather 450? Read our first ride impression here.
What's AtherOne?
The AtherOne is a special subscription plan offered by Ather for a hassle-free ownership experience. The benefits of AtherOne include free access to the AtherGrid and the company will also reimburse users via an e-wallet every three months for charging the scooters at their residence or any other private location. Apart from free charging, other benefits include free maintenance, free data for navigation, diagnostics, over-the-air updates and roadside assistance.
The monthly subscription plan will cost Rs 700 plus GST. However, customers also have the option of an annual plan at Rs 9,912 or a quarterly plan for Rs 2,596 (both prices are inclusive of 18 percent GST). The AtherOne plan is free for early adopters and, according to the company, the cost of ownership (Rs 9,912 annually from the second year) is far lower in comparison to a conventional scooter, which run up monthly running costs of around Rs 2,000 (consisting of fuel, service cost, consumables, etc.).
At your service
If you opt for AtherOne, service cost, including labour, common replaceable parts like brake pads, etc., will be free. Ather customers don't have to visit a service centre as is the case with conventional automobiles in India. Instead, the company will provide doorstep service facility, where the scooter will be picked up from the owner's residence, serviced and dropped back again. Customers can schedule a service using the official app; they can also use it to purchase spare parts and renew insurance.
Warranty details
Warranty has always been a concern when it comes to electric vehicles but Ather has prepared its answers. It offers a vehicle warranty of two years or 30,000km for both its scooters. The battery pack on the other hand has a three-year/ unlimited kilometre warranty with 70 percent charge-holding capacity. Ather hasn't revealed the battery cost yet, but we expect it to be around Rs 18,000 to Rs 20,000. According to the company, it's still calculating the cost of batteries in 2021-2022 (which is when they will have to be replaced) as by then their cost is expected to reduce noticeably. Ather also confirmed that customers will receive an exchange benefit when their scooter's battery has to be replaced after three years of use. The company also said that these old batteries, though not fit to serve its scooters, could be used for other purposes.
Final price
Ather Energy has priced the 340 at Rs 1,09,750, while the 450 retails for Rs 1,24,750. These on-road (Bengaluru) prices include a FAME subsidy of Rs 22,000, GST, road tax, smart card charges, vehicle insurance, and registration fee. The above prices are also inclusive of AtherOne subscription fees for one year, along with a charging cable for the 340 and a fancier charging station (dubbed the AtherPoint) for the 450. Find the asking price too high? Don't worry, Ather has plans to launch more affordable scooters in the near future.
Anything else?
That electricity and water aren't the best of friends is common knowledge. Ather has ensured that you can ride its electric scooter through the water-logged streets witnessed by most cities in India during monsoons. The battery pack has an ingress protection rating of IP67, enabling it to withstand immersion in water up to a depth of 1m (for 30 min); it is dust proof as well. The 7.0-inch touchscreen is IP65 rated, which means total protection from dust and low-pressure water jets. The IP66-rated electric motor can withstand dust and powerful water jets from any direction.
Ather will also offer free installation service of the charging point at your residence, which includes taking a power line from your meter to your parking spot, ensuring grounding, labour cost, etc. The AtherPoint charging station will also be installed free of cost by the company. The benefits of AtherPoint are that it's waterproof, can be kept out in the open, features auto cut-off, is app integrated and, last but not the least, looks cool! Only the AtherGrid has a fast charger. According to the company, fast-charging your scooter every day isn't healthy for the lithium-ion cells; hence it will only provide AC charging points at home. It also claims that, with conventional charging, the Ather 450 can recharge its batteries for a range of 60km in 2.5 hours.
Ather Bikes
Ather 450S
₹ 1.54 - 1.69 lakh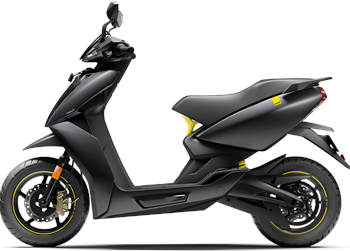 Ather 450X
₹ 1.63 - 1.64 lakh