Ather Energy has only just launched its first electric vehicles, the Ather 340 and the Ather 450 scooters, but the company already has much more planned for the next few years. Speaking with company co-founder, Tarun Mehta, we uncovered that the start-up isn't going to be resting easy after the launch of its new e-scooters and supporting charging infrastructure. As the company slowly works on expanding to different cities, it's also developing a number of newer models. But there's more to the story and here's what we know for now.
Ather aims to hit 1,00,000 units by the third year
The company has only just launched its scooters in the city of Bengaluru, but it plans to branch out to Pune and Chennai by the end of the year. The company is clear that it will first set-up its network of fast chargers called the Ather Grid in every city before it actually launches the scooters there. More cities will be added in the subsequent years and each city will get an Ather Experience Centre where customers can go to get a look and feel for the products. Ultimately, the company plans to enter 30 cities by 2022, with a total of 6,500 charging outlets that will be set-up at a cost of Rs 130 crore.
Ather will, of course, have to keep up with the volumes requirement. For the first year (one year from now, i.e. June 2019), it aims to sell 5,000-10,000 units, provided there are no unforeseen bottlenecks. This number will be scaled up significantly for the second year and at that point, the company will have to look at expanding capacity at its plant in Whitefield, Bengaluru.
The big target though is to achieve an ambitious mark of one lakh units by the end of the third year, or by June 2021. A vast increase in production capacity will be necessary to reach this point. Also necessary will be new products.
New scoots and a new platform
The new Ather Scooters that were just launched are very impressive, but the company knows they won't be enough to meet its three-year goal. Bringing in the backup will be two new scooters that will take Ather's total tally of e-scooters to four by the time it completes its third year of business.
Obviously, it's too early to know what these scooters will be, but there are some telling signs. In our conversation, Tarun Mehta did reveal that the company will have another platform in place by that time. This makes sense given that the current 340/450 platform is a premium and expensive solution, with vast amounts of aluminium used in the frame and across parts like the grab handle, mirror stalks and side-stand. Breaking ground with a premium product is a good idea when you're trying to get people to understand that EV's don't have to be cheap, tacky and poor performers, which, let's face it, is an apt description for almost all existing EVs in India.
But a Rs 1.24 lakh rupee scooter is not the way to achieve big sales numbers, no matter how impressive it may be. So it's safe to expect that at least one, if not both of the upcoming scooters will be based on this new platform and thereby, more competitively priced. At this point, Tarun stresses that there will not be a blatant dilution in performance or range, but that some of the frills, like the fancy materials, might be cut back. How long both these products will take to become a reality is an unknown at the moment, but one new product a year is not an unreasonable expectation.
What about an electric motorcycle?
Ather is open to this too, but the challenges here are much bigger. First, an electric motorcycle will need a revisit to a blank drawing board, as the chassis and packaging solutions will be completely different. Secondly, a motorcycle will demand higher levels of performance and that means the scope of many more things to break and be fixed in the development stage. A longer development period is a certainty.
But we are told to expect a three-year development period, which means you could see the likes of Ather's first electric motorcycle by the end of 2021, or more likely, 2022. What will this bike be like? Tarun says Ather isn't targeting making the fastest bike out there, but instead, an urban-oriented offering with the promise of great performance. He also points out that the company will continue to strive towards pushing the envelope, with new levels of user experience for an electric motorcycle.
This is all far down the road, and Ather has only just begun its commercial journey in the country. But it's a good idea of what to expect from the Bengaluru-based start-up in the coming years. Until then, check out all our coverage of the new Ather Scooters below
Also see:
2018 Ather 450 e-scooter video review
2018 Ather 450 review, test ride
Ather 340, 450 e-scooters launched in India
Ather Energy sets up comprehensive charging grid in Bengaluru
Ather Bikes
Ather 450S
₹ 1.54 - 1.69 lakh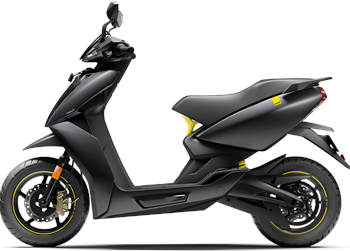 Ather 450X
₹ 1.63 - 1.64 lakh