Bangalore-based startup Ather Energy has just launched what it claims is the largest EV charging infrastructure in any Indian city. The network, called AtherGrid, will have 30 charging stations in Bengaluru by the end of May, with a target of 60 charging stations across the city by the end of the year. As of the 21st of May, Ather has 14 charging points operational so far.
Once complete, the network will ensure a charging station every 4 kilometres within the city. These stations, according to Ather, have been installed at malls, cafes, restaurants, tech parks, multiplexes and gyms across Bengaluru. Interestingly, these charging points are said to be open to all electric vehicles – four wheelers as well as two wheelers - and are not exclusive to Ather vehicles.
Safety features have been integrated into the charging stations to ensure that vehicles are protected from voltage surges, and also to ensure they are not over-charged. The enclosures for the chargers also have an ingress protection rating of IP55 to make sure that they can withstand all weather conditions. As per Ather, the charging points have been developed and manufactured in India.
The AtherGrid app will allow customers to locate the nearest charging point, as well as remotely monitor the charging status. Payment methods will also be integrated into the app. For the first 6 months, the AtherGrid charging facility, along with its app, is being offered free of charge to all electric vehicle owners (not limited to just Ather users).
The announcement of AtherGrid precedes the launch of the upcoming Ather S340 scooter. The scooter is claimed to have a top speed of 72kph and a range of 60km. It will also come with a 7-inch TFT screen and its own app, apart from many smart features.
Also see:
Ather S340 bookings to open in June
Ather Bikes
Ather 450S
₹ 1.54 - 1.69 lakh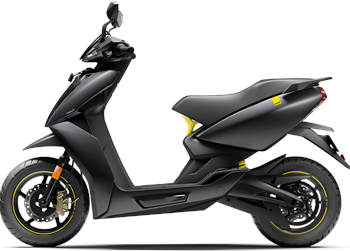 Ather 450X
₹ 1.63 - 1.64 lakh