Feature: Ride to survive - TVS tour of Nepal
A seemingly easy ride across Nepal on TVS' 125cc stars turns out to be one full of twists and turns. Rishabh Bhaskar brings us the details.
Published On Aug 06, 2022 07:00:00 AM
10,179 Views
Follow us on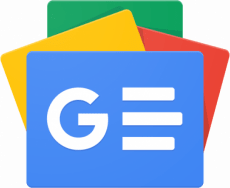 Squeezing through the tiniest of gaps is what it took to get out of a 35km-long jam.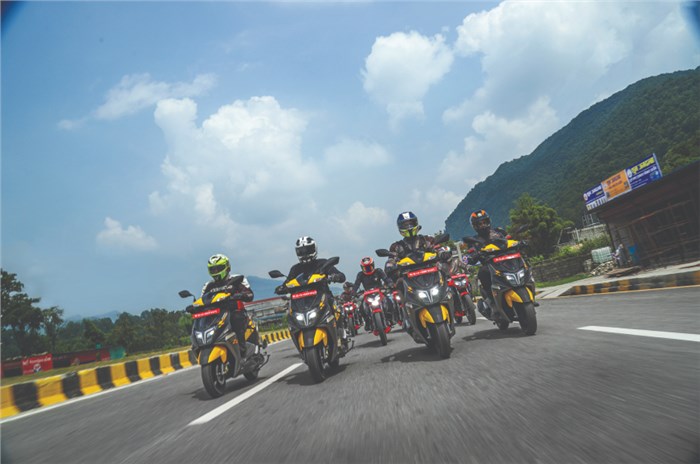 Slippery slush on the roads was tricky to negotiate
We've been making our way through a seemingly endless traffic jam for close to an hour now. In a few areas, the road is barely large enough to let two trucks pass. But others have fared far worse than us: a sea of hapless people have been stranded for close to half a day on Nepal's Prithvi Highway. Day One of our ride through this country had taken a few unexpected twists and turns to say the very least. "Should we have just turned back towards Kathmandu?" The thought floated in all our minds as we waited for an earth mover to clear a huge pile of boulders that was blocking our way.
Incessant rains had wreaked havoc, causing landslides and traffic jams that stretched for miles.
A few hours prior to being stuck in the jam from hell, we were all upbeat about the three-day trip that TVS had planned for us in the land that is the birthplace of Gautam Buddha. The occasion? A ride to celebrate the success of TVS' 125cc two-wheelers – the Ntorq 125 and the Raider. Both products have not only been a runaway hit in India, but have also risen in popularity in neighbouring Nepal and that's why TVS brought us here. The night before departure, we saw scores of TVS Ntorqs on the busy streets of Kathmandu and there were a sizable number of the newly launched Raider as well.
Standing in the forecourt of the Jagdamba TVS dealership, our flag off point, there was a palpable sense of excitement in the air. Mandatory photo ops with the Raider and Ntorq 125 Race Edition done, we set off towards our first destination, Pokhara. Located 220km away, Pokhara is a major city in Nepal, famous for its stunning lakes and beautiful scenery.
The ride out of Kathmandu was eventful in itself, with the obvious chaos and heavy traffic of a capital city. The peppy little 125s made light work of dealing with it and soon we were on the Prithvi highway. By this time, the heavens had opened up, as we continued down the winding ghats that were peppered with potholes. The vistas around us, however, were breathtaking. Lush green mountain ranges stretched as far as the eye could see and once we reached the bottom of the valley, the Trishuliriver was a constant companion, flowing alongside.
The Ntorq impressed with its ability to withstand a bashing.
The road conditions had improved by now and we could explore the performance of the 125cc mills. The Raider's raspy exhaust note filled the air as we passed traffic at a quick pace. I've always loved the bike for its peppy nature, and needless to say, we were having a great time on it. Interestingly, unlike the Raider in India that gets Eco and Power modes, the Raider sold in Nepal doesn't have an Eco mode. Also, it doesn't have a combi-braking system. I admit, backing the rear into a few corners was a guilty pleasure we enjoyed!
It was all going well so far, and we were on schedule to reach Pokhara by sundown. Little did we know that Mother Nature had other plans in store. The car carrying our luggage had left an hour before us and called in to report that it was stuck in a jam. Incessant rains in the Chitwan district over the last couple of days had caused landslides in the region. By this time, we were making our way through the tail-end of the jam and reached our lunch halt after a couple of kilometres.
An hour later, we got news that the jam was only for another 30km till we reached the Mugling junction. After much deliberation, we decided to continue to Pokhara. The camera and support crew ditched their cars and hopped on as pillions.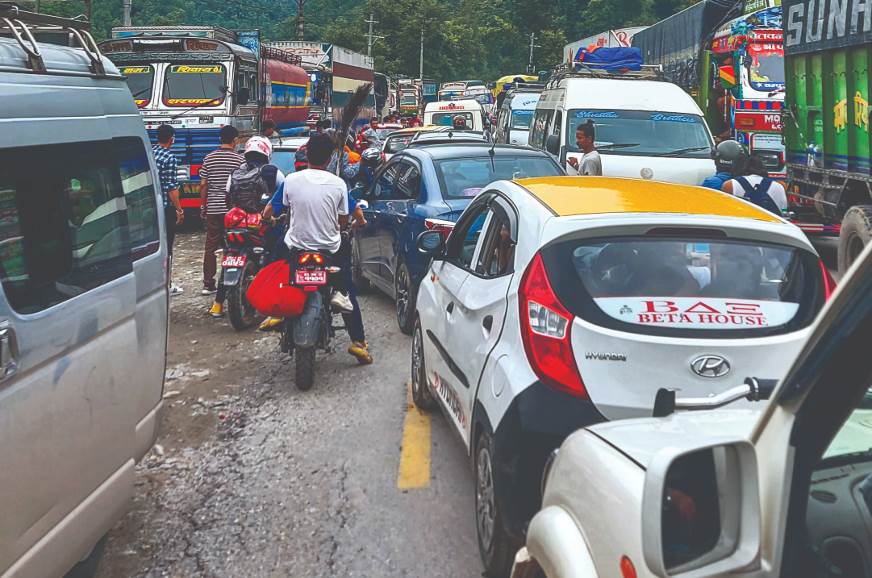 What followed was an experience we'd never forget. Working as a team, our convoy squeezed through every available gap between stranded buses, cars and trucks. To say that the light and manoeuvrable 125s we were on made life easier would be an understatement. In a few places, we also had to ride through ankle deep slush. It took us over two hours to get to Mugling. The convoy that had broken into fragments in the mess regrouped here, amidst cheers and sighs of relief as well as a few tears. The ordeal had worn us out, but we still had 100km to cover and the sun was setting.
Thankfully, the rest of the journey was relatively easy. Although it was dark and raining, with the roads full of potholes, slush and waterlogged in some areas, our little TVSes carried on unperturbed. I've to admit, I have never been more elated at the sight of a hotel, than when we reached Pokhara.
The next day was in complete contrast to the one before. The skies were clear blue, the sun shining in all its glory and we were astride our bikes and scooters on a smooth six-lane Pokhara to Hemja highway. After a few photo ops, we headed to the CommeA La Maison, a quaint restaurant overlooking the gorgeous Phewa Lake. It was here that we got the next round of bad news. Overnight rains in Chitwan, our next destination, had increased the chances of more landslides. Plus the route back to Kathmandu from Chitwan was clogged with traffic in a few places. It wouldn't be wise to jump from the frying pan into the fire, no?
With a heavy heart, we parked the bikes in Pokhara and flew to Kathmandu. Our 750km trip was reduced to just 280km.
On the bright side, we were safe and ever thankful to our little bikes for taking a beating on those weather worn roads and getting us to our destination. It's no wonder they're so popular in Nepal.
Times like these remind us that not everything goes as planned, but it's wise to recognise when not to mess with mother nature. As for the unfinished exploration of this beautiful and culturally rich country, there's always a next time. And when that happens, I know I'd be happy to do it on either the Raider or the Ntorq, and with all the friends I made in Nepal.
Copyright (c) Autocar India. All rights reserved.