Volkswagen Motorsport India had recently confirmed that it would be bringing back the Polo Cup this year, with the series replacing the Ameo Cup after three seasons. The company has used this year's Auto Expo as an occasion to reveal the new race-spec Polo that will run in the 11th edition of its one-make series.
The new Polo Cup car uses the same 1.8-litre turbo-petrol engine as the Ameo Cup racer that it replaces. But the unit now produces 210 hp – up by 5hp compared to the race-spec Ameo. The Race Polo sends its power to the front wheels via a 6-speed sequential gearbox. Volkswagen has yet another trick up its sleeve – drivers will now have a 20hp 'push-to-pass' boost at their disposal for overtaking and defending. Sirish Vissa, Head of Volkswagen MotorSport India, revealed that this boost will be available for the drivers to use multiple times during a race, however the finer details are yet being worked on.
The Polo Cup car also gets a reworked rollcage and an improved dynamics and suspension package. The switch to the Polo Cup sees Volkswagen go back to its motorsport roots in the country. The company kicked-off its one-make series in India all the way back in 2010 with a Polo powered by a 1.6-litre diesel engine.
Volkswagen already conducted a two-day driver selection round for the series on January 25-26 at the Ajmera IndiKarting Track in Mumbai. Based on their overall driving skills and fitness, 20 individuals will now be selected to be part of the final grid.
Last year, the Ameo Class received National Championship status from the Federation of Motorsport Clubs of India (FMSCI). As a result the series ran as the 'Ameo Class' as part of the 2019 season of the MRF MMSC FMSCI Indian National Championship. A spokesperson has confirmed to Autocar India that the 2020 Polo Cup will follow suit and run as part of the same championship this year.
The last time the Polo Cup was held was in 2014. In 2015, the baton was passed on to the Vento Cup before the Ameo Cup was introduced in 2017.
Volkswagen Cars
Volkswagen Taigun
₹ 13.57 - 22.16 lakh
Volkswagen Tiguan
₹ 40.22 lakh
Volkswagen Virtus
₹ 13.41 - 21.60 lakh
Volkswagen Virtus GT 11,000km long term video report
3524 Views|11 days ago
Quick News Video, November 5, 2023
2066 Views|22 days ago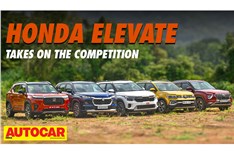 Elevate vs Seltos vs Creta vs Grand Vitara vs Taigun: Mid...
16753 Views|27 days ago