Hyderabad is home to India's first official street track, and a revised layout has been revealed ahead of its debut this weekend as the 2022 Indian Racing League season opener. Next year, the venue will also host India's first-ever Formula E race with the Hyderabad E-Prix scheduled for February 11, 2023.
While we wait for the track to open its doors for racing action, we've summed up all the key things you need to know.
1. Hyderabad Street Circuit location
Located alongside the Hussain Sagar lake, the Hyderabad Street Circuit winds through the streets of the NTR Gardens. While speaking to Autocar India earlier this year, former Mahindra Racing Team Principal Dilbagh Gill said it was the ideal location to host India's first Formula E race. "While it's a city race, we are not disrupting public life because there's no civilian residence in the track area," he had explained.
The track itself is designed by Driven International, who has also worked on updates to the Yas Marina Circuit in Abu Dhabi. The firm's also working on the Nanoli Speedway near Pune and Marque One Motor Club in Andhra Pradesh.
2. How is it different from the old layout?
Last year, Driven International released an early version of the track layout, but some key changes have been made since then. Notably, the track is longer now, measuring 2.83km. The earlier layout was 2.37km long.
A lot more turns have been added to boost overtaking chances as well. The revised layout features a total of 17 turns, while the older one had 12 turns.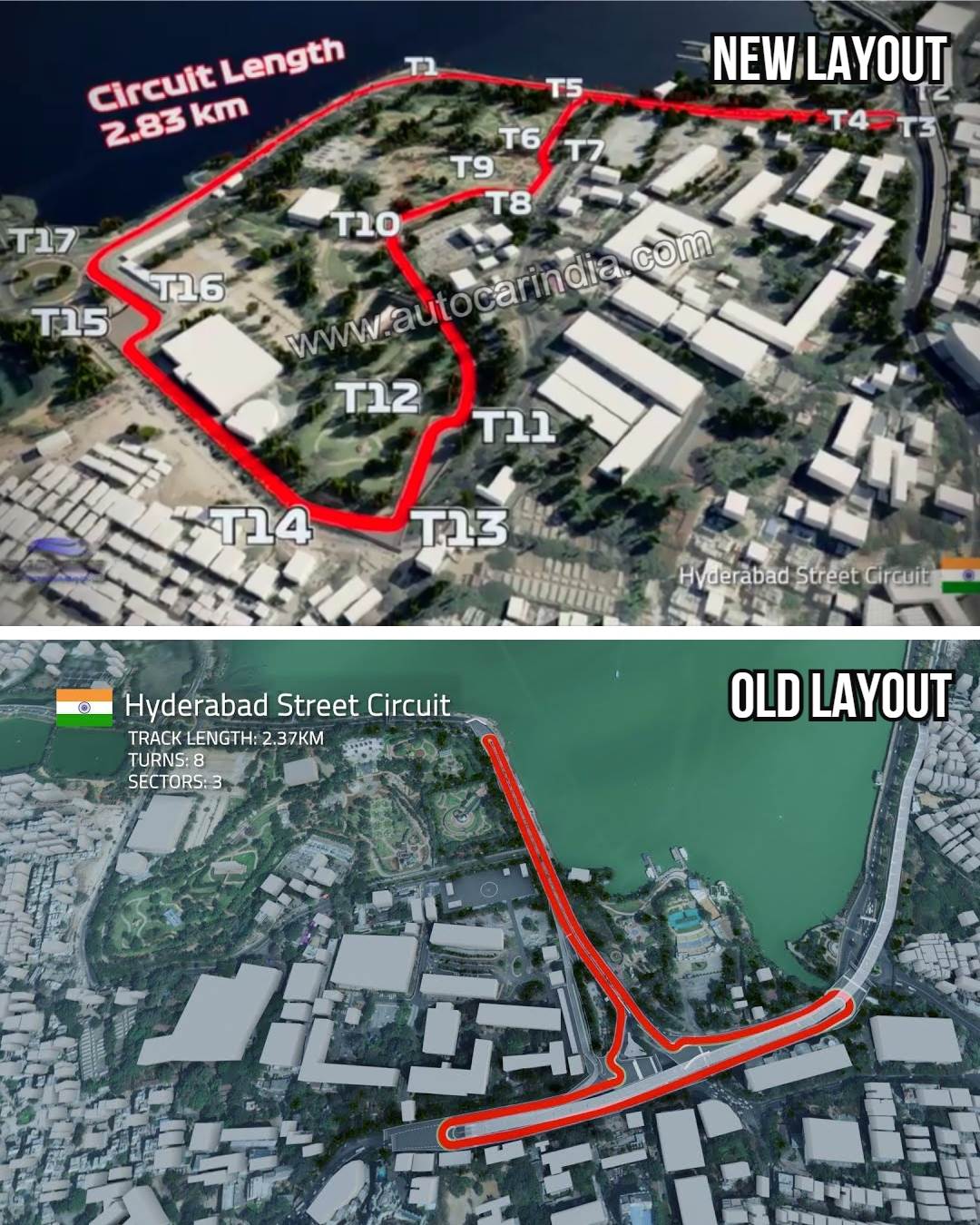 3. Hyderabad Street Circuit: key overtaking spots
Turn 1 is a flat-out right hander that will see cars getting into position for a slipstream on the high-speed run towards Turn 2. This will likely offer the best overtaking opportunity on the lap, with a heavy braking zone opening up the possibility for drivers to go for a lunge into the hairpin.
The run-up to Turn 5 could be another overtaking spot for drivers, especially if a rival has had a poor exit out of the hairpin before. Following that is a sequence of corners that come in quick succession.
The final key sequence of the lap comes at the Turn 15 and 16 chicane where drivers can make one last attempt to pull off an overtake before the final corner. The final Turn 17 is one of the trickiest corners of the lap, but it will be critical to get right in order to carry as much speed as possible into the next lap.
4. Racing debut this weekend
Racing action kicks off on the Hyderabad Street Circuit this weekend itself, with the venue hosting the opening round of the 2022 Indian Racing League on November 19 and 20.
The league will have six city-based teams fighting it out for top honours. Each team has a mix of international and national drivers, with one female driver part of every team's roster. Prominent names like 2016 Le Mans 24 Hours champion Neel Jani, 2014 European Le Mans Series champion Oliver James Webb, as well as Indian racing heavyweights like Vishnu Prasad, Anindith Reddy and Akhil Rabindra have signed on.
It's a spec series, so all teams will compete in identical machinery. The car of choice is Italian manufacturer Wolf's GB08 Thunder single seater, powered by an Aprilia RSV4 engine.
The 2022 finale will also be held in Hyderabad on December 10 and 11. Tickets for the Indian Racing League can be purchased online.
5. Expect changes for Formula E
Having a street circuit opens up the possibility of making more layout changes depending on the series. Akhilesh Reddy- Director MEIL and Chairman, Racing Promotions Pvt Ltd – revealed that the layout will indeed be tweaked a bit for the Hyderabad E-Prix, in order to make it better suited to the new Gen3 electric race cars.
Also see:
New Indian Racing League dates announced; Formula Regional, F4 India postponed