Mahindra Thar receives minor upgrades and a factory-fitted air conditioner. We take it for a quick spin.
The Thar may be a hardcore 4x4 but its owners seem to be a namby-pamby bunch. How else do you explain their clamour for a factory-fitted air-conditioner, to which Mahindra has finally acceded to? Frankly, we aren't complaining either. An air-con makes the Thar so much more useable and comfortable, especially on a sub-continent that sizzles for most of the year.
Aside from the air-conditioning, there are other minor changes as well, along with some serious off-road kit added to the Thar's existing options list (see box). These options will be available at all dealerships that sell the Thar.
The improvements come in the form of the easier to 'hose-down' rubber floor mats – the old Thar had carpets that you'd have to remove and scrub after every off-road excursion. Also, the fuel cap, which leaked worse than exam papers, especially when driven at extreme angles, has been redesigned.
The Thar has lots of flaws that still persist but because it's to be used primarily for off-roading and not for your daily commute to office, it's easy to overlook them. The crude, hard-plastic dashboard looks like it's popped out of a mould in a Chinese toy factory but when you can easily spray-wash the dash after a day of mud-slinging, you don't mind the basic interiors. That said, Mahindra has made an effort to smoothen out some rough edges. The sharp cut-out in the dashboard to allow the window winder to work is now rounded off, so you no longer 'paper-cut' your hands when you roll down the windows in a hurry.
Still, you get the impression that Mahindra didn't spend as much time on the interiors as they did with the mechanicals. What's surprising is the AC that does a good job of cooling the cabin despite the lack of insulation you would expect from a soft-top. We did have an issue with the air-con vents though – they have limited movement, so directing air flow towards you is tricky – you have no option but to wait for the AC to cool the whole cabin down.
We also wished the Thar had a lockable glovebox – there is one under the front passenger seat, but we doubt anyone will want to leave valuables next to a grimy wheel jack.
That said, the Thar is a vastly better proposition than, say, an MM540, thanks to its healthy 105bhp engine and an independent front suspension. Performance is strong, so it's less of an effort to bounce across to your off-road destination. The high seating position and power steering make it easy to navigate down a slippery slope or through bumper-to-bumper traffic and the all-round metal bumper protection means no one will try to cut you off. The five-speed manual gearbox has a nice mechanical feel to the gearshifts too, but first and reverse can be difficult to engage, and third is tricky. The small lever to engage four-wheel drive is in an infuriatingly awkward position as well. Rear passengers will also get bumped about quite a bit because of the stiff leaf spring suspension. And, the Thar's off-road ability is a bit compromised by the limited wheel articulation of independent front suspension but we think it's a good balance between on-road manners and off-road prowess. On the right tyres, the Thar is formidable on slushy stuff.
For the Rs 6.86 lakh that Mahindra is asking for this new Thar AC CRDe, there are so many comfortable and less compromised options for everyday transport. But looking at a Thar as a pure commuter is missing the point. It works best as a weekend tool for off-road enthusiasts and for people who want a strong basic platform (ladder frame, four-wheel drive, low range, powerful engine) to work on and customise to their specific off-road needs. For this purpose and at this price, there simply isn't anything else.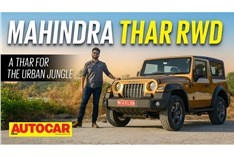 Mahindra Thar 4X2 video review
18547 Views|2 months ago
Autocar India Off-road Day 2022 video
13676 Views|5 months ago
Old Thar vs New Thar: Father and Son comparison
28002 Views|2 years ago