Honda's compact crossover gets a bolder face and new BS6-compliant engines.
What is it?
It's the mid-life update for Honda's Jazz-based crossover, the WR-V, the original version of which went on sale back in 2017. Now it's easy to be cynical about the WR-V and dismiss it as no more than a Jazz with a suspension lift and some off-road garnish tacked on, and technically, that is what it is, but there's more to it than just that. Honda doesn't yet have a compact SUV of its own, so this crossover plugs that gap, and to help in that regard, the wheelbase is longer, the wheels and tyres are bigger, and of course, it has a considerably different exterior look than the Jazz. Moreover, the formula worked, with the WR-V finding a decent number of buyers – over 1,500 each month in pre-COVID-19 times, which is about double that of the Jazz, by the way.
The facelift brings BS6-compliant versions of the existing 1.2-litre petrol and 1.5-litre diesel engines, a revised front end, and a consolidated model range that's been reduced to just two trim levels, but what else can you expect from the 2020 Honda WR-V? Read on.
What has changed on the outside?
There is certainly a bolder look to the face of the updated Honda WR-V. As before, the chrome band on the grille extends wide and joins the headlamps at their base, but the headlamps themselves are now of the LED projector variety, with a lot of nice detailing inside the large units. The grille beneath the chrome bar has more prominent horizontal slats, rather than the honeycomb pattern of before, giving the impression of it being larger. And finally, the fog lamps – which are now also LED-powered – feature thicker black surrounds.
At the rear and down the sides, not much has changed at all. You'll find new designs for the 16-inch alloy wheels and reprofiled tail-lamps, which now feature LEDs and sit in blacked-out frames.
What has changed on the inside?
Even less has changed on the inside than it has on the outside. You're still treated to the smart, angular, all-black dashboard as before with a few brushed silver trim embellishments, and while plastic quality is generally pretty good, you won't find any soft-touch materials here. The only change seems to be the seat upholstery, which gets a new embossed pattern that looks a bit sportier.
Space in the back seat has always been a highlight of the well-packaged WR-V, something it has inherited from the Jazz. Leg room, especially, is fantastic, with a nice angled footrest under the front seats, and though head room isn't quite as much as you'll find in a tall, boxy, conventional compact SUV, it's still rather good. We would have, however, liked to have seen a few more creature comforts to the back seat, like a centre arm rest, rear AC vents, adjustable rear headrests or any form of charging.
Is there any new equipment?
And in a similar vein, it's unfortunate that the equipment list has stayed largely the same too, and while it is decent, other similarly priced cars have taken the game far ahead. What's new are the aforementioned LED exterior lighting, but that's about it. Interestingly, and usefully, the HDMI port at the front has now been replaced by a second USB port for charging your devices. Highlights from before are the sunroof, the neat fold-out driver side cupholder in front of the AC vent, and the love-it-or-hate-it touch console for the auto climate control. The 7.0-inch touchscreen does feel a bit aftermarket, but it has onboard navigation and supports Android Auto and Apple CarPlay, which should take care of your infotainment needs better. The bigger issue is, like in the new City, the screen is a bit too dull, making it hard to read in bright sunlight, and that's especially true of the rear-view camera feed.
What's the updated WR-V like to drive?
The WR-V, as ever, does a decent job of giving you that commanding view of the road even though it's not a pukka SUV, and that's largely because it (and the Jazz) were always big on visibility, with their low dashboards and short bonnets. Okay, the forward-stretched A-pillars do take a little getting used to but once you do, it's very easy to pilot.
The 1.2-litre, four-cylinder petrol engine, as is characteristic of all modern naturally aspirated i-VTEC engines, has a good amount of pep low down, followed by a rather flat mid-range, and then a resurgence of power past 5,000rpm. That said, this 1.2-litre engine is nowhere near as peppy low down as the City's 1.5, and with the transition to BS6, responses seem to have been blunted a bit further. You do find yourself having to downshift a lot, especially if you find yourself trapped between 2,500 and 4,500rpm. Performance is down compared to the BS4 version, with 100kph coming up almost a second slower, at 15.10sec. In-gear acceleration times are similarly behind the curve.
The 1.5-litre i-DTEC diesel engine has also returned in BS6 guise, with its headline numbers unchanged – 100hp and 200Nm. What has changed, however, is the ARAI rated fuel economy, which has dropped by 1.8kpl compared to the BS4 version, to 23.7kpl. This is partly because Honda has gone down the Lean NOx Trap route to achieve BS6 emissions standards, and this process requires a periodic injection of rich fuel mixture to neutralise the NOx pollutants trapped in the filter.
The engine is still quite audible at idle or as revs built, but it is perhaps slightly quieter than before. Its tractable nature remains too, with a linear and predictable powerband that begins the moment you tap the accelerator. It may not rev as freely or have as strong a kick in the mid-range as some others, but it makes up for that with usability – in most everyday driving environments, you'll seldom need to leave third gear.
There have been no changes to the suspension, and the WR-V retains its great ride and handling balance. Bump absorption and body control are both good, even on a rough road, and it even stays more composed around corners than the average compact SUV, thanks in part to its well-judged suspension, and also the relatively lower centre of gravity afforded by its crossover body.
Should you buy one?
The 2020 Honda WR-V facelift, then, is as minor as they can get. The new front fascia and LED lighting (front and rear) do give it a bit more character, but apart from that, there really aren't any changes of note. Perhaps there wasn't too much that could have been done to the interior design, but an update to the equipment list and creature comforts wouldn't have gone amiss. A bigger omission, however, is an automatic gearbox, which the WR-V still does not get, and as more and more people are warming to the idea of automatics, this would have been the chance to add it in. Priced at Rs 8.50-10.99 lakh, it might be slightly less expensive than the range of compact SUVs it rivals, but then, those cars also feel like they give you a lot more for your money. We just wish Honda made the WR-V a more compelling proposition than the previous version. That said, the strengths of the WR-V remain the same as before – space and practicality in a compact footprint with the peace of mind of a Honda badge on the nose.
Honda Sustaina C, Prelude Concepts first look video
3863 Views|29 days ago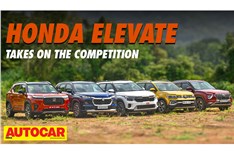 Elevate vs Seltos vs Creta vs Grand Vitara vs Taigun: Mid...
17433 Views|1 month ago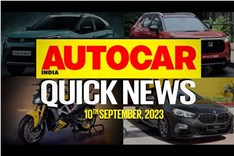 Quick News Video: September 10, 2023
1919 Views|2 months ago