Volkswagen's Polo GTI is now moving into its sixth generation and the company is mulling over its India launch. The company is facing a challenge with the hot hatch's pricing, as import duties and the car's MQB platform could make it expensive. The other option is to launch the car after the local MQB platform (MQB A0 IN) is developed, though this would mean a delay of two years or more.
The Polo GTI was imported and launched in November 2016 at a rather exorbitant Rs 26 lakh, and while the company moved the first lot of 100 units quite quickly, the second batch brought in had to be discounted towards the end. With the Polo, and thus the GTI version, now moving into the sixth generation with a new platform (MQB) the company needs to reevaluate its launch in India.
The hot hatch was imported in the three-door format and Volkswagen admits that its steep pricing did keep potential buyers away. However, it believes that, if priced right, there exists a good enough market for it. Additionally, the company is very keen on launching the new car to maintain the nameplate continuity. It could thus end up importing the new GTI straight away; however, it would become an issue in keeping the price competitive against its rivals, like the Mini.
The VW Group had recently announced plans to develop a low-cost version of its modular MQB A0 platform, dubbed the MQB A0 IN. This locally developed platform will underpin cars for both brands – Volkswagen and Skoda. However, its development work would take some time and priority would be given to vehicles from higher volume segments, with the first product expected to be a small SUV to take on the Creta.
Given the scenario, company sources tell us that that they are also mulling doing both, bringing in the import now and later moving to local production.
Also see:
2017 Skoda Octavia RS vs Volkswagen GTI comparison
2018 Volkswagen Polo GTI, Polo GTI R5 image gallery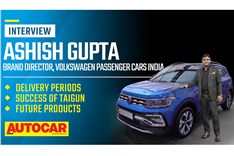 VW's Ashish Gupta on success of the Taigun, brand's futur...
3976 Views|3 months ago
VW Taigun, Skoda Kushaq crash test video
8253 Views|3 months ago