Toyota revealed the fifth-gen GR Supra just a few weeks back at the Detroit motor show. Despite its recent debut, Toyota Racing Development (TRD) – which is Toyota's performance division – has already unveiled its concept for the new Supra. The Supra TRD concept includes a host of exterior cosmetic changes, but gets no mechanical updates.
Starting from the front, the concept has a new front splitter with fins for improved air flow, new fins on the side skirt, and spats at the rear. TRD has also fitted the car with door garnishes and a new trunk spoiler that accentuates the ducktail design at the rear. All these parts have been made from carbon fibre and have been designed to improve air flow and stability. The last major change is in the form of the new 19-inch forged-aluminium wheels with a mesh-spoke design.
The official Japanese TRD website, where the concept was showcased, includes a teaser at the bottom of the page which states 'to be continued'. This suggests that this is only the beginning of the upgrades for the new Supra, with a possibility of performance upgrades to be introduced at some point in the future.
Also see
Toyota to make more performance cars
First new-gen Toyota Supra sells at nearly Rs 15 crore
Toyota Fortuner GR Sport image gallery
4595 Views|5 days ago
Toyota GR Corolla image gallery
5484 Views|1 month ago
Toyota Innova EV concept image gallery
7321 Views|1 month ago
2022 Toyota Camry Hybrid video review
6316 Views|9 days ago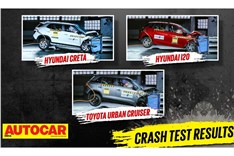 Hyundai Creta, i20 & Toyota Urban Cruiser Global NCAP cra...
3570 Views|1 month ago
2022 Toyota Glanza first look video
10336 Views|1 month ago