After a seemingly endless wait, Tesla is finally set to enter India in 2021. Nitin Gadkari, Union Minister for Road Transport and Highways, confirmed Tesla will commence India operations early in 2021, finally providing much-needed clarity for prospective customers and fans of the brand alike. With its arrival in our market imminent, it's a good time to take a look at all the cars and SUVs in the Tesla portfolio.
Sedan line-up includes Model 3 and Model S
Model Y and Model X are the SUVs in Tesla's line-up
Model 3 expected to be Tesla's first offering in India
At present, Tesla manufactures a total of four vehicles, two of which are sedans and two are SUVs. Let's take a look.
Tesla Model 3
The most affordable vehicle Tesla makes, the Model 3 was designed as a relatively affordable (but also vastly desirable) all-electric sedan, which is set to be the brand's first vehicle for India. It is available with single- and dual-motor options. Sitting at the bottom of the line-up is the rear-wheel-drive Standard Range Plus, which has a range of 423km and a 0-100kph time of under 6 seconds. Dual-motor versions including the Long Range AWD, which can do 0-100kph in under 4.5 seconds and has a range of 568km, and the range-topping Performance, which boasts of a 0-100kph time of a little over 3 seconds, a top speed of over 260kph and also features upgraded brakes.
While the base USD 35,000 version of the Model 3 is no longer offered, the Model 3 still remains a relatively accessible vehicle overseas. In India, however, it's likely to be priced upwards of Rs 55 lakh as it will be shipped to our shores in CBU form.
Tesla Model S
Arguably the one that catapulted Tesla into the spotlight and established it as a force to be reckoned with, the Model S – despite being its oldest model – still enjoys cult status. It features a large, 17-inch tablet-style infotainment screen, and has secured a five-star safety rating in the Euro NCAP tests.
Abroad, it is offered with dual- and tri-motor setups. The most affordable version is the Long Range Plus, which has a sub-4 second 0-100kph time, a 250kph top speed and a range of 647km. Following it is the Performance version with a 2.5sec 0-100kph time and range of 623km.
Also in development is the three-motor Plaid version, which is said to have a power output of 1,100hp, a 0-100kph time of around 2 seconds, a top speed of over 320kphand a claimed range of over 830km. At USD 140,000, the Model S Plaid will be the most expensive Tesla when it arrives.
Tesla Model X
What would an SUV from Tesla look like? The world first got a glimpse of it as a prototype in 2012, and late in 2015, the Tesla Model X arrived. What was easily the most eagerly anticipated electric SUV in the world at that point took a long time to make production, because it was, in company chief Elon Musk's words, "over-engineered".
With its striking 'Falcon Wing' rear doors, the Model X has more than just the Tesla badge to attract attention, and is offered with adaptive air suspension as standard and with 5-, 6- and 7-seat layouts. Available with a dual-motor setup only, the Tesla Model X is sold in two variants abroad – Long Range Plus (597km range, 250kph top speed, 0-100kph time of under 5 seconds) and Performance (547km range, 262kph top speed, 0-100kph in under 3 seconds).
Tesla Model Y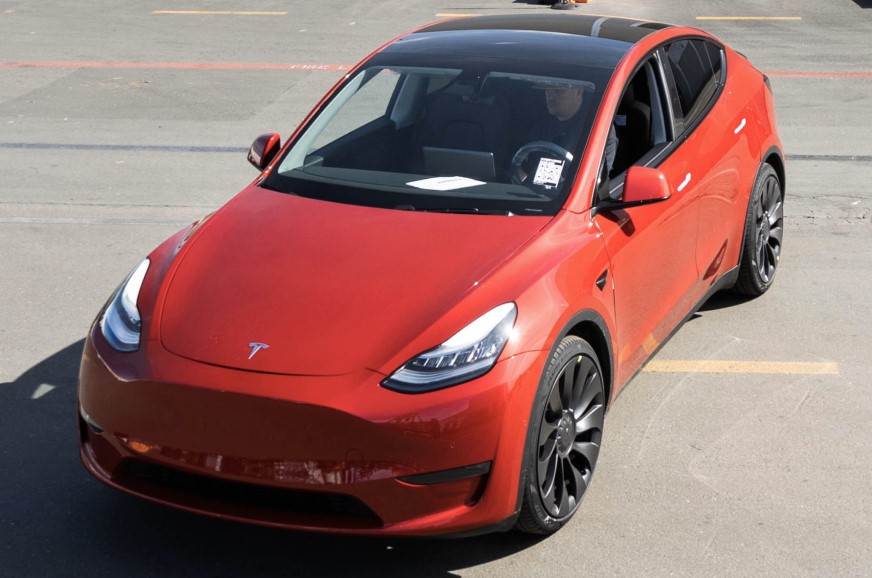 The newest addition to the Tesla lineup, the Model Y is the brand's more affordable SUV, and shares roughly 75 percent of its mechanicals and other components with the Model 3. Designed to have the appeal of a Model X but at a much lower price point, and mirrors the Model 3's simplistic interior design, while also sporting a large infotainment screen.
The Model Y is also available with five- and seven-seat layouts, but gives the Model X's fancy-but-complex 'Falcon Wing' doors a miss. Like the X, the Model Y, too, is available only with a dual-motor setup, and in two variants – Long Range and Performance. The former has a range of 525km, while the latter has a 0-100kph time of under 4 seconds. If Tesla can produce more units of the Model Y, it could make for a sensible follow-up introduction to the Model 3 in India.
Tesla cars in the pipeline
Last year, the wraps were taken off of the radical Tesla Cybertruck, which is expected to go into production late in 2021. Apart from the pick-up, Tesla is also set to launch the new Roadster (which will have a top speed of over 400kph) and a smaller, more affordable EV that will have a starting price of USD 25,000.
Which Tesla are you most excited to see in India? Let us know in the comments.
Also see:
Tesla Model 3 Performance review, test drive
Tesla produces one millionth car