Following issues with fuel pumps on the Kushaq, Slavia and Taigun, Skoda and Volkswagen have now seemingly run into problems with the air conditioning units on the same cars.
As pre-monsoon temperatures soar, several Skoda and Volkswagen customers are complaining of weak AC systems and very low cooling, some of whom have even shared their plight on online forums and social media platforms.
The complaints about ineffective climate control systems by some Kushaq, Slavia and Taigun owners have snowballed online to the extent that Skoda and Volkswagen have both responded.
"We are aware of this concern from some customers and our engineers are looking into how we can improve the performance of the AC," Zac Hollis, director, Sales and Marketing, Skoda India, said in a reply to a Twitter user. "I will update here when we have news. In the meantime, the service centres are equipped with advice on how to maximise the performance of the AC."
In response to another Twitter user concerned about the Taigun's air-con, Volkswagen India's official handle tweeted, "We are aware that a few customers might have faced AC cooling concerns, especially in the regions where the temperatures are soaring high. There are chances that it takes more time to bring cabin temperature as per the occupant's requirement. Please be assured that our technical teams are working to analyse further the improvements in AC performance in specific operating conditions. In the meantime, kindly visit your nearest dealership and they will assist you further."
In our Honda City and Skoda Slavia comparison, we also pointed out that the Honda City's air-conditioner was more effective and cooled the cabin much quicker than the Slavia's. Not only does the Slavia's unit take longer to cool the cabin, but its blower is also quite noisy. Compared to Japanese and Korean rivals, Skoda's and Volkswagen's climate control units don't seem quite as effort-free, and in full-auto setting, we noticed that the fan works at max speed much longer than it does in rival brands.
Interestingly, the Skoda Slavia 1.5 TSI MT that's currently with us also had a similar issue and wasn't really cooling the cabin as effectively as it once did. However, upon sending the car to the Skoda service centre, it was discovered that AC filter was clogged with dust.
Also read:
Skoda India Brand Director Petr Solc on the return of the...
3341 Views|4 months ago
Hyundai Verna vs Skoda Slavia vs Volkswagen Virtus video ...
18589 Views|4 months ago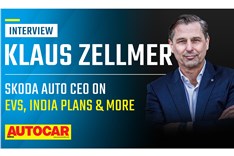 Skoda Auto CEO Klaus Zellmer on EV strategy, future India...
2462 Views|4 months ago