Manolito Vujicic has been appointed as the brand head of Porsche India effective from February 1, 2021. He will be reporting to Gurpratap Boparai, managing director, Skoda Auto-Volkswagen India.
Manolito Vujicic has almost 20 years of experience in the automotive industry
His role will be to manage Porsche's presence across India
Porsche plans to expand its footprint in India
The 48-year old will start his tenure from February 2021, following his departure from the position Porsche Brand President at PAIG (China) Automobile Investment Co, Ltd in Hangzhou (China). The appointment comes at a vital time for the brand, with the all-electric Taycan and Panamera facelift expected to arrive in India over the course of 2021.
Manolito Vujicic background
German-born Manolito Vujicic brings a wealth of experience to the new role. He has been working in the automotive industry for almost 20 years, 17 of which he spent working for the Porsche Holding Salzburg. In his most recent role, he was responsible for budget and investment planning, the realization of dealer targets as well as the expansion of the existing dealer network for the organization in China.
Prior to this, Vujicic held the position of Managing Director for Porsche SCG Ltd., Serbia's national importer of Volkswagen, Audi, Seat and Porsche. He has extensive knowledge in all areas of retail business, comprising of sales, network development, marketing and communications, as well as after sales.
Manolito Vujicic's role at Porsche India
In his new role, Manolito Vujicic will be managing Porsche's presence across the country. The network comprises five dealerships, eight service centres and the soon-to-be completed Porsche Studio in Delhi. Porsche India says it plans to expand its footprint in the market and further enhance the customer experience through a number of measures.
Porsche cars in India
Porsche's sportscar line-up in India currently consists of the 718 Cayman, 718 Boxster and 911. Additionally, the carmaker also offers the Macan, Cayenne and Cayenne Coupe SUVS as well as the Panamera sedan in our market.
Also see:
Porsche India Director Pavan Shetty resigns
Porsche Taycan breaks record for longest drift in an EV
13 Porsche concepts you've never seen
Porsche Taycan GTS, Sport Tourismo GTS image gallery
1404 Views|6 months ago
Porsche 718 Cayman GT4 RS image gallery
1970 Views|6 months ago
Porsche Taycan India video review
6288 Views|2 months ago
Porsche Taycan, updated Macan first look video
2045 Views|5 months ago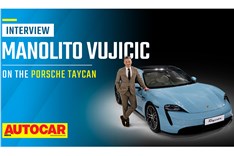 Manolito Vujicic on launch of all-electric Taycan, import...
1368 Views|6 months ago