Mercedes-Benz has reopened bookings for its two high-end SUVs – the AMG G63 off-roader and the GLS Maybach 600. The carmaker says India has received additional units of the G63 and GLS Maybach, and their waiting periods have also been reduced substantially. The bookings are initially open for existing Mercedes-Benz owners before it is offered to new customers.
High-end luxury segment fastest growing for Mercedes Benz India.
10 new Mercedes-Benz models coming in 2023.
Mercedes-AMG G63, Maybach GLS 600 waiting periods reduced
Early last year, we reported that the waiting period for high-end Mercedes cars and SUVs was up to two years, owing to their high demand globally. The G-Class SUV had the longest waiting period and Mercedes had said the off-roader was sold out for two years. Now, with the increased allocation, Mercedes says the waiting period for the AMG G-Class is a year and a half, compared to two-three years earlier.
We had reported about the waiting period for high-end Mercedes-Benz models in the May 2022 issue of Autocar India.
Mercedes-Benz says the waiting period for the GLS Maybach 600 has also been reduced significantly and currently stands at eight months for single-tone paint shades and up to 10 months for dual-tone paint shades.
The AMG G63 and the GLS Maybach 600 are a part of what Mercedes-Benz calls the Top-End Vehicle (TEV) segment, and it was the fastest-growing segment within the carmaker's portfolio in 2022, registering a 69 percent yearly growth. The G63 has seen a price hike and now costs Rs 2.7 crore from the earlier Rs 2.45 crore, while the GLS Maybach is priced from Rs 2.92 crore (ex-showroom).
New high-end Mercedes-Benz models incoming
Mercedes-Benz recently announced that it will launch 10 new models in India in 2023. The TEV segment, which started with the Mercedes-AMG E 53 Cabriolet, will be a key focus this year with more than half of the new Mercedes Benz launches coming from this segment. These are likely to include an updated G-Class, the new-gen Mercedes-AMG SL and the EQS SUV. The updated G-Class is yet to be shown, while the SL and EQS SUV were both globally revealed in 2021 and 2022, respectively.
Also see:

Mercedes Benz to ditch EQ name for EVs from 2024

Mercedes-Benz GLE, GLE Coupe facelifts unveiled

Brabus 800 Adventure XLP image gallery
6739 Views|3 years ago
Mercedes-Benz G 350d image gallery
9775 Views|3 years ago
Mercedes-Benz G 350d video review
27562 Views|3 years ago
2019 Mercedes-Benz G 350d off-road video review
13163 Views|3 years ago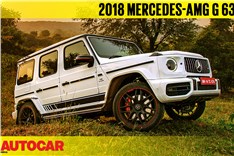 2018 Mercedes-AMG G 63 video review
12522 Views|4 years ago