The new Maruti Suzuki Alto K10 has just been crash tested by Global NCAP, and it has come away with a 2-star safety rating for adult protection and 0-star rating for child occupant protection. This is among the first set of crash tests conducted by Global NCAP this year, which also includes the Maruti Wagon R and the duo of the Volkswagen Virtus and the Skoda Slavia. The model tested was manufactured in India for sale in the domestic market, and came equipped with dual front airbags, seat belt pretensioners and front seat belt reminders as standard.
Alto K10 scored 21.67 out of 34 in adult occupant protection
It secured 3.52 out of 49 for child occupant protection
The body shell of the hatchback was rated as stable
This, however, is not the Alto's first appearance at Global NCAP – the previous-gen Alto 800 was among the first cars to be tested by the vehicle safety watchdog under the Safer Cars for India programme, and it had then scored 0 stars for adult production and 2 stars for child occupancy, albeit under a much older protocol.
Maruti Alto K10 Global NCAP: adult occupant protection explained
The 2023 Alto K10 scored 21.67 points out of a possible 34 points in adult occupant protection, including a frontal offset deformable barrier test and a side movable deformable barrier test where it scored 8.2 points and 12.4 points, respectively.
In the frontal impact test, GNCAP noted that the Alto K10 offered good protection to the driver's and passenger's head and neck, although protection for chest was marginal for both. The driver's and passenger's knees showed marginal to poor protection as they could come in contact with dangerous structures behind the dashboard. In the side impact test, head and pelvis protection was good, but abdomen protection was adequate and chest protection was poor.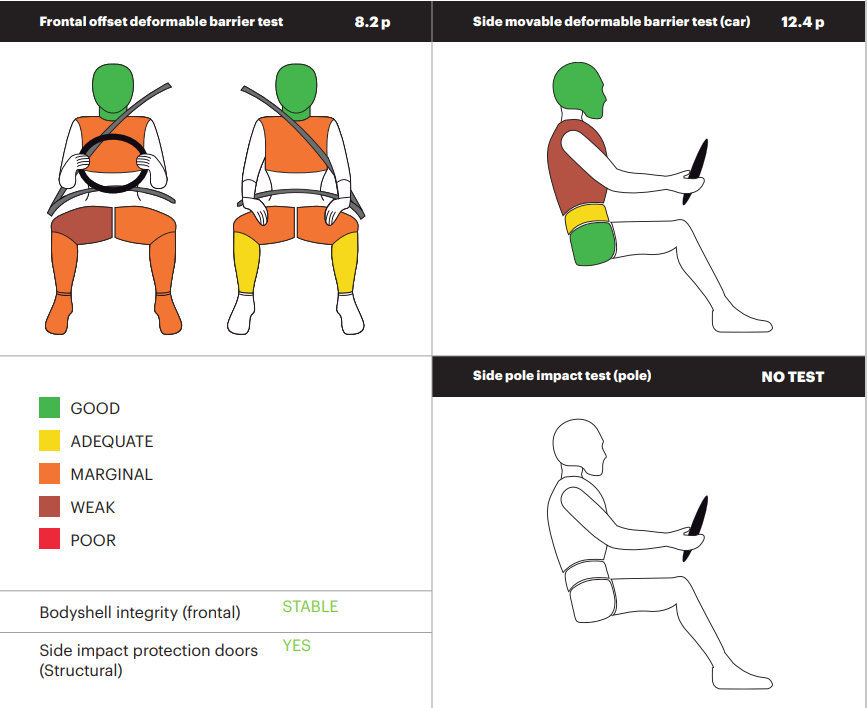 Global NCAP also noted that the bodyshell was stable, and capable of withstanding further loadings, although the footwell area was rated unstable. Global NCAP, however, did not test the Alto K10 for side pole impact test as it does not offer side airbags.
The Alto K10 also does not come with Electronic Stability Control (ESC) as standard, which is why it was not tested for safety assist systems either. Lastly, it also does not comply with UN127 or GTR9 pedestrian protection norms.
Maruti Alto K10 Global NCAP: child occupant protection explained
As far as child occupant protection is concerned, the Alto K10 secured just 3.52 points out of possible 49. This only includes the CRS (child restraint system) installation score as it got 0 points for the dynamic score.
The Alto K10 was tested with a 3-year-old child dummy seated on forward facing child seats with adult seatbelts, which was not able to prevent excessive forward movement during the impact, exposing the head to high risks. Meanwhile, the 18-month-old child dummy was tested with rear facing child seats with adult seatbelts, and showed good protection for head, but weak protection for chest.
The Alto does not come with three-point seat belts for all five passengers, neither does it get recommended CRSs. It also does not offer standard ISOFIX anchorages on any of the seats, all of which explains the poor rating for child occupancy protection.
How does the Alto really fare?
The Alto may have scored low at the Global NCAP crash tests, but it's important to remember that the hatchback is positioned at the budget end of the market and, as such, comes equipped with what is standard for the segment. Importantly, the body shell was also rated stable and even capable of withstanding further loadings.
This, in fact, is better than some of Maruti's more premium and larger models such as the Swift and Ignis, both of which have a 1-star rating and unstable body shell as per the newer, more stringent protocols. The Alto is, of course, one of Maruti's newer cars as opposed to the Swift or Ignis which are now much older in their lifecycle.
This certainly shows that Maruti has made strides in safety even when it concerns their most affordable model. However, standard fitment of features like ESC, ISOFIX anchorages and more airbags are certainly a miss and could have been offered at least on the higher-spec trims.
Also See:
2022 Maruti Suzuki Alto K10 video review
2022 Maruti Suzuki Alto K10 review: Peppy urban commuter is back
"Safety means taking measures to prevent accidents": Maruti Suzuki's RC Bhargava