GOOD FOR: Spacious interiors, comfortable ride.
LOOK OUT FOR: Faulty air suspension, worn brakes.
The GLS is often known as the S-class of SUVs because of its size. And this car was given that tag for good reason – it does a lot of what the S-class does, but with seven passengers. The high-end used-car market is not often too clogged with these as the high demand means they get picked right off the shelves. When it comes to used luxury cars, a good advantage of buying one is the high depreciation rate that slashes its price by almost half, or even more than that in rare cases.
What makes for a pretty incredible deal is that you can get a sparsely used (just over two years old) GLS for around Rs 60 lakh. If it's been driven over 30,000km, the prices go further down to almost Rs 52 lakh. Once having bought the extended warranty this price tag is a steal. So, if you are looking for a full-size luxury SUV that can seat seven, the GLS makes for a good used buy.
There is nothing to mask the dimensions; it is a proper full-size SUV with a bold stance.
Though the asking prices might be attractive, expect aftersales and service to be expensive because, as mentioned before, this is the S-class of SUVs. A basic service every year will cost you around Rs 70,000 and insuring a three-year-old GLS will cost around Rs 90,000-1,00,000. Parts are not cheap either. Wear-and-tear components like brake pads cost Rs 1 lakh for a set of four.
The GLS is powered by a 3.0-litre V6 diesel engine that makes 258hp and 620Nm of torque. Performance then is more than adequate and you will not struggle for power, despite this SUV weighing well over two tonnes. Mated to the engine is a 9-speed automatic gearbox that works just seamlessly. The comfort too is excellent, with air suspension in the front and rear, and its 4WD can tackle pretty much any terrain you throw at it. It is also hugely practical and gets a big 680-litre boot with the last row down, which can be further extended by flipping down the second row.
You would expect high running costs on an SUV this size. City and highway fuel economy averages 8kpl. The 100-litre fuel tank gives you excellent range, though and helps on long drives. You are also covered on the safety front, as the GLS gets eight airbags, ABS with EBD, brake assist, ESP, traction control and even attention assist, amongst the other hoard of tech.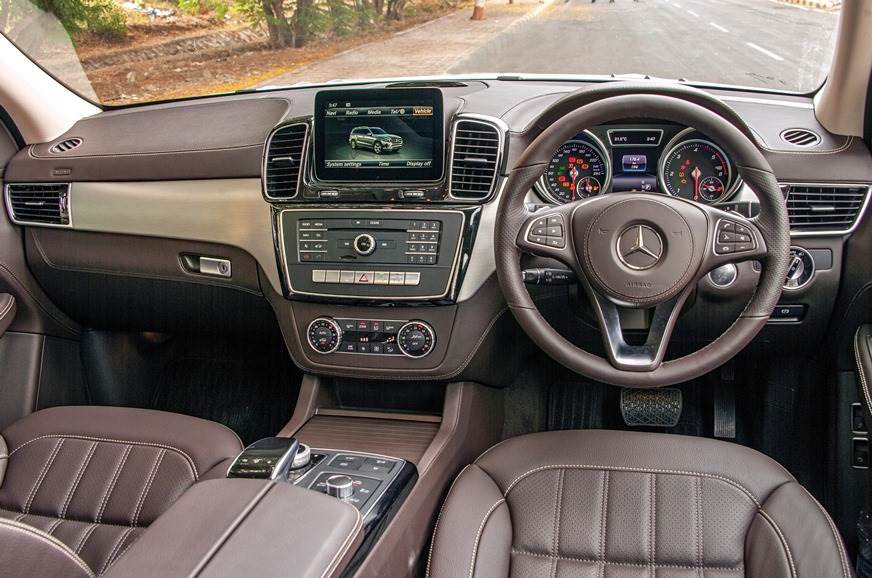 Interior might not be the latest in terms of design, but the quality and build is very good.
The GLS makes for a very good, full-size SUV, and it is even better for long drives out of the city. It is comfortable, practical and you also get fantastic levels of features and safety. Just make sure you are buying one that is free of problems. You can also haggle the asking price down because this second-gen GLS has been phased out internationally and the all-new GLS is set to launch in India soon. And lastly, make sure to look for the mentioned problems and issues that some owners have had. With cars like these, it is always best to get all the possible checks done.
HOW TO GET ONE IN YOUR GARAGE
Buyer, beware.....
Air suspension
If faulty, this could be one the most expensive things to fix on the Mercedes GLS and we strongly recommend walking away from a model with any suspension issue. Replacing the air suspension can cost nearly Rs 4 lakh.
Brake caliper
Mercedes issued a recall for GLS units manufactured between April 2018 and June 2018 to replace faulty rear-brake caliper pistons that could result in a loss in braking power.
Body damage
Spares for the GLS are expensive, so check the car for any visible body damage. The usual suspects are the side-view mirrors, which are prone to damage, given the width of the SUV. A new side mirror will set you back by well over Rs 1 lakh.
Also worth knowing
Look for examples that have not more than 30,000km on the odometer. Also check if the previous owner has the complete service record.
How much to spend
Rs 50-60 lakh
When new, the GLS was priced over Rs 1 crore. For a three-year-old model, pay just half of that. Pay more only if the car in question has added optional accessories and also has the extended warranty. You can also look at the Mercedes pre-owned programme, which has models that are well looked after and certified by the carmaker themselves, which is good assurance that it is a problem-free example.
Mercedes-Maybach GLS 600 first look video
17402 Views|2 years ago
2020 Mercedes-Benz GLS video review
40744 Views|3 years ago