We get familiar with the Superb's sportier sibling, the latest entrant in our long-term fleet.
Is too much of a good thing sometimes a bit too much? I never thought I would say this, but the Skoda Octavia's throttle response is, well, too responsive! It's the first thing I notice after flicking the toggle-like gear lever into D and leaning on the throttle pedal. In fact, a simple tap of the right foot is all it takes for the Octy to lunge forward and it's this hair-trigger response that needs some concentration to modulate in tight space and bumper-to-bumper traffic. In contrast, our Superb long-termer's throttle response is more measured, more linear and in keeping with the big sedan's chauffeur-driven focus.
The Octavia, which has just entered our long-term fleet, is clearly the sportier sibling. The way the common 2.0 TSI engine producing an identical 190hp has been calibrated and the way it shoots off the line is what gives the Octavia its sporting chops, setting the tone for a car that is quick, agile and always eager to run.
OVERSENSITIVE: Throttle response a bit too sharp for city driving.
That eagerness is rooted in an engine that is smooth and (for a turbo) loves to be revved. My first couple of weeks with the car in Mumbai haven't allowed me to explore it to its fullest, but late night sorties to the airport on roads left deserted by night curfews, and a populace spooked with Omicron, was perfect to wring the motor to its 6,000rpm redline in the lower gears.
Night drives also allowed me to appreciate the cockpit lighting and the ambient light strips running across the dashboard, the doors and inside the footwell, which give a nice high-tech, yet soothing feel. There's something else I thought I would never say: I was acutely aware that the Octy had no sunroof! Did I want one? Well, it wasn't to let the sun in, but to let the Mumbai night skyline filter through. After driving cars with a panoramic roof, it's amazing how unconfined they make you feel. That said, I would personally never spec my car with a sunroof, even though I understand its rage.
Now, a lot has been said about the Octavia's price. Yes, it is expensive, maybe excessively so by segment standards, but for those who want quality and a car that feels world class, you can't really put a price on that. And the wow factor is both on the inside and outside.
ALLURING ALLOYS: Stunning wheels contrast nicely with dark Magic Black paint.
Walking up to the dark Magic Black Octavia every morning, contrasting nicely with the stunning kaleidoscope-looking alloys, is always a great start to the day. But the exterior can only be appreciated for fleeting moments, like when you get in and out of the car. It's the interiors that you live with day in and day out that is more important.
On this count, the Skoda's sumptuous cabin immerses you in a high-quality environment that is in the realm of its more premium cousins from Audi. Poke around the cabin and you'll find it genuinely hard to find a bad bit. Right from the switchgear to the fabrics, plastics and piano black finishes, the Octavia feels so good that you could forgive Skoda for ambitiously pricing its executive sedan. The chunky two-spoke steering wheel with its floating boss effect is just great to grip and the knurled rotary scroller lets you flick through the functions and screen layouts. The 10.25-inch digital cockpit is sharp and easy to read and the dials have four different configurations.
CABIN CLASS: Interior quality is simply top class.
It's not all perfect though; setting the climate control is a three-step process. There's a 'CLIMA' hard button that brings up the air-con menu on the screen and then you need to prod the blower speed and temperature icons to your desired setting. It's far from intuitive and you have to take your eye off the road, which I found quite disconcerting, especially since the air-con is something you are constantly adjusting. What happened to the good old-fashioned rotary knobs?
NOT SO SIMPLE: Air-con adjustment is complicated and can be distracting.
Like with the Superb, Skoda has softened the Octavia's suspension and raised it too, to deal with speed breakers and all sorts of road surfaces. It's a fine riding car, especially at low speeds, and nicely smooths out the ruts, broken paver blocks and patchy tarmac. Sharp edges and bigger potholes judder through, but that doesn't take away from the overall comfort the refined and quiet Octavia offers.
Driven for most of the time on part throttle (except on late night airport runs), the Octy opened its innings with a 7.2kpl average achieved entirely within Mumbai city limits. That's not a particularly good figure for the 2.0-litre TSI.
Will it be as frugal on the highway? That's what we'll find out in our next report.
Skoda India Brand Director Petr Solc on the return of the...
3383 Views|4 months ago
Hyundai Verna vs Skoda Slavia vs Volkswagen Virtus video ...
18754 Views|4 months ago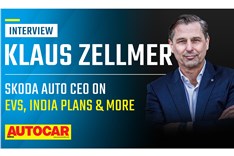 Skoda Auto CEO Klaus Zellmer on EV strategy, future India...
2497 Views|5 months ago