Nowadays, you can break from the norm if you're looking for a compact luxury SUV. We bring together two offbeat, yet capable alternatives.
One of the great benefits of the proliferation of SUVs over the last 15-odd years is that it has bred a lot of competition. And not just in numbers, but also in variety. It means SUV-makers no longer have to follow that tired old cookie-cutter formula and are free to try different approaches for those who might like something different.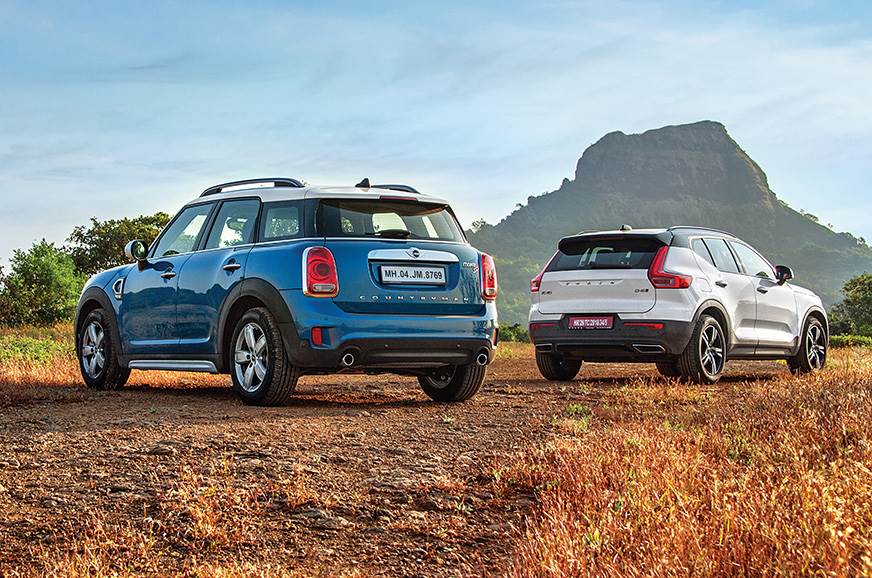 Two very different types of cool – and both break from the conventional SUV design norm.
The Mini Countryman is one of the best examples of this. Yes,it is, technically, an SUV, which means it has a slightly higher ground clearance, a squatter stance and a fair bit more space for people and their things. But it makes no pretence of being even remotely close to an off-roader. Yes, there are some rugged-looking add-ons, but they're used sparingly, and the Indian version doesn't even get all-wheel drive. What it gives you, then, is the retro-cool style you love of a Mini, in a larger, more practical package. But is that enough? Or, for your money, should you choose the Swedish left-field approach that is the Volvo XC40?
The XC40 is an impressive bit of kit and it's not without reason that it's our current pick of the compact luxury SUV class. As with most new Volvos, it came out of seemingly nowhere and shook up the established order. With its monocoque underpinnings and front-biased on-demand AWD, it too is definitely more of a crossover, but its shape is closer to that of an old-school upright SUV. However, its design is thoroughly modern, with contrasting colours and cool Scandinavian lines; quite the opposite of the Mini's cute, old-world British charm. Placed side by side, the Volvo is visibly larger than the Countryman too, and it rides higher off the ground.
Volvo's dash design is its own kind of quirky and quality is up there with the Mini.
Chic lounge
That contrast continues the moment you open a door and have to take a (slightly higher) step into the XC40's cabin. Once in, you're greeted by a very chic, minimalist dashboard – a dark colour with just the right amount of subtle brightwork to liven it up. The number of buttons has been whittled down to a tiny strip of controls beneath the portrait-oriented, 9.0-inch Sensus touchscreen – the centre piece of every new Volvo. While this clutter-free environment looks cool, it also means that too many basic functions, like simply changing the AC temperature, require you to take your eyes off the road when using the touchscreen. I also like the clean digital instrument cluster and the huge door bins – made possible by removing the lower door-mounted speakers and replacing them with an in-dash subwoofer. I'm not so hot on the Lava Orange fabric door and footwell lining, but you don't have to have this colour equipped on your car.
Typical Mini retro cool returns but the grey-black colour scheme looks a bit dull.
The thing is, I really like the look of the Mini's interior too. As ever, there's a circular theme to the design elements, but unlike in the hatchback, some parts – like the AC vents – have been squared off for this crossover, and it suits it just fine. Then there are the toggle switches for everything from the cabin lights to the starter button, and the ring of context-sensitive LEDs on the dashboard that light up differently in different situations. Customisation has become synonymous with Minis and it's easy to spend a lot more on top of the sticker price to personalise your car. However, since the Countryman is the only Mini to be assembled in India, unlike the rest of the range, you cannot customise it at all! You get three fixed configurations, comprising trim and equipment, and this diesel Cooper SD is the middle of the range.
Feel-good factor
Here's where things get interesting though, as there are some aesthetic choices (non-customisable, of course) that you have to live with – like smaller 17-inch wheels and a rather dull-looking, grey plastic dash trim. The equipment list too is a mixed bag – while they've given it some feel-good features like a panoramic sunroof, a powered tailgate and powered front seats with memory, it misses out on others that you'd expect at this price. There are, for instance, no paddleshifters and no rear-view camera, and the touchscreen is a smaller, 6.5-inch unit, as opposed to the 8.8 inches on the higher trim.
Touchscreen is superb but too many basic functions rely on it.
When it comes to feel-good features – actually, any kind of features – there are cars twice the price that can't even come close to the Volvo XC40. Heated seats, front and rear, are good if you live someplace where it gets cold in winter, Android Auto and Apple CarPlay are on hand to hook up your smartphone and there's even a digital instrument cluster. The real ace up the Volvo's sleeve is its bank of active and passive safety features – auto emergency braking, lane-keeping assist, blind-spot monitoring, road sign recognition, pedestrian detection, cross-traffic warning. It even has semi-autonomous driving which will drive the car for you provided the road is neatly marked out. Granted, a lot of this isn't really useful on Indian roads, but it's just incredible to see it on a Rs 45-lakh SUV.
Diesel Countryman gets smaller 6.5in screen, but it works well.
The S in SUV
But while it could drive itself, the XC40 is pretty nice when you're doing the driving too. It's certainly got the numbers – a 2.0-litre diesel engine with 190hp and 400Nm sounds right on the money for a crossover of this size, and power is put to the road via an 8-speed automatic gearbox and all-wheel drive. That gearbox is perhaps the weakest link of this powertrain, however; it's a bit lazy with its responses and the shifts them selves aren't the quickest. Still, it's not so bad once you get into a rhythm, and provided you aren't flooring it, it makes smooth and effortless progress. It's easy to settle into a brisk gallop, if not a frenzied sprint.
XC40 gear lever is fiddly to operate.
The Mini has no trouble sprinting. It too uses a 2.0-litre diesel with 190hp and 400Nm, but the way it goes, you'd think there was a fair bit more. Power goes only through the front tyres, too, but it's enough to let the Countryman SD scoot from 0-100kph in just 7.55sec. The Volvo, by comparison, takes a leisurely 9.54sec. The differences are even more stark when you're trying to overtake, because the Mini's 8-speed gearbox (the same ZF unit used in the BMW X1) is just brilliant and quick to react to a twitch of your toe. 20-80kph and 40-100kph in kickdown are despatched in 4.52sec and 6.30sec, respectively, which take 6.05sec and 7.12sec in the Volvo, but in practice, the difference feels even greater than the numbers suggest.
You can't opt for larger wheels on this Mini.
Athletics
The Mini is the fun handler too. Its steering feels a tad too heavy in town, but you will be so grateful for it on a nice road. It's nice and communicative, the weight feels good when you're going fast, and it's really quick and accurate. Body control, too, is just superb, and it doesn't feel too much larger than any of the Mini hatchbacks once you start to press on with it. You do get a bit of torque steer when you're really flooring it, but once you've learned to drive around it, it can actually be quite a lot of fun. The downside to this incredible agility is that the suspension has been set up a bit too firm, and in everyday use, you might not like how much it thunks and crashes through bumps.
Volvo gets semi-autonomous self-drive.
The Volvo's ride is just superb. No adaptive dampers, certainly no air springs – just an incredibly well-judged suspension. And despite riding on the larger wheels in this test, it's still got some pretty high-profile tyres, and the XC40 could sail over a rough road with far less interference in the cabin. The handling is not electrifying,but like the performance, it's tidy. There is body roll, but not enough to make you want to slow down to a crawl, and what it lacks in outright sharpness, it makes up for with a steering that feels wonderfully fluid to operate. It's hard to describe, but this is a car you'd be more than happy to just drive at '50 percent'.
The Alternatives
The fact remains that both these cars do things a little differently from the usual crop of compact luxury SUVs, but they do it in very different ways. Let's start with the Mini. The Countryman doesn't try to tick every single box, like many SUVs in this class do, and for your money, it focuses hard on a few core strengths. For example, many might balk at the lack of AWD at this price (whether they'd ever need it or not is a different story), but you still get that solid, BMW-grade build quality and a surprising amount of equipment. What really sells it, however, is how well it drives and that wonderful retro-cool factor. But then, you have to ask yourself, wouldn't a regular Mini 5-Door hatchback be enough?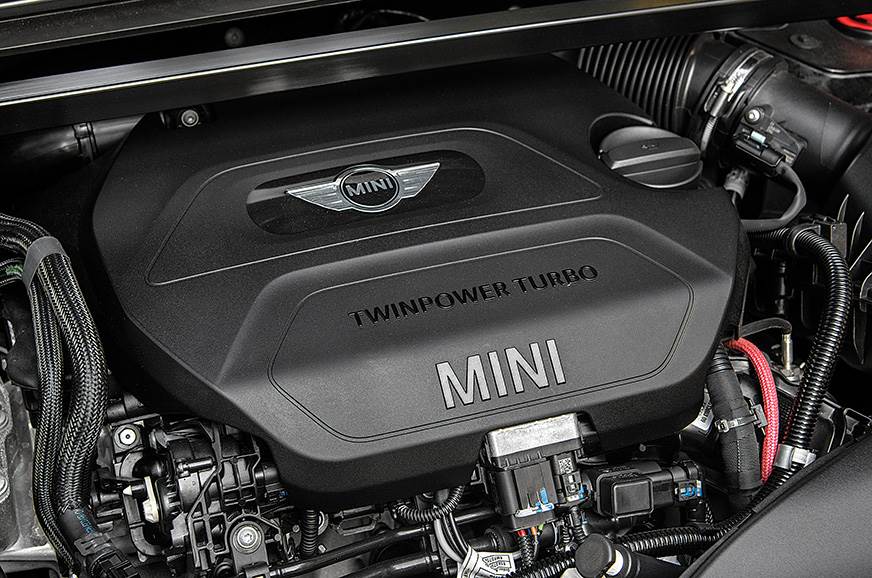 Mini powertrain packs a solid punch.
The Volvo is more expensive and it's not as fun to drive. People might even be wary of Volvo's dealership and service network – though it has grown vastly in the last 12 months. But, for those few lakhs more, it's astonishing what the Volvo gives you. Yes, some of it is a little gimmicky, but a lot of it is very useful, especially the safety kit. And more than anything else, there's high-tech stuff that you won't find in some cars that cost over a crore, and there's a certain feel-good factor that you simply want when you're parting with this kind of money on what is, at the end of the day, a relatively compact vehicle.
But the Volvo gets the basics right too – it's incredibly comfortable to sit in, effortless to drive and scores high on space and practicality too. And if the price is really a downer for you, you can get the lesser 'Momentum' variant (you only lose the self-driving tech and Harman/Kardon sound system) which is priced closer to the Mini.
The AWD Volvo feels more secure in the dirt, but the FWD Mini's still more fun.
And that's really why the XC40 wins this comparison test, because it manages to be different (and greater) than the others, without skimping on the fundamentals. The Mini has its own distinct identity too, but some things have been compromised along the way, so while it is a very focused car, it simply falls into too small a niche. The Volvo, then, is more car to more people – a left-field choice that just also happens to be the best car in the class.
Verdict
Mini Countryman SD
Volvo XC40 D4 R-Design
Verdict
Fun and stylish driver's car but not enough of an SUV.
A compact luxury SUV that does just about everything.
Rating
7/10
9/10
Price
Rs 37.40 lakh
Rs 42.90 lakh
L/W/H
4299/1822/1557mm
4425/1863/1652mm
Wheelbase
2670mm
2702mm
Engine
4 cyl, 1995cc, turbo-diesel
4 cyl, 1969cc, turbo-diesel
Power
190hp at 4000rpm
190hp at 4000rpm
Torque
400Nm at 1750rpm
400Nm at 1750rpm
Gearbox
8-speed automatic
8-speed automatic
Tyre size
225/55 R17
235/55 R18
Performance
Mini Countryman SD
Volvo XC40 D4 R-Design
Performance
Acceleration (from rest)
Acceleration (from rest)
Kph
Sec
Sec
20
1.06
0.82
40
2.25
2.37
60
3.58
4.09
80
5.29
6.60
100
7.55
9.54
120
10.57
13.11
140
14.33
15.48
160
18.94
21.16
180
25.34
34.61
20-80 (in kickdown)
4.52
6.05
40-100 (in kickdown)
6.30
7.12
2018 Volvo XC40 India image gallery
38479 Views|5 years ago
2017 Volvo XC40 image gallery
10544 Views|6 years ago