One of the biggest complaints motorcycle enthusiasts have with electric bikes is the lack of an exhaust note. Many believe that the soundless ride detracts from the overall experience. Revolt appears to have an interesting solution to this: Its upcoming e-bike - set to launch on June 18 - will have customisable artificial exhaust notes.
The Revolt electric motorcycle will come with a mobile application that will allow you to choose an exhaust note of your preference. In a new teaser video, the company revealed this feature. The rider is seen switching from a high-revving, single-cylinder sound to a four-cylinder one. However, there also appears to be at least two more exhaust notes that have not yet been revealed. The sound will vary based on the speed of the motorcycle and the load the motor is under.
While this feature will most probably fun to play around with, it will have to be seen how well it has been incorporated. The exhaust notes in the videos have most certainly been enhanced.
To recap, the upcoming EV will be India's first AI-enabled, LTE-connected motorcycle and it will run a 4G SIM to enable these functions. The Revolt's motor and batteries will be imported, while the Battery Management System (BMS) and the Electronic Control Unit (ECU) are an in-house design.
This motorcycle will have a top speed that is limited to 85kph and an ARAI-certified range of 156km. Furthermore, it will also have a battery swap system.
Revolt has had trouble keeping the motorcycle's styling a secret as well, as it was spotted in production-ready form while on test. The spy shots revealed quite a bit, including the bike's compact design, complex swingarm setup, bolt-on subframe, USD fork, monoshock and front disc brake. The upcoming bike will also have LED lighting all around.
Revolt Bikes
Revolt RV 300
₹ 1.32 lakh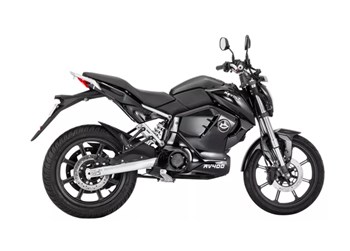 Revolt RV 400
₹ 1.39 - 1.82 lakh
Revolt RV 400 video review
13110 Views|4 years ago
2019 Revolt RV 400 first look video
27495 Views|4 years ago