A couple of weeks ago, we were introduced to a new Indian EV company called Revolt Intellicorp that revealed details of its upcoming electric motorcycle. Not much is known about the machine except for that it will have a top speed of about 85kph, a claimed realistic range of 156.8km and AI-enabled features.
We now have exclusive information that the motorcycle has completed its homologation process earlier than expected, having received its certification in just 29 days. This is a very quick turnaround time for a process that usually takes months and this can only mean that there wasn't much back and forth and requirement of changes from the company's end. The battery pack is usually the most challenging aspect for an EV to clear ARAI homologations and this rapid approval must mean that it must have easily cleared the numerous tests including nail penetration, shock and waterproofing, as well as charge cycles. Revolt is expected to launch the e-motorcycle in June.
All the details aren't out yet, but we hear that the Revolt e-bike has an ARAI-certified range is 156km, which is almost the same as the real-world claim the company is making. And if this number can be achieved (and how easily) will only be proven once there are enough customer vehicles out on the road.
We also got our hands on a few more homologation specs, including the kerb weight, which is 102kg – an impressive figure for an EV that has to contend with the challenge of weight from the battery pack. Going by the claimed top speed, we expect the Revolt e-bike to offer 100-125cc levels of performance, and it's nice to see that it manages to weigh less than most, if not all, motorcycles in that space. It is, in fact, just 2kg heavier than a Honda Navi.
Further still, we hear that in the incline gradeability test, the Revolt EV managed a gradient of 10.2 degrees, which is supposedly higher than what many 100cc bikes can manage. And when you compare it to the Ather 340 and Ather 450, the website reveals a claimed incline gradeability of 15 degrees and 18 degrees, respectively. However, Ather claims these figures at a steady 10kph, while the ARAI test guidelines state that the test should begin from a standstill; so it's likely that these tests have not been carried out in the same manner.
To know more about the Revolt e-motorcycle and for an idea of what it'll look like, click here.
Also see:
Revolt plans 3 all-electric bikes for India
Revolt Bikes
Revolt RV 300
₹ 1.32 lakh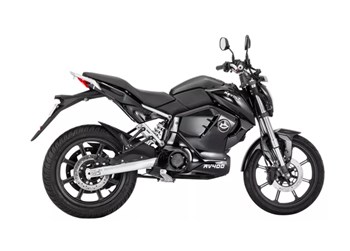 Revolt RV 400
₹ 1.39 - 1.82 lakh
Revolt RV 400 video review
12278 Views|3 years ago
2019 Revolt RV 400 first look video
26700 Views|3 years ago