India has, thus far, seen two approaches to the two-wheeler EV business. Pretty much every EV currently available originates from the Chinese empire and is sold here with fresh badges (new bodywork in some cases) and the necessary localised componentry to meet FAME II subsidies. Ather, Bajaj and TVS appear to be the only exceptions who have actually designed, developed and successfully put their own products on sale. Ather being the only start-up to have done so after patiently and painstakingly developing its product for about six years.
Last year, Ola Electric broke onto the scene with a novel approach – throwing tremendous amounts of money at the problem. In May 2020, the company acquired Dutch start-up Etergo and then early this year, announced that it was going to build the world's largest two-wheeler factory.
Ola's timelines might have seemed doable if it was simply going to mass produce the scooter Etergo had already developed, but that was not the case. Instead, the powertrain was heavily re-engineered, the Etergo's modular swappable battery design was replaced with one large fixed unit and Ola also threw in a heap of unheard of features.
The time frame to achieve this seemed impossible. Even the world's top manufacturers, with their huge R&D labs, mature supply chains and over half a century of experience, take a minimum of three to four years to develop a product.
Ola has never manufactured a single thing, let alone an automobile – easily the most complex machine most people will ever own. But the company said it hired the best people and it was going to shake up the game, so we waited till the proof of the pudding presented itself in the form of the much delayed first ride reviews.
By now, you've probably read/watched our reviews of the S1 Pro. If so, you'll have seen that there appears to be much promise in the platform, but there are also significant issues. What we experienced plainly does not appear ready for sale.
This is actually pretty normal fare for a majority of the EV 'manufacturers' popping out of the woodwork. However, none of them claim to have sold Rs 600 crore worth of scooters in a single day, or raised a valuation of approximately $3 billion. And absolutely none of them have an estimated lakh of people eagerly awaiting delivery for a scooter that has either been partially or completely paid for.
Ola's monumental PR build-up is how it has been able to claim such mind-boggling numbers. But hype can only do so much, no matter how well engineered. It is now time for the company to deliver, and its response to the issues we and others faced with the review units was that they will all be fixed on the customer scooters by software updates.
The question that remains is what Ola does next, because there's no hiding from the response once real customers get real scooters. Citing semi-conductor issues, Ola has already pushed the delivery timeline forward to mid-December. But is that enough to ensure the scooter is completely ready? And if not, what happens then? The next few months will provide all the answers.
Also see:
Quick News Video: August 20, 2023
2431 Views|1 month ago
Ola electric motorcycles, Ola S1 X and S1 Pro Gen 2 first...
10523 Views|1 month ago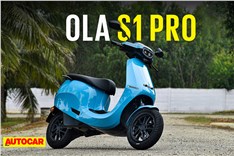 Ola S1 Pro video review
21965 Views|1 year ago