Ather has told us that it won't be launching a new two-wheeler for at least two years. This puts to rest all the rumours about an upcoming affordable electric scooter or motorcycle from the Bengaluru-based start-up.
With the company's latest offering, the 450X, out in the market, the company has said that it's shifting its focus on expansion and product refinement – mainly in terms of software updates and bug removal. While the company does tell us there won't be any brand-new products, we can expect product variations to keep things fresh.
As for the affordable e-scooter that was originally planned, Ather has found that there isn't that much to be saved by simply stripping some features and performance from the existing platform. To develop a new platform from scratch would be a huge undertaking, which simply cannot happen while the company's expansion plans are finally gaining steam.
For Ather to truly make full use of a low-cost platform, the company needs the kind of scale it simply does not have at the moment – this will only come with thorough expansion. Ather says it would like to sell 30,000 units this year, with a big step up to 1,00,000 in the following year. These numbers will be facilitated by the company's upcoming plant in Hosur, which should be ready by the end of this year. Only once Ather manages to reach these numbers will it move focus towards developing a low-cost product. It's a similar story regarding an electric motorcycle; it will also take years of development for the company to get fully right.
Ather's R&D team will surely be working at full steam behind the scenes, but we believe the next big new product from the Bengaluru-based company can only be expected in 2022. This is the right move, since the company has proved that they can make an impressive product; but they now need to prove that they can move into the big leagues when it comes to manufacturing and sales volumes. Click here to read about the company's expansion plans for this year and the next.
Ather 450X Gen 3 video review
9978 Views|8 months ago
Yamaha Aerox 155 vs Ather 450X drag race video
16137 Views|1 year ago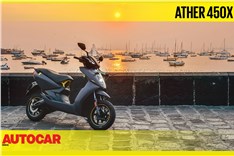 Ather 450X road test video
12573 Views|2 years ago