Ducati participated in the showcase of a new vehicle-to-everything (V2X) communication system between motorcycles and cars for the first time in Europe.
Ducati plans to extend ABS Cornering to the entire model range and introduce a bike with front and rear radar on the market in 2020. These are the Italian superbike manufacturer's first goals in the 'Safety Road Map 2025' strategy for the development of new safety systems and technology. In addition to this, the company – along with various industry leaders – is experimenting with some new technology that will equip its bikes in the medium- and long-term.
One of these newly developed technologies is called C-V2X (vehicle to everything) wireless communication system, to be set up between road vehicles – such as cars, motorcycles, pedestrians, and bicycles – and their surrounding infrastructure. C-V2X technology is a key step toward 5G for automotive application with direct communication between vehicles and their surroundings.
The demonstration featured the Audi Q7 and A4 cars, as well as a Ducati Multistrada 1200 Enduro two-wheeled vehicle. Said vehicles were all equipped with C-V2X technology utilising the Qualcomm 9150 C-V2X chipset solution. The showcase simulated common situations that can occur between motorcycles and vehicles, and demonstrated how C-V2X technology can be used to help improve road safety.
These demonstrations included Intersection Collision Warning (where a vehicle equipped with C-V2X technology pulls out from a junction with an adjoining road and avoids hitting a motorcycle rider who has the right of way) as well as Across Traffic Turn Collision Risk Warning (in which a vehicle avoids a left-turn collision with a motorcycle). Finally, there was a system that sent a warning when the leading two-wheeled suddenly braked.
"This is the perfect demonstration of use cases in which the modern technology can drastically improve the safety of future motorcycle users," said Pierluigi Zampieri, Vehicle Innovation Manager at Ducati Motor Holding. "Indeed, the C-V2X communication is definitely one of the key projects of the Ducati Safety Road Map 2025".
This demonstration was the first of the ConVeX (Connected Vehicle to Everything) project that involved input from Audi, Ducati, Ericsson, SWARCO, the Technical University of Kaiserslautern, and Qualcomm CDMA technology.
Ducati Streetfighter V2 video review
5873 Views|8 months ago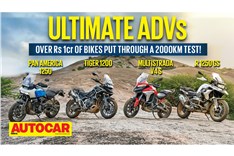 BMW vs Ducati vs Harley vs Triumph - 2000km ADV road trip...
7216 Views|11 months ago