Of all the mainstream manufacturers, Kawasaki has always been at the forefront of developing alternative powertrains. Now, the bike maker has partnered up with Toyota to accelerate the development of hydrogen as a fuel source, and down the line, it could also be used to power a Kawasaki two-wheeler. Recently, it had showcased two prototypes at the Suzuka 8-hour race in Japan.
Kawasaki-Toyota hydrogen partnership: details
The deal that the two Japanese giants, Kawasaki and Toyota, have struck entails accelerating the development of hydrogen as a sustainable alternative, improving the global infrastructure and upgrading extraction methods. Kawasaki has been quite vocal about its idea to bring alternative fuel-powered vehicles on the road and a new hydrogen-powered one might not be too far away. The main purpose of this deal is for these two companies to jointly address issues facing the feasible development of this technology.
Right now, the automobile industry as a whole is grappling with switching over from fossil fuels to electrification. Hence, hybrids, as well as alternative fuel sources (such as hydrogen), make for a good bridge to electrification. At the moment, the major issue with electrification is the long charging durations and since alternative fuels like hydrogen are much easier to replenish than charging a battery, they help mitigate the problem.
Quick News Video, September 17, 2023
2070 Views|2 months ago
2022 Kawasaki Ninja 400 video review
9710 Views|1 year ago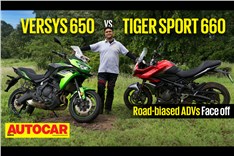 Kawasaki Versys 650 vs Triumph Tiger Sport 660 comparison...
11342 Views|1 year ago